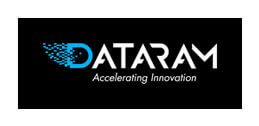 "Giva is a very cost effective solution and we do not have to worry about managing and maintaining servers and application software. Giva is an exceptional cloud service that works great for us."
IT Director
Dataram
Business Results Achieved
When compared with BMC® Track-It!™ by BMC Software, the Giva Service Management Suite, including Giva® eCustomerService™, eKnowledgeManager™ and Giva eHelpDesk™ was deployed in the cloud as their customer service solution and resulted in a:
70% increase in productivity of customer service department

60% increase in teamwork between development and customer service departments
60% increase in productivity using Giva reports
Spend only 5 hours/month on reporting and get superior results
70% decrease in total cost of ownership
70% more intuitive, functional and easier to use
50% increase in meeting service level agreements
40% increase in development department effectiveness
40% increase in productivity by using the Giva knowledge base
70% better technical support than any other technology vendor
About Dataram Corporation
Dataram Corporation, founded in 1967, is a manufacturer of high-quality computer memory and software products. Dataram supplies 70 of the Fortune 100 companies and its products are sold worldwide to OEMs, distributors, value-added resellers and end users.