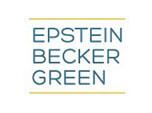 "Giva eHelpDesk has allowed us to deliver a very high level of customer satisfaction at a cost approximately one-third the projected total cost of ownership of other solutions we considered."
National IT Project Manager
Epstein Becker & Green, P.C.
Business Results Achieved
EB&G chose Giva eHelpDesk™ and Giva eAssetManager™ to manage its internal IT help desk and ensure outstanding responsiveness to its legal professionals' IT requests. The Giva Service Management Suite™ provided EB&G with:
A total cost of ownership less than one-third the projected TCO of other help desk software solutions EB&G considered
One-week deployment with no impact on EB&G infrastructure
Integrated, highly customizable, and easy-to-use reports
A centralized help desk for all domestic offices
About Epstein Becker & Green, P.C.
Epstein Becker & Green, P.C. is a full-service law firm with 11 domestic offices and worldwide affiliations.