Do check signers have significant pain
?
Understand pain points of CIO/VP Customer Service
Significant pain must exist for senior management to sign a check
Giva White Papers will help you "listen" for pain statements
Tell vendors your pain. Otherwise, they will ignore you

Are funds approved and set aside
?
Check in with CIO or VP Customer Service
Don't invest time until given iron clad assurance that funds are available
Determine what you are already paying for application maintenance
Find a cloud based replacement product for less money than annual maintenance

Learn latest IT service desk or customer service best practices
.
Prepare to ask vendors tough questions with confidence
Prod and poke at vendors...you lead the questioning
Acquire best practices fluency: first call resolution, service level agreement compliance, root cause analysis, customer satisfaction surveys, KPIs/metrics, dashboards, etc.
Subscribe to Giva Blog & review Giva White Papers. Join "Linked In" groups, industry associations and user groups

What are problems with current call tracking system
?
Hire consultants/technical experts, if necessary
Call vendor CEO; list of issues ready to send.
Proposal to fix? Cost, timeline, guarantees
Is fixing less expensive vs. buying a new application

What are feature needs/requirements
?
Obtain feedback from all stakeholders; prioritize the list
Use Giva's Needs Assessment Tool as a starting point
Check signers like a rigorous quantitative analysis
Share requirements openly with short list of vendors

Ask vendors tough questions early and often
.
Early on share complex "must have" & "deal killer" requirements to eliminate vendors
Ask for an estimated price quote. Is it in your budget ball park?
Ask for customer case studies and references
Poke and prod, listen carefully, get it all in writing

What is the total cost of ownership (TCO) of all vendors
?
Calculate TCO of all vendors for applies-to-apples comparison
Acquisition costs only 30% of TCO over 5 years according to Gartner Group
Ongoing lifetime costs vary significantly between vendors
Compare cloud vs. on premise hosted software licenses

What are important license agreement terms
?
What happens if stop paying annual maintenance?
Arbitration clause - inexpensive means of recourse
SLAs for product support & reports to measure SLA compliance
Termination clauses

Cloud Computing for IT Help Desk & Customer Service/Support
Document Feature Needs & Requirements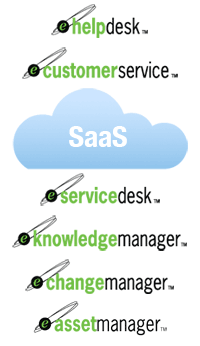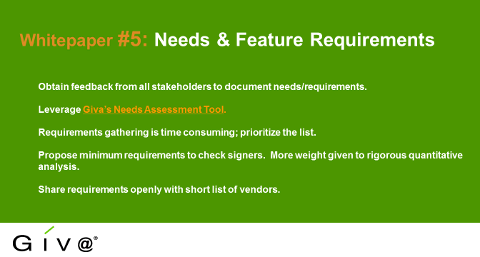 The #5 Key Point we discuss in the "Winning Strategies for Purchasing IT Help Desk and Customer Service Software or Cloud Computing" webinar is to document your feature needs and requirements.
Documenting feature needs and requirements is the most important step in the process of purchasing a new call tracking system. It is also the most difficult step. It is important to solicit feedback on requirements from all the people that will be using the system. Using this approach, all the stakeholders will be part of the purchase process and feel ownership for the new system. They will be much more inclined to fully embrace and use the new system. There is often organizational inertia that has to be overcome with a new call tracking system. Getting people to do things differently is sometimes hard to change.
Click "Download White Paper" to read more about how to document your feature needs and requirements.

Please make sure to read all the white papers summarizing the other Webinar key points.
Key Point #1: Do Check Signers Have Significant Pain?
Key Point #2: Are Funds Approved and Set Aside?
Key Point #3: Learn Latest Help Desk and Customer Best Practices
Key Point #4: Determine Problems with the Current Call Tracking System
Key point #5: Document Feature Needs/Requirements
Key Point #6: Ask Vendors Tough Questions Early and Often
Key Point #7: Compare Total Cost of Ownership of All Vendors
Key Point #8: Key License Agreement Terms
Some of the chief concerns we hear from support professionals just like you is your frustration with obtaining constant visibility to critical issues. Sound familiar?
Giva's Home Page Dashboard provides constant visibility to hot spots and highlights critical issues with charts, metrics and analytics.
Click on the video below to see 2 minutes of the Giva Dashboard.
Software-as-a-Service (SaaS)

Powerful

Powerful Customization, Business Rules, Integration

Easy-to-Use

Intuitive design — Learn in just one hour
"One Click" to create/edit tickets and find solutions
Learn advanced features as needed
Benefits
Giva eHelpDeskT is a 100 percent cloud based, ITIL-compliant IT help desk solution that:
Increases first-call resolution by building a knowledge base that captures lessons learned
Reduces call length by auto completing, streamlining routine tasks, providing trouble-shooting tools on a single screen, and maintaining parent/child requests for high call volume incidents
Increases customer satisfaction by speeding problem resolution and providing consistent, fast answers
Boosts SLA compliance by automating SLA breach notifications based on escalation business rules
Decreases request resolution times by providing tools that help quickly diagnose the cause of problems and rapidly route requests
Minimizes the number of escalated requests by tracking problem response and resolution status verses established standards
Decreases call volume and identifies opportunities for business process improvement with root cause analysis
Increases efficiency by defining and enforcing standard service management business processes
Increases agent productivity by providing automated workflow and escalation
Speeds business decisions by delivering accurate, real-time reports
Optimizes staffing levels by providing trend reports
Helps ensure Sarbanes-Oxley compliance and reduces business risk by providing complete audit trails
Features
Giva eHelpDesk features:
Service level agreements
Automatic escalation rules engine
Customizable fields, screen, and options
Rich text formatting of requests, with the ability to attach screen shots and files to service requests
Automatic reminder of questions to ask, scripts, and standard operating procedures
Natural language, keyword, and Boolean search engine
Automated email-to-ticket creation
Parent/child service requests for high volume incidents
Reports can easily be configured, run, saved, shared, exported or emailed on-the-fly
More than 70 pre-defined, customizable reports
Customer satisfaction surveys
Self-service Web portal
Multiple independent service desks for use by other departments
Seamless integration with Active Directory or an HR database with REST based API
Seamless integration with Giva eKnowledgeManager™, Giva eChangeManager™, Giva eServiceDesk™, Giva eCustomerService™, Giva eAssetManager™, Giva eSoftwareManager™, and Giva eAutoDiscovery™
ITIL-compliant
ITIL
The IT Infrastructure Library® (ITIL®) encompasses the following six areas:
Problem Management
Incident Management
Change Management
Configuration Management
Service Level Management
Release Management
To gain a further understanding of ITIL, download a Giva ITIL whitepaper.
Giva eHelpDesk™ specifically addresses Problem Management, Incident Management, and Service Level Management.
Problem Management
Problem Management helps ensure the stability of IT infrastructure and IT services.
By creating a Problem Record for any new kind of Incident and linking all Incidents to a Problem Record, the Giva IT help desk solution allows you to manage, control, and obtain information about the three major elements of Problem Management: problem control, error control, and proactive problem management. With the Giva IT help desk software, you can link multiple Incidents to the same Problem Record. The ultimate objective is that all Problems are linked to a Known Error.
Proactive Problem Management has two aspects. The first aspect is identifying potential Problems before they manifest as Incidents and making this information available to Incident Management. The second aspect is a continuation of the first. In this case, Problem Management identifies the Known Error and takes steps to correct it before customers call to report it.
With more than 70 pre-defined, configurable reports and root-cause analysis, Giva eHelpDesk assists IT in identifying and documenting potential Problems so they can be resolved by Problem Management.
Incident Management
Incident Management provides continuity to customers by restoring services as quickly as possible, provides accessibility of the Service Desk for all users, and ensures acceptability of its services. The focus of Incident Management is on continuity and thereby allowing customers to resume business as quickly as possible.
By providing rich text formatting of requests, with the ability to attach screen shots and files to Incident requests, Giva eHelpDesk is your one solution for tracking Incidents, responses, and resolutions. In addition, to ensure that no Incident falls through the cracks, it has an automatic escalation rules engine. Also, to ensure each Incident is handled with consistency, it has an automatic reminder of questions to ask, scripts, and standard operating procedures.
Service Level Management
Service Level Management (SLM) establishes a closely monitored agreement about the optimal level of IT service between provider and customer.
Giva eHelpDesk provides tools to assist with implementing the ITIL Service Level Management (SLM) process, which entails negotiating, defining, contracting, monitoring, and reviewing the levels of customer service. The Giva IT help desk solution also provides a business rules engine for escalation notifications to help ensure Problems and Incidents are addressed within service level agreements (SLAs). With extensive reports, Giva eHelpDesk also helps you monitor and review the actual service levels achieved against their SLA targets.