Do IT Help Desk Check Signers Have Significant Pain?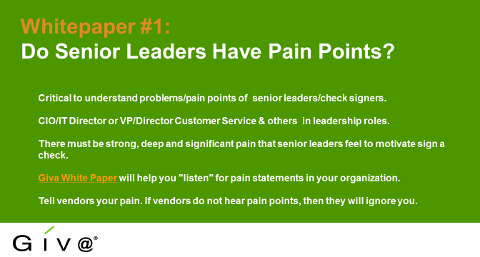 The #1 Key Point we discuss in the "Winning Strategies for Purchasing IT Help Desk and Customer Service Software or Cloud Computing" webinar is to determine if check signers have significant pain.
Initially, your most important responsibility is to determine the pain level throughout your organization that is caused by not having an appropriate IT help desk or customer service call tracking application. Perhaps your company does not have an application, or the application you are using is not providing all the benefits that you desire.
It is critical to understand the pain points from the perspective of senior leaders such the CIO/ IT Director or VP/Director of Customer Service.
There are generally the four main sources of pain points for check signers:
Lack of granular KPIs/metrics/reporting
Check signers need to know, "Who Should I Reward, Warn or Terminate?"
Labor intensiveness is painful
Large annual support and maintenance fees are painful
Click "Download White Paper" to read more about how to determine if Check Signers have significant pain.

Cloud Computing for IT Help Desk & Customer Service/Support