Cloud Computing for IT Help Desk & Customer Service/Support
Important License Agreement Terms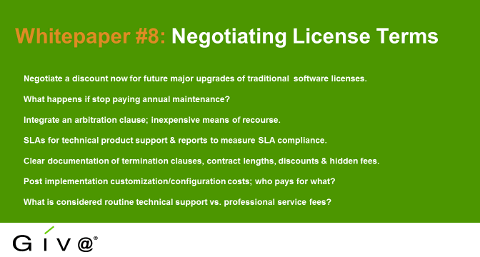 The #8 Key Point we discuss in the "Winning Strategies for Purchasing IT Help Desk and Customer Service Software or Cloud Computing" webinar is important license agreement terms.
The following are important questions to ask and some key contract terms to negotiate into your software license agreement:
What happens if we have a disagreement? Will we have to litigate?
Uptime service level agreements
Support service level agreements to manage the relationship
Post implementation customization/configuration
Routine support vs. professional service fees
Most overlooked critical details about software maintenance
Termination clauses, contract lengths, discounts, hidden fees
Click "Download White Paper" to read more about important license agreement terms.