Benefits, Risks & Future of Using Chatbot Technology in Customer Support, Plus Top Support Bots
To help simplify the interactions between a customer and a company, a helpful tool has increasingly grown in use in the market. It aids in answering repeated queries of customers among other functions, and is called a "support chatbot", or "automated chatbot" or "customer service bot".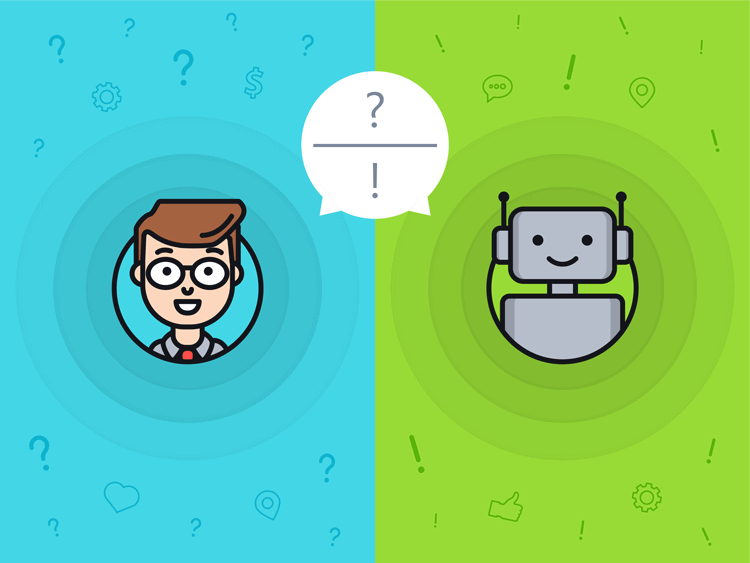 Photo Attribution: denvitruk/Shutterstock.com
What are Chatbots?
A customer service chatbot is software that mimics human-like conversations with users via text-like messages for customer support.
A conversational chatbot agent is the natural evolution of a Question and Answer system that uses Natural Language Processing (NLP). The chatbot technology utilizes a provided database to answer the queries of a user. These conversational chatbots can take in personal information safely and securely and give a response that resolves the user's question.
How does Chatbot technology work?
A support chatbot is divided into two categories: one works by following a set of rules, and another utilizes artificial intelligence to resolve the queries of a user.
Rule-based support chatbot

Rule-based customer support chatbot agents are programmed with a limited range of choices. A set of rules defines the path followed by the bot during a conversation. These automated chatbots are simple and easier to build, but sound more like robots and do not come anywhere close to a human-like conversation. They use a simple true or false algorithm.


AI-based support chatbot

AI-based customer support chatbots are equipped with artificial intelligence (AI). They can resolve open-ended queries, comprehend orders, and even understand the language of the user. The AI conversational bot identifies the language, context, and intent and uses it to react accordingly.


Are Chatbots effective and important?
Automated chatbot technology helps users to receive answers to their questions instantly. However, for resolving complex queries, human intervention is still necessary. In certain circumstances, users actually prefer using chatbot support for quick communication with brands. Hence, more people are ready to use chatbot support.
What are the benefits of Chatbots in customer service?
There are many benefits of chatbots in customer service, some of which are the following:
Chatbots help provide faster and simpler customer service, giving a better experience to the user. Customer service bots never take a day off and are not constrained to work hours or paid leaves or time zones.
They give similar product suggestions or even allow payments from the conversation chat window, and can also perform searches for the user, thus helping in generating a sale for the company.
You can engage a customer by automating support tasks with service bots that resolve customer queries accurately.
Chatbots help reduce the number of support tickets raised by customers.
A company can provide effective customer service 24/7. This helps to maintain loyal customers and improve customer satisfaction.
Chatbots can perform simple and repetitive tasks and later involve a human to resolve complex queries.
What are the risks of using Chatbots for customer support?
While customer support can often derive several benefits from using chatbots, it does not come without some potential risks, such as the following:
While clients no longer need to type in their queries for chatbot help, as they can use voice recognition technology for ease of use, the chatbot help does not have the capability to identify different spoken-language accents of people from around the world.
Chatbot help can create a negative impact on the company's image in the clients' minds if it fails to give satisfactory results, which can eventually lead to hurting the company's public reputation overall.
Chatbot support still requires constant monitoring by humans to handle issues when the chatbot is unable to.
Chatbots do not understand customers' intent or urgency.
Chatbot support lacks authenticity, as some highly improved support bots offer personalized services. If the chatbot becomes too personal at the beginning of the conversation, it can lead to a negative user experience.
How are Chatbots are changing customer experience?
Besides the positive benefits to support from the customer service side, chatbots can also offer a better experience for customers.  The following are just a few:
Chatbot services can resolve customer's queries outside of business hours, so they don't have to wait for a response.
Chatbot services provide new product suggestions that help new or inexperienced customers get exposure to new products or technology, thus increasing the customer's knowledge.
Chatbots service is constantly available whenever a customer needs help while shopping.
Support chatbots can provide instant solutions to customer queries, thus helping in quicker decision making.
What are some of the best customer service Chatbots?
Here is a list of 3 top chatbots for customer service:
Botsify

Pros:

Botsify is a conversational chatbot that does not require coding experience. It helps you start a conversational dialogue for web chat, Slack, Facebook messenger, Shopify, and Amazon's Alexa.
Its pricing plans are great, easy to use, have good features and help beginners create the type of automated chatbots they need at a cheaper price.

Cons:

It does not have an e-commerce integration feature.
Advanced users cannot create their own uniquely designed template.

Mobile Monkey

Pros:

This chatbot technology is easy to use, and no coding experience is required to start building your bots.
It has training and paid support if a user wants to learn from trial and error.

Cons:

The software has no option to see the flow of your conversations.
The smartphone app of Mobile Monkey cannot be integrated with LinkedIn.

Intercom

Pros:

Intercom support bot integrates with a great number of applications and includes many features like push notifications, email marketing campaigns, etc.
Easy to chat with leads and customers and easy to install without expert help.

Cons:

The Intercom chatbot software is more pricey for its features and is more suitable for large enterprises.
How does the future of Chatbots look?
The technology behind chatbot response is growing rapidly and increasingly maturing. Chatbots can help in saving approximately 40% of operational costs for businesses.
A chatbot future appears bright, as it is expected that consumers will soon prefer voice-enabled conversational chatbots to purchase on e-commerce platforms for the sake of convenience.