What Is Conversational Commerce and How It Can Turn Customers Into Brand Ambassadors
Imagine owning a physical store without a salesperson to answer questions or recommend products that are trending or are best for your customers. Your customers are all alone trying to figure out what to buy from a range of products, which all appear good. Confused and frustrated, they end up buying outdated products or leave the store purchasing nothing.
The same is the case with most e-commerce stores today. The store appears "lifeless", with no representative to interact with, no agent to suggest trending products or resolve queries. The customer might open a support ticket but finds out that the wait time is very long. They are bombarded with lists of "product suggestions" or "similar products", which are not relevant to their interest. Not able to find what they were looking for, your potential customer leaves your online store, possibly never to return. This obviously can have a negative impact on business.
To resolve this problem, companies are adopting a new form of online commerce that provides a personalized experience to potential customers, by interacting with them along the various stages of the sales funnel. This concept is called Conversational Commerce.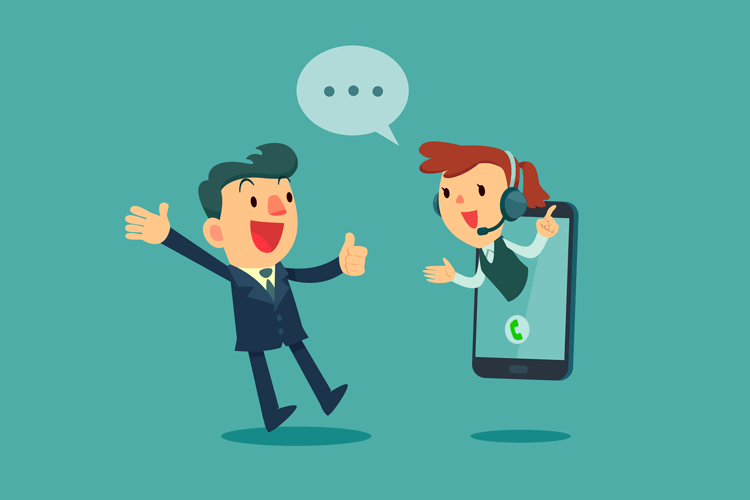 Photo Attribution: blocberry/Shutterstock.com
What is Conversational Commerce?
Conversational commerce is a relatively new method of e-commerce, in which a company uses automated chatbots powered by artificial intelligence, or human agents, to interact with potential customers, using conversation technology like social media messaging and chat apps. It can help a customer with product searches, product selection, and making a payment of the purchase, all from within the messaging app without having to visit a brand's website. 
When was conversational shopping first introduced?
In 2015, the term conversational commerce was first introduced by Chris Messina, who is popularly known for his invention of hashtags. He holds the title as a veteran UX and product designer, working as a Developer Experience lead at Uber. Since 2015, many of the big brands like Shopify and many small entrepreneurs have adopted conversational commerce solutions, and the trend is fast growing.
How can conversational commerce help in various stages of a sales funnel?
A customer goes through five different stages in their shopping journey, and conversational commerce can be used in all these stages to enhance a customer's experience, as the following:
Creating awareness about a problem

Sending brief messages about a new product that is available and the problem it solves, using conversation technology, creates awareness about the product. At this stage, a customer acknowledges the problem and begins to search for a solution.

Research phase

The customer is now curious and conducts their own research about the product's effectiveness, social proof and alternatives. At this stage, conversational agents can familiarize the customer with best product options and alternatives that are available.

Searching for options

At this stage, the customer has done quite a bit of research and is considering options. Conversational agents can help swing the decision in your favor by providing more options and bonuses to increase value for customer's money.

Decision making stage

Now the customer is ready to make a purchase, and at this stage, even if the customer decides to proceed, they need some more motivation to complete the checkout. Here you can clear those last doubts from the customer's mind using conversational agents and provide that one final push towards making a purchase.

Keeping a customer

Studies have shown that it is more profitable to have loyal customers than to create new ones, as you do not have to engage resources to establish social proof, and such customers will act as brand ambassadors for your company. Providing loyalty rewards and gathering feedback from customers post-shopping are some actions that can be performed using conversational commerce.
How can conversational commerce solutions increase sales for a brand?
The use of conversation technology like messaging apps such as Facebook Messenger, WhatsApp, or WeChat, and voice assistants like Alexa, has increased exponentially among the online consumer public. As these messaging platforms reportedly have many millions of active users, each can be regarded as a potential customer for your brand to increase sales and impressions. Consumers these days prefer conversational agents more than a non-responsive e-commerce website, as they are quick, easy and timesaving.
Conversational shopping facilitates a faster conversion of customers through a sales funnel by providing them with personalized product information, the latest product recommendations, and guidance through the process, making it easy for a customer to finalize the product choice. It helps a customer to chat with company delegates, read reviews, resolve queries, and provide feedback instantly using the latest conversation technology. This fun and simple concept of conversational shopping encourages customers to buy more products more frequently, thus increasing sales for the company.
How can conversational shopping turn customers into "Brand Ambassadors"?  
Think about a new coffee shop that has opened up in your neighborhood and it sells the best coffee in town, but no one is talking about it. How does it get their message out quickly?
"Brand Ambassadors" can be your customers or employees who are happy with your company's products and services and share their experiences on their social media channels or at large gatherings in a favorable light. A great buying experience can create positive memories that can keep your customers talking about it for a long time afterwards.
Conversational commerce solutions can help create a positive post-purchase experience in the following ways:
By providing a human touch to a customer's online buying journey
By shortening the sales funnel time for the customer
By being available 24/7, similar to the sales agent in a shop ready to resolve the questions of a confused customer
Satisfied customers are most likely to leave complimentary feedback that will be a social proof for your product, and they are more likely to talk about their positive experiences in their social circles, thus becoming brand ambassadors for your company.