How Companies are Using IT Support Tickets
When things go wrong with a product or service, customers want a fix, and they want it fast. In the healthcare field, quick support can be the difference between life or death. Whether it be a product refund or a replacement, providing service agents with the most information in a concise manner can help. Enter the support ticket, otherwise known as a service ticket, or help ticket — a well-established method for customers to seek assistance from an organization. These tickets allow support teams to gather necessary information and monitor progress until resolution. Customers may submit tickets through various channels, such as email, phone, web forms, or live chat, depending on the size and scope of the customer base.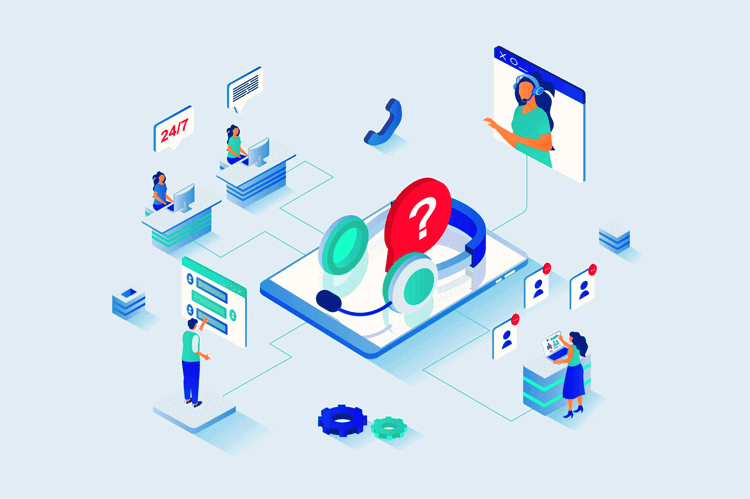 Photo Attribution: alexdndz/Shutterstock.com
Support tickets are extremely effective and efficient because they give organizations a structured way to handle customer inquiries and issues. By using a ticketing system, organizations can track and prioritize customer requests, assign them to the right team or agent, and measure performance and service level agreements. Plus, tickets can eventually be used as a reference for future problems. This can help agents solve similar problems with other customers, leading to better service, improved communication, and happy customers.
Let's look at several real life support ticket system example success stories and how using a ticketing system tool revolutionized their businesses:
Support Ticket Data Drives Efficiency and Future Solutions: EDIMS
EDIMS has been a leader in the healthcare industry for over 20 years, helping hospitals streamline their emergency room operations. Their electronic health record solutions (EHR) have become a staple in medical facilities nationwide, with thousands of physicians and staff using them to document patient encounters.
The Solution: Without a doubt, EDIMS understands that the healthcare industry is fast-paced. Time is of the essence, and inefficient software and processes can have dire consequences. With this in mind, they switched to the Giva Service Management Suite™, which includes Giva® CustomerService™ and KnowledgeManager™. This transition to a simple support ticket system brought about significant improvements for the organization. They now handle customer calls more efficiently, provide speedy solutions, and accurately document all relevant information for troubleshooting.
Here are a few of the key benefits they experienced after the switch:
The new system makes it easy to find and track case details, as agents can create them in real-time while speaking with physicians/staff instead of waiting until the call ends.
The Giva Tsunami Ticket™ allows teams to view all urgent cases at each customer site and group-related major issues as one.
The dashboard and charts on the homepage give a clear view of all recent and open cases. They can be viewed in different chart formats with warning alerts, helping agents to stay on top of their cases and see the department's overall workload.
Minimal information is needed to quickly create knowledge records, which are immediately searchable after submitted.
Read more: The full EDIMS-Giva case study
Expanded Ticketing Makes Sure Nothing Slips By: MetroHealth
MetroHealth, located in Cleveland, OH, is a premier public healthcare system generating $900 million in revenue. It has a 700-bed medical center and over 6,600 employees, including 166 IT staff. The System includes a major medical center, a rehabilitation center, long-term care, outpatient surgery, and community healthcare centers.
The solution: Without a doubt, this is a massive operation requiring a resilient technical landscape. Any misstep in the organization's technology can crash critical parts of the system. MetroHealth must also be as agile as possible, so they looked towards help desk software from Giva to assist with refining their customer service ticketing systems. One of the most impressive results happens to be a 60% reduction in the 5-year Total Cost of Ownership (TCO) — but that is not all. When we talk about ensuring "nothing slips by," MetroHealth wanted to ensure that all tickets were handled quickly and efficiently by all departments.
Here are a couple of ways in which MetroHealth used their new ticketing system and its features to ensure every ticket is received and processed smoothly:
MetroHealth desired a mobile application for field technicians to access tickets on mobile devices. Giva had already planned to release a mobile app and delivered it within the promised timeline. This app has significantly improved field technicians' productivity, as they can now access and manage tickets away from their desks. This also means no more unnecessary misses or delays on ticket replies.
The hospital had many departments looking for ticket-tracking software, including Facilities, Human Resources, Marketing, Radiology, and others. The newly implemented help desk ticketing solution is highly flexible and can be used by all departments, not just IT. By creating separate instances for each department, MetroHealth automated manual processes and met the demand for better support across the hospital.
Read more: The full MetroHealth-Giva case study
Ticket Automation Cuts Email Clutter: Athens Regional Health System
Athens Regional Health System (ARHS) is a prominent healthcare provider in northeast Georgia. They have a team of over 3,500 professionals and 100 skilled IT personnel. The system offers a comprehensive package of services including, a 350+ bed acute care facility, four convenient urgent care centers, a network of exceptional physicians and specialists, a health maintenance organization, and a home health agency. ARHS is dedicated to serving the healthcare needs of 17 counties in northeast Georgia.
The Solution: At ARHS, there was a need for a new IT support solution after regularly running into difficulties finding skilled technical resources for their in-house developed help desk application. The goal was to lower support costs and achieve better customer satisfaction through proper request routing, the reduction of phone and email service requests, and enhanced employee productivity through an automated call workflow. ARHS ultimately sought a flexible cloud solution to reduce administration costs and protect PHI while remaining HIPAA compliant — that cloud solution was Giva's Cloud IT Help Desk.
Here are a few ways in which ARHS used their new help desk to reduce ticket submission and clean up their inboxes:
ARHS has seen a 35% decrease in email and phone call follow-up due to improved information accuracy and proper ticket routing.
Email clutter reduced through email-to-ticket conversion capturing all files/screenshots and parsing redundant threads.
Service requests through email dropped from 25% to 4% after a self-help feature was implemented.
Read more: The full ARHS-Giva case study
One Way Ticket to Enhanced Access and Time Management: Miles & Stockbridge
Miles & Stockbridge is a renowned law firm with over 230 lawyers in multiple offices across the mid-Atlantic region, including Baltimore and Washington, D.C. Established in 1932, the firm offers legal services to businesses of all sizes, including national and global corporations, local start-ups, and emerging businesses. The firm operates globally and partners with a network of law firms, including members of the TerraLex international network.
The IT technical support team serving the attorneys must provide around-the-clock access to their services to ensure the firm runs smoothly and efficiently. The attorneys' time is a valuable resource, and it is crucial to keep the firm operating optimally by providing support for several applications and hardware platforms. The previous solution that Miles & Stockbridge used lacked practicality in its daily application. The team also faced significant expenses for server and software maintenance. The team was drawn to SaaS cloud-based applications as a solution that could be quickly deployed and maintained with minimal effort and cost. Enter the Giva Service Management Suite.
Here are a few ways in which Miles & Stockbridge used their new service management suite to be "online" and accessible 24/7:
Giva's Service Management Suite enables staff to enter, retrieve, and resolve tickets. The speed and ease of this functionality has led to a 70% decrease in open tickets and a 65% increase in first-contact resolution (with help from the knowledgebase solution).
The suite is available to all IT staff, both in and out of the office, unlike the previous solution that required being on the network or accessing a VPN. This lengthy log-in process made it difficult to use the application on-the-fly, especially after hours. With Giva, staff can instantly log in from anywhere and on almost any internet-enabled device.
All reports in Giva are real-time and can be created, saved, and shared by any IT staff member, whether in the office or on the go.
Read more: The full Miles & Stockbridge-Giva case study
The Bottom Line: Ticketing Systems Have Organization-Wide Benefits
Maximizing time, reducing costs, streamlining operations, and enhancing overall efficiency are critical objectives for any organization. Utilizing a comprehensive ticket support system can bring about a transformation in the way your staff operates and significantly enhance the client experience. Implementing live chat and ticket systems offers a structured approach to managing customer queries and concerns. A ticketing system can keep track of customer requests, allocate them to the appropriate team or agent, monitor performance, and uphold service level agreements.
What are you waiting for? Ditch archaic traditional help desk ticket tracking spreadsheets and embrace the future with a cloud-based service suite. For more information, check out Giva's Ticket Management System page where you can explore what a ticketing system is; its features and benefits; look at support ticket examples on Giva's easy to use dashboard, and much more!