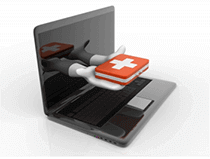 In a digitized world, one of the greatest conveniences is health information technology (HIT). Considering nearly everyone in the US is a consumer of healthcare, there are numerous benefits to adopting electronic health records. The evidence report, Costs and Benefits of Health Information Technology, outlines a few. Health information technology is a means of electronically storing, recording, accessing, or transferring a patient's medical records. This includes health and medical history. Not only is this paperless and perhaps more reliable, but it allows for "clinical decision-making and disease management." It also allows for prescription filling, test ordering, and care reminding. For example, the system can provide alerts for necessary patient vaccinations or send a prescription to be filled at a pharmacy convenient to the patient. Overall, health information technology improves the efficiency of healthcare - a highly profitable, nationwide business.
However, adopting HIT is costly and requires change in the organization. It is considered an investment, but perhaps a necessary investment in terms of economic advancement. In non-financially focused studies concerning adoption of HIT, areas of improvement included increased productivity by the healthcare provider, improved patient safety and, subsequently, fewer adverse drug events (ADE) and time spent in hospitals to treat ADEs, and better physician decision-making. For example, the ability to reduce the "ordering of redundant clinical laboratory tests could produce an annual savings of $35,000 in laboratory charges." It is economically beneficial to improve the efficiency of healthcare.
In a day and age where nearly everything is digitized, it is only fitting a business as widely used as healthcare should follow suit. Adopting health information technology will improve provider efficiency while increasing consumer centeredness. Electronic health records are more personalized, more organized and more efficient. Although implementation of HIT is an expensive adjustment, benefits for both provider and consumer are apparent. Healthcare efficiency is important to society as a whole.
With efficiency of digital access to healthcare records comes the necessity of increased data security measures. The Federal Health Insurance Portability and Accountability Act of 1996, known as HIPAA, was passed to establish a national framework for security standards and protection of confidentiality with regard to health care data and information. Fortunately, Giva makes HIPAA compliance very easy for our customers. The data center, hardware and software infrastructure of Giva's cloud help desk & customer service software meet the very strict HIPAA compliance regulations. See 7 Key Elements of Giva's HIPAA-Compliant Cloud Help Desk Software for Electronic Health & Medical Records.