What's in this article?
Many organizations try running the IT help desk with just using an email inbox or a home-grown application. Employees like to send emails because it's very quick, and they all know how to use email. Plus, email creates a paper trail of sorts. Homegrown applications always lack features and don't have the benefits of a ticketing system since there is never enough coding resources to keep the ticketing software updated to meet changing requirements. As the organization grows and technology gets more complex, these approaches never scale. Also, email and home-grown solutions don't have reporting analytics, custom reports and custom dashboards for data-driven decision making.
There are many benefits to a high-quality IT ticketing system:
Web-based ticketing system increases employee satisfaction and productivity
The use of technology can be a very significant differentiator. If not used properly, there can be many negative consequences to productivity and morale. When employees are happy, then they will work more productively. One of the best ways to keep employees happy is to give them high quality technology tools and provide the IT department a support ticketing system so they can service employees.
Ticketing software for IT support increases morale and productivity
The IT department has a very complex job, and it can be very frustrating for the employees in this department. New technology can be very difficult to understand: it changes quickly, and vendors often ship products that don't work. End users that are not technical can be a challenge to work with. The help desk takes a lot of "arrows" from frustrated end users. If the IT service desk has an excellent support ticket management system, then it will be a great asset to the organization and will increase morale and productivity.
Easily triage and project manage all types of tickets in a single system
If there are only minimum clicks and few hurdles to get IT tickets logged in the support ticketing system, then this will increase agent productivity. Employees can contact the IT service desk by phone, email, a self-help portal, chat, online web form, mobile application, or social media. Allowing employees to use whatever channel they prefer to communicate is an approach that increases satisfaction. Conversations in the support ticketing system should occur within a single unified thread collecting all data that is relevant in a single IT ticket. Ticketing software eliminates the tedious tasks of sifting through email inboxes. IT ticketing systems also integrate the telephone, live chats, and emails into a single system.
Rigorously classify of all types of help desk tickets for reporting and analytics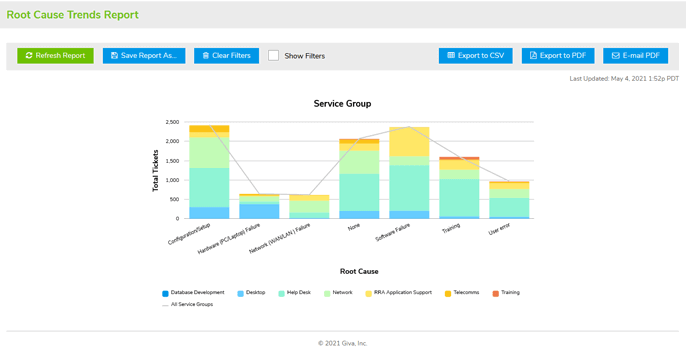 Generating actionable reporting metrics will help reduce call volume and facilitate root cause analysis, which is an important IT service desk best practice. All types of tickets should be thoughtfully categorized in a standard and consistent manner for analysis. When configuring ticketing systems, the categorization scheme should be approved by IT senior management as it's the basis for reporting. It's also important that the IT ticketing system allows for easy category modification since hardware and software changes are continuous.
Automated workflows and pre-set triggers to manage IT tickets
The ticket system should be used to make sure that all interactions with employees are logged. Phone conversations, emails or any other contact should be booked into an IT ticket, which will make agents more productive. The best ticketing software systems provide automated workflows so that pre-set actions can be triggered. This will help speed creating tickets and issue resolution.
Collects information in a standardized and consistent format for use in a knowledge base
The software ticketing system can be used to convert information collected into a knowledge base. Knowledge base articles become part of the ticketing system and can be used by the entire IT department to assist in resolving IT tickets. Even if IT tickets are not converted into knowledge records, it's still valuable to have this information available for searching by all agents or employees using the self-service portal.
Prioritize IT tickets and allocate the least expensive resource first
Prioritizing all issues in the ticketing system software helps facilitate that the most urgent issues are addressed first. Level 1 agents can be assigned IT tickets with less complexity. More technical resources can be assigned the more difficult IT tickets.
Facilitates reporting analytics for data-driven decision making and Service Level Management (SLAs) to monitor and measure performance
The best ticketing software allows assigning Service Level Agreements to each IT ticket, which are responded and resolved-time goals. This allows the IT help desk to be focused on resolving issues within agreed upon timeframes. It is an IT help desk best practice to solicit feedback from end users and get their buy-in on a set of respond and resolve SLAs and the corresponding severity levels. This is an expectation-setting exercise between service providers and customers. The best ticketing system software will also have an escalation function, so if an SLA is breached, then additional IT people are promptly notified to act on the IT ticket.
Excellent reporting analytics is an important feature of any software ticketing system. Custom reports and dashboards allow supervisors, managers, and senior leaders to carefully monitor the organization. Metrics and KPIs should be generated on customer satisfaction, SLA performance, root cause analysis, call volume and type of IT ticket, etc. This real-time data is critical to run an excellent IT support organization for data-driven decision making.
Actionable real-time information in a custom dashboard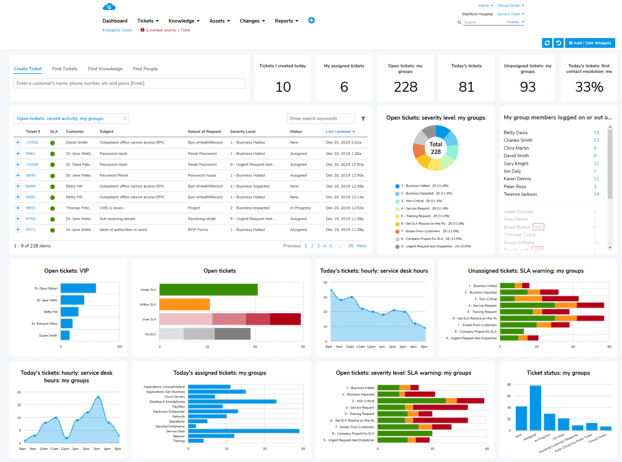 Productivity can also be enhanced with a dashboard that provides a prioritized global view of the most important issues. With a "single pane of glass", agents and supervisors have visibility to critical issues so they can make decisions on what IT tickets to address first. Each agent, supervisor, and leader should be able to arrange on their home page a selection of dashboard widgets that provide real-time information to help them do their jobs.
Root cause analysis to help decrease IT ticket call volume
Using a ticket management system for root cause analysis helps the organization determine the root cause of IT tickets and take systemic action to eliminate these problems. In the long run, this is the single best high-return activity of an IT ticketing system, which can help lower call volume and increase customer satisfaction.
Self-service portal to allow 24/7 support, anytime, any day
By allowing employees and customers to create and check on the status their own IT tickets in the ticketing system software, they can sometimes solve their own problems (eg. password resets, unlocking accounts) by utilizing a knowledge base and other troubleshooting tools. Giving employees access to their IT tickets frees up time that the IT service desk does not have to provide status updates. Some advanced ticketing systems use machine learning and artificial intelligence to help solve problems after an employee enters in some information. These tools can help decrease the workload of the help desk agents so they can work on high ROI activities, such as creating high-quality knowledge base articles. This can create a virtuous cycle. If IT help desk agents can get a break from firefighting, then they can develop resources so employees can have a better self-service experience.
Automatic and consistent alerts and updates for all IT tickets
Ticketing systems help facilitate consistent and uniform communications across IT tickets and employees. Customized email and text alerts can help keep users and the IT help desk on the same page with status updates. This helps ease a user's concerns that their IT ticket has been overlooked.
Actions and workflows to reduce manual effort
A ticket management system that offers actions and workflows can help automate a lot of the repetitive tasks, ticket routing, etc. so that IT tickets are quickly assigned to the correct teams with the appropriate expertise.
Lower overall cost of supporting users
Ticketing software and all the associated automation offered can help organizations significantly lower the cost of supporting technology. The ticket management systems of any company will increase employee satisfaction and productivity. This ultimately leads to higher profitability. The use of ticketing systems by nonprofit organizations helps them achieve their mission of delivering great social good to the world.
Ticket management systems are critical tools for IT departments
They help increase efficiency, quickly solve problems, and ultimately increase customer satisfaction and lower the cost of supporting users of technology products.
These benefits allow IT professionals to work on higher-level problem solving instead of doing manual and repetitive tasks. Excellent IT ticketing software can help solve problems by making suggestions to agents. The software can find relationships between the data to facilitate the troubleshooting process. This also creates time for IT organizations to be more proactive by focusing on preventing server downtown, malicious malware, viruses, etc.
IT ticketing software enables the division of labor and the best utilization of highly specialized resources
Application "how to" questions can be solved by people that are domain experts. People trained in laptops, tablets and phones can focus on maintaining the organization's hardware. Networking teams can work on maintaining the security and uptime of the network and cloud systems. Teams can triage together when necessary. Most organizations create a level 1, level 2 and level 3 escalation paths. The IT help desk is the level 1 resource that is the first and primary contact with employees and is the least expensive resource. They try to solve the problem, and if they cannot, then they escalate to the next level.
Ticketing systems as a key differentiator
Any organization can use technology and automation as a differentiator. The modern hospital is a marvel of technology. Patient care is thousands of times better than it was just 30 years ago. Walmart uses technology to offer customers a wide variety of products, with millions of SKUs, at very affordable prices. Amazon utilizes technology and automation in transportation and logistics like no other company and has become a retail behemoth. What can technology and an outstanding IT ticketing system do for your organization?