Corporate Volunteerism in Different Cultures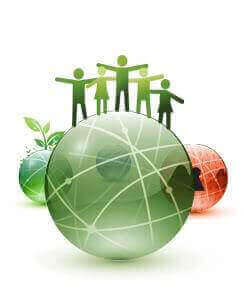 We are all fairly familiar with the North American conception of corporate volunteerism. The area has produced many of the practices we see in operation today. Now it is rare to find a large American or Canadian firm that does not pursue some kind of volunteer initiative. Spurred on by a vast conglomeration of organizations and charities, American and Canadian firms continue to pursue ambitious corporate volunteer initiatives. But, how do these policies translate overseas? A phenomenal report, by the Global Volunteering Research Project, titled "Global companies volunteering globally" sheds some light on how the conception of corporate volunteerism differs in various markets around the world. Some brief conclusions are shared below.
Arab Nations and Africa
The idea of Corporate Social Responsibility (CSR) and corporate volunteerism is fairly new to certain parts of the world. Many Arab nations are just beginning to understand how CSR can be incorporated into a business structure. A number of firms are still asking some fundamental questions such as how good intentions can be transformed into a comprehensive business strategy. In general, there is a tendency to think of "doing good" as a set of donations to charity rather than as a homemade initiative. The region also lacks the non-profit infrastructure we take for granted in North America.
Africa is currently grappling with many of the same challenges. Volunteering has traditionally been thought of as a local undertaking nowhere near the scale pursued by some multinational corporations. The region lacks the volunteer leadership organizations present in other parts of the world. As a result, corporate volunteerism has remained relatively contained.
Still promising signs are provided by a number of firms in both regions that have developed successful corporate volunteer programs. Safaricom, a leading mobile provider in Kenya, has a foundation in which employees are given the chance to volunteer through four days of paid leave. Kenya also has the National Volunteer Network Trust (NAVNET), a leadership organization that encourages "harambee", the Kenyan tradition of self-help events. In Saudi Arabia, the National Commercial Bank has coached entrepreneurs and helped with disaster relief spurred on by a CEO who cares deeply in corporate responsibility. Each year more and more firms replicate the good deeds of these peers.
In order to understand a potential future of corporate volunteerism in these regions we can look at the success of South Africa. South Africa's emerging corporate volunteerism culture has been driven largely by its growing business community and organizations like CAFSA. CAFSA arranges business-NGO (non-governmental organization) partnerships in South Africa that satisfy both party's needs. Both regions have a history of active community involvement. The challenge for corporations moving forward will be converting these programs into larger, structured initiatives.
Latin America
Latin America's history of political instability helps to explain how the current culture of corporate volunteerism formed. The region has adopted a culture of civic participation and has begun to put a personal spin on volunteerism. Rather than viewing the beneficiaries of charity as hopeless dependents, Latin Americans are increasingly looking at charity as an exchange of services among equals. Social inequality has emerged as the main target of many corporate volunteer initiatives.
Across the region, education seems to be the most popular topic addressed. Approximately 70% of volunteer programs are based on improving access to education, usually for poor children. Skills-based volunteering has been recently adopted by some firms, but is not yet a widespread practice in the region. Chile's Pro-Bono Foundation serves as one of the few examples. The foundation provides lawyers from over 30 companies to limited resource groups in need of legal counsel. Many of the most successful programs in the region address these areas of inequality. The Corporate Volunteer Councils that have begun to pop up in countries like Brazil and Columbia have made it easier to connect with these kinds of causes.
Despite the early successes of corporate volunteerism in the region, Latin American companies must still overcome a few challenges. The largest seems to be convincing shareholders to adopt it as an integral part of the business. Many firms continue to pursue initiatives that are unrelated to their brand as side endeavors. Latin America also poses some unique geographical challenges. It can often be hard to reach the rural villages that are scattered throughout the region. Regardless, the culture of civic engagement that continues to permeate amongst the youth sets up this region nicely for the future.
Asia-Pacific
Corporate volunteer programs are commonplace in much of the Asia Pacific region. In one national survey, 80% of Japanese firms reported having a volunteer program. The country has also seen the adoption of more and more skills-based volunteer programs in place of what some commentators described as superficial volunteer initiatives. Korea likewise has a vibrant culture of corporate responsibility with CSR giants like Samsung, Hyundai, and the SK group. The countries' intense business competitions have made volunteer programs increasingly vital. Australian firms are likewise becoming experts in corporate volunteering. Younger Australians have come to expect the programs having participated in a number of volunteer activities as students.
These successes have been complemented by an emerging culture of corporate volunteerism in China. Many top Chinese firms originally imported variations of volunteer programs from Western businesses. Now, a growing number of initiatives have also come from China. The country's volunteer programs still depend in part on the Chinese Communist Youth League that oversees many volunteer initiatives. These days, programs like the Shougang Corporation's tutoring of children by retirees are increasingly common in China. Volunteerism is no longer just a part of multinational corporations.
Europe
Like their East Asian and North American counterparts, European firms are developing new ways to master corporate volunteerism. According to a 2010 report from a special forum of the General Assembly of the European Volunteer Centre, corporate volunteerism has been growing dramatically. One German study found that 84% of German companies have established volunteer programs. Socially-conscious citizens throughout the European Union expect companies to offer the programs as a civic duty. They are a sign of positive community engagement.
Some parties worry that corporate volunteerism will be limited by certain cultural challenges. Some Europeans believe that volunteerism is a private matter and should not be mixed with their professional lives. Furthermore, some European NGOs have expressed reluctance in forming corporate partnerships, viewing such acts as violations of their missions. But, these issues should be easy to overcome. Socially conscious behavior, the foundation of a successful volunteer program, is already ubiquitous across the continent.
Conclusions
How are we to interpret the globalization of corporate volunteerism? The obvious conclusion is that it is an extremely positive trend. Ethical and constructive behavior adapted to local circumstances is a great development for the global community. But, the globalization of corporate volunteerism also offers companies a great opportunity to learn from one another. Understanding the successes and challenges of other volunteer programs is an important step for firms looking to develop their own CSR initiatives. Being able to learn from so many global peers will be a luxury for future employers.
The reader is highly encouraged to read the aforementioned study on which this blog post is based. The insights are marvelously presented with myriad of anecdotes from which to learn. Both firms and individuals can learn a lot from its conclusions.