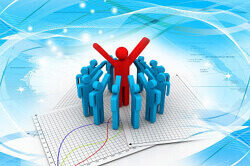 As part of a Corporate Social Responsibility (CSR) culture, it is important for businesses to have a sector that deals with the volunteering requirements that they will ask of their employees. If you are a business trying to get employees to volunteer, what are the best ways to create a program where they actually want to be involved and are willing to help? The first step is to build an employee volunteer program (EVP).
An EVP is considered to be a planned effort to effectively motivate and enable employees to better help and serve their community through the leadership of their employers. Points of Light, one of the largest volunteer services that regularly rewards EVP's, believes that their 20 years of service creates a strong record for deciding what creates a strong EVP.
In their article, "Seven Practices of Effective Employee Volunteer Programs," they first highlight why EVP's are important for companies to have. They list reasons from increasing profitability to attracting new hires and improving corporate image ("Seven Practices", 2). They then move on to the importance of just having a plan. It is important for an EVP to have goals that are beneficial to society and match the goals of the employees and the corporation. Not only this, but there must be a strategy: the business has to have clear tactics and a vision to actually succeed in doing something meaningful. If the notions of the program are not clear, then employees will not really know what they are working towards, if they do not know what they are working towards, then they won't feel motivated.
Once there is a plan, there must be a way to measure how successfully the plan is being carried out. The company should know what the outputs are, the social impacts of their program and also the accomplishments that have been made. Once this has been measured, the company should share this information with the public and also their employees. The employees have to know what their efforts are creating. Knowing that their efforts are not for nothing will make them believe in the cause. One way that HP accomplished this was by having a Global Volunteer Challenge. Employees were given four hours of paid volunteer hours and were able to earn grants for their preferred nonprofit agencies for logging hours. With this method, they were able to measure how many hours were being performed, which country they were being performed in, and what type of volunteer work was being accomplished. Not only this, HP would actually talk with the nonprofits to figure out the impact of the volunteer work, and then they monetized this information to create a dollar amount of social benefit. The impact of work that is being completed is important to know, and it creates higher engagement.
The design of the EVP, different from the plan, is also quite important. Businesses should leverage employee skills with corporate assets, such as in-kind donations and real estate. The design should align with the core competencies of the company, and it should enhance the operations that occur within the company. For example, the company Timbaland gives employees 40 hours of paid volunteer time and views volunteer work as a way to give back to the community and to bond with customers, business partners, etc.
Another step to realize is the responsibility of the leaders within the company. The company leaders have to be sure to promote the EVP's mission and its goals, and then have to effectively communicate the goals and the progress of the program. Not only do they have to communicate, they have to model their strategies. If they are creating an EVP, then they have to show they are serious by actually volunteering themselves. At Toyota, associates are forwarded "thank you" notes from the CSR Executive Community leaders, or they forward a note to the CEO speaking of the good work that employees have done.
At Giva, Ron Avignone, Founder, leads by example. Mr. Avignone is a regular volunteer at a local homeless shelter in San Francisco and also volunteers as a cook at 10-day meditation retreats making meals and washing pots and pans for 50 people. He also randomly gives away candy bars to people on the street. Mr. Avignone is also very involved with the Giva scholarship program often speaks with the winners and encouraging them to continue their community service. "Service has its own reward. When I complete any service working with the less fortunate, I quickly realize while driving home that I really have no problems. What a valuable insight, and so why pay for a shrink :) My true nature and profound gratitude can be found in the basement of a homeless shelter working closely with people in need," he says.
The fifth step is to have strategic partnerships and to work with governments, partners and nonprofits. Caesars Entertainment exemplifies this ideology. All of their North American properties participate in the Clean the World Foundation. It is a foundation that collects soap and amenities that have been used, which are then sterilized and sent to the world's needy. There was not a Clean the World Foundation facility in the western United States, so the Caesars Foundation provided $400,000 towards a Las Vegas location. To aid in employees being able to so easily help the Clean the World Foundation, volunteer work is integrated into their daily responsibilities. For example, as they are going about their normal work, employees are encouraged to remember to collect used soap. In this way, they are helping out their community and the world! They say that this has led to a more engaged, loyal and happy staff.
Employee engagement is definitely an important part of any employee volunteer program, and employees have to be inspired and motivated for a program to work. An effective EVP is what generates employee support, enthusiasm, employee retention and other tell-tale signs of employee engagement. McKesson does a lot to make sure that employees skills and the core competencies of the company are being utilized when it comes to volunteer work. They have a "Dollars for Doers" program where employees are given grant money when they log their volunteer hours (the grant begins when volunteers hit 25 hours). McKesson does have a core volunteer program called Giving Comfort with which all employees are expected to help, but by allowing employees to gain grant money for their own choice of nonprofit, employees are able to volunteer with organizations that are best suited to their interests and to their reasons of why they wish to volunteer.
The last step is to celebrate successes, to share with the company and the public just how well the program is going. It is also important to continue to learn and grow, to know that a static program will never remain sustainable. Holcim, for example, celebrates successes of their program with a photo exhibition of their initiatives on National Volunteer Day.
For more on how to create an EVP that is effective, or what characteristics of an EVP make for happy and engaged employees, there are plenty of more examples in the Points of Light article referenced above.