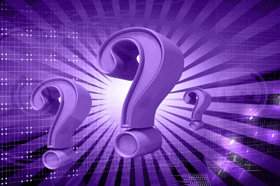 Customers interested in purchasing software or cloud services can encounter myriad of problems and obstacles during the purchase process. Your company can reduce the complexity of the software or cloud buying process by asking the following 10 penetrating and informed questions of your potential vendors:
1. Dissatisfaction with product: After my company pays for your software licenses, what if we become dissatisfied?
2. Better technology: What if better technology comes along after we purchase your software licenses?
3. Deployment "out-of-box" vs. time and cost of customization/configuration: How quickly can we be up and running on your product? Does it work "out of the box"?
4. Preparing and comparing the Total Cost of Ownership (TCO) of all alternatives: What is the estimated Total Cost of Ownership (TCO) of your product over four years? Consider all the acquisition and lifetime costs of ownership.
5. Most overlooked critical fine print in software maintenance agreements: What exactly is included in annual software maintenance?
6. Costs of post-implementation customization/configuration: Our CFO is concerned about commitments for ongoing fees. Can we stop paying software maintenance any time we want, but continue to use the software licenses?
7. Vendor product road maps and commitment: What is your road map for future development?
8. Using uptime and support service level agreements to manage our relationship: Does your company charge professional services fees if we have support issues that require reconfiguration?
9. Routine technical support vs. professional service fees: If we want to do additional customization and configuration work after the initial deployment, does your company charge professional fees?
10. Termination clauses, contract term commitments, discounts and hidden fees: Does your company provide Respond and Resolve Service Level Agreements for support service requests that your company is committed by contract to meet?
For a more in-depth look into these questions, see Giva's Whitepaper Ten Tough Questions to Better Select, Compare & Evaluate Any Software or Cloud Vendors.