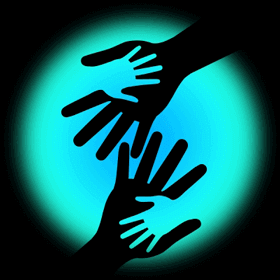 While schools provide important academic learning, supplemental education outside of the classroom can have a profound impact on a child's personal growth and sense of morality. Volunteering is a great way to build and grow a child's perspective on the world and their community. It also helps to instill values such as compassion, tolerance, gratitude and civic responsibility. Volunteering with your children can serve as a great opportunity for parents to spend time bonding with their children while giving back. Here are a few helpful tips and insights on getting started volunteering with your kids.
In order to motivate your children to volunteer, show them that you are excited not only about volunteering, but also about spending time with them. Once you have decided where to volunteer, explain what exactly you and your child will be doing so that they know what to expect, as well as how the work you will be doing together impacts individuals and your community. Providing a context for volunteering can help to dispel any reservations your child may have, as well as to understand their own concerns or desires in terms of volunteering.
Choosing the right volunteer opportunity is essential for volunteering with your children, as their abilities and interests will shape their experience. Consider your child's interests and ask for their input. For example, if you know your child is passionate about animals, volunteering with the local Humane Society can be a great choice for volunteering. Intrinsic motivation is important for finding meaning in giving back, and for children, their interests and passions are often sources of motivation and interest for volunteering. Keeping a child engaged will be important during your volunteering, so ensuring that the work they are doing is something that interests them is very important.
Do not lose sight of your own interests and passions, as children learn by example from their parents. When you are genuinely excited and interested in something, your children notice and learn from that. Leading by example is a great way to teach children about civic responsibility; if you are obviously not interested in a certain volunteer opportunity or project, your child will notice. Finding a volunteering opportunity that fits well with both your child's interests and your own provides a backdrop for a fun and rewarding experience for you and your child.
Another important thing to consider is your child's abilities and age. Volunteering opportunities and projects can vary greatly in terms of physical and mental abilities required. Different opportunities may be better suited to different age groups. If you find an organization or opportunity that seems like a good fit for your child's interests, but you are questioning if the work may fit their abilities, don't write off that opportunity. Simply calling the volunteer organizer at the charitable organization or project of choice can help to answer any questions you have about volunteering. They can provide more information on whether the work required may or may not fit your child's abilities, or if there are certain tasks with which your child can help. If your child is older, consider how their abilities may supersede the tasks required of a certain volunteering opportunity, and if they would better benefit from more complex tasks or self-guided volunteering. If your child does not feel adequate or helpful, it can really put a damper on your volunteering experience. In the same vein, if your pre-teen or teenager feels bored during their volunteering, that can also drive them away from fully engaging and investing themselves in their efforts.
As busy parents, finding time to volunteer can seem burdensome with all of your other responsibilities; however, it does not have to be this way. Remember that volunteering is a way to spend time with your kids and teach them important morals and values. If you have a busy month ahead, and you cannot imagine volunteering on top of everything else on your "to-do" list, do not write it off completely, but also do not stress yourself about forcing it on the schedule. Sometimes you just cannot make it work, and that is okay; you do not want to taint what could be, or what has been, a great experience volunteering. If you are too tired, or too busy, that is okay; listen to yourself, take care of your responsibilities, and when you are feeling less stressed and busy, you can go back to a consistent volunteering schedule with your children in bright spirits.
If you are really eager to volunteer during a stressful and busy time, such as the Holiday Season, consider how you can turn a "to-do" list item into a volunteering opportunity. For example, if you are still busily shopping for Christmas gifts, you may want to take your kids along to purchase items to use in care packages for deployed soldiers. If you are going to be baking cookies for the holidays, or other sweet treats, consider baking several extra batches to be used for a bake sale. Check out No Kid Hungry to learn about how bake sales can contribute to fighting hunger in America, along with helpful tips on holding a successful bake sale.
Finally, consider if you want to volunteer with one project or charitable organization consistently, or volunteer on a variety of projects with a variety of organizations. Choosing a varied approach toward where to volunteer can also help you and your child determine which opportunities you enjoyed most, and which were less enjoyable or just not suited to you and your child's interests and abilities. Regardless of whether you want to hop around to different opportunities, or volunteer consistently with one organization, try to set some goals with regard to how much and how often you volunteer. For example, if you and your child decide to work at a local food bank, will you work there every week for one hour, or every other week for two hours? If you want to experiment with different opportunities, you could set a goal of volunteering at two different organizations each month for at least two hours at each opportunity.
Get started looking into volunteering with your children today, so you can be spending time volunteering with them soon! Several websites are listed below, which can provide great tools in searching for volunteering opportunities in your area, or ideas about self-starting charitable projects: