Giva Student Scholarship Winner Essay: Dr. Rushabe Malde - Pursuing A Dream
Giva is proud to showcase the essays of its Student Scholarship and Worldwide Community Ambassador Award winners. Below is an essay from Dr. Rushabh Malde, currently attending Columbia University's Mailman School of Public Health pursuing his Masters Degree in Healthcare Administration. Giva's hope is to inspire others through these essays. We hope that sharing these essays will help others realize the joys and benefits of service.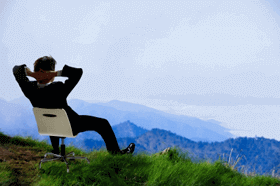 Pursuing A Dream
By Dr. Rushabh Malde
I would like to begin by introducing myself. My name is Dr. Rushabh Malde. I am 25 years old and I am currently studying Masters in Healthcare Administration (MHA) at Columbia University in New York City. This is the first among a series of essays in which I would like to share some of my views, beliefs, past experiences and most importantly my dreams with all of you. In this essay I wanted to write about my educational journey and what made me give up a lucrative life as a dentist to pursue a career in Public Health.
I was born into a middle class family in the Indian City of Mumbai. My parents have always worked hard to make ends meet and tried to provide me with the best they could. Growing up in the financial capital of India, I was always enamored by the life of the rich and powerful around me. I used to look up to all of the successful men from varied backgrounds, but there was always one profession which instantly pulled me towards it. That profession was being a doctor. More than money or the status they enjoyed in the society, it was the respect they commanded from everyone that made me fall in love with it. Every individual, whether rich or poor, showed humility toward doctors and their service to the society. It was then, a 10 year old me, that I decided I wanted to become a doctor when I grew up. It was the beginning of my dream. I distinctly remember sharing my dream with my parents at that young age and promising them I would make them proud one day. I started paying more attention to studies and won many academic awards throughout my school life. After two years of hard work during my pre-medical years, I finally secured admission in Bachelors of Dental Surgery at Rural Dental College (RDC), Pravara Institute of Medical Sciences (PIMS) situated at Loni, India. And this is where my life changed...
I was living my dream at RDC, studying to ultimately earn my doctors degree. I had made some amazing friends and finally made my parents proud. I could see myself five years down the line working as a dentist and achieving that elusive respect I always sought. It was in my third year at RDC when I was introduced to the subject of Public Health. As a part of the curriculum, we were supposed to go on dental camps in the surrounding rural areas where we provided free preventive dental care. It was during that first rural dental camp that made me question what I really wanted in my life. We were in a small hamlet going from house to house offering free dental checkups. It was a hot day, and around noon I entered this dimly lit small clay hut. I saw an old woman in her 60s playing with her grandson. I asked her if I could giver her a free dental check up and refer her to our main hospital if she required any further treatment. She refused downright without even giving it a single thought. At that moment, I saw a huge ulcerating wound on her feet very much similar to the specimen pictures for cancer tumors we were shown in our surgery classes. On asking her about the wound and why she did not get it treated, her reply startled me. She told me that she had no money to treat her injury and could not afford to go to any hospital for the same. She further added that it was such an irony that I was offering her free dental check up when she might not even survive the next month. I was shocked. I withdrew into my shell that day. I thought to myself, if this was the state of healthcare in one of the fastest developing countries in the world, what is the medical fraternity I was so proud being a part of doing about it. I realized I did not want to earn respect and make money when people go through such extreme suffering without anyone even caring about them.
It dawned on me that I could offer much more to the community than serving as a dentist. It made me question my dream. I started researching for summer internship opportunities where I could use my medical background to help the community on a much wider scale. I started working as a hospital administrative intern trying to learn more about the healthcare industry. After my experiences working in this industry, I realized that the necessary infrastructure required to serve the population was already in place. The need of the hour was to streamline and manage the already existing network to maximize the services available to the target community. I quickly realized in order to achieve this I would have to study the intricacies of finance, economics, strategic planning, accounting and managerial and organizational behavior. This desire and new-found vision helped me decide to pursue a career in Healthcare Administration. After applying to some of the best universities in the world, I was overwhelmed to be accepted in the MHA program at Columbia University. I hope to learn from the best in the healthcare industry and apply my knowledge back in India to serve the greater community needs. I know one day I will...
I am sure you must have noticed that I have excessively used the word "dream" throughout my essay. I have done that because I hope each and every one of you will nurse a dream. I hope you will keep on pursuing your dream, fight for it against all odds, and as you grow you will develop a vision for yourself, for your career, for what you want to be remembered for. I agree I am still at a very nascent stage in the process of achieving my vision but I hope I can inspire at least a few more individuals to work in the healthcare industry and work for public health development. I thank you for taking out some time to read my essay. I also hope you come back to read the remaining essays.