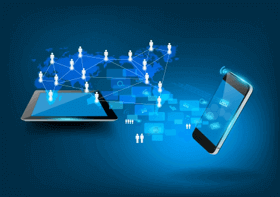 This year, Paul M. Dooley of Optimal Connections reported six trends for customer service and support, particularly that more people than ever are accessing the Internet from a mobile device.
In 2011, the International Data Corporation predicted that mobile internet use would surpass desktop internet use by 2015. However, mobile grew quicker than anticipated, surpassing desktop use for the first time ever in January 2014, and now Americans spend an average of 34 hours a month on their mobile devices. Pew Research reports that nearly two-thirds of American adults own a smartphone, and 46% of smart phone owners say they could not live without one.
Mobile devices are clearly becoming a mainstay in the American lifestyle, so it is worth the time and effort to integrate mobile support in all aspects of business. This integration could be as simple as being active on social media or as complex as creating a new app. However, the Global Contact Center Benchmarking Report notes that 6 in 10 contact centers do not have the capacity for social media, when the industry best-practices indicate that having multiple methods of communication, rather than just phone support, is important to improving the customer service experience.
Equally important is the look and functionality of the mobile version of a business' website. A mobile customer could be deterred by a difficult-to-use website, or choose a competitor whose website is more mobile-friendly. When creating apps for a business, it is also important to make sure the app is available and fully functional on all major smartphone operating systems.
The future of smartphones and other mobile devices is constantly changing, but one thing is very clear: support for mobile devices will be key in making any business more accessible to all customers.