4 Issues & Solutions Affecting Cloud Computing in Healthcare
Over the past decade, the impact of cloud computing on healthcare has made transitioning to it necessary for healthcare providers. In this technological era, things have become fast-paced, and an on-premises healthcare system will undoubtedly cause the industry to lag. Strategic cloud solutions in the healthcare sector range from the obvious cloud-based email and digital fax apps, hosting of electronic medical records (EMR) to data backups and recovery to business functions such as organizational finance and human resources.
However, there can be problems with cloud computing, preventing it from being foolproof. Like many modern technologies, certain drawbacks should be considered before implementation. Once you are aware of these scenarios, share them with your IT leaders, to ensure you are best prepared for any situation when it comes time to switch from old physical equipment to a new healthcare cloud architecture.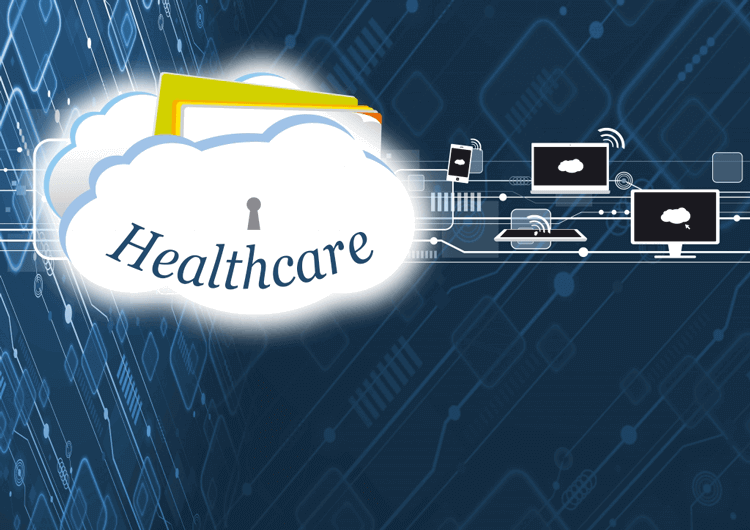 4 Problems & Solutions in Cloud Computing to Review When Considering Cloud Healthcare Risk
Cloud Security Challenges at Hospitals, Med Centers, Clinics

Medical centers, hospitals, and any other healthcare-related organizations are responsible for protecting the personal health information (PHI) of their clients. Yet implementing cloud computing poses security challenges at hospitals and other similar entities. Storing such data in the cloud can put it at risk of attack. This is because an organization's data typically shares a server with that of other organizations, and isolation mechanisms that are put in place may fail. Consequently, the fear of compromising private data has slowed down the implementation of cloud computing in healthcare.

Solution: Do your research. Find a cloud provider that is experienced in incident response plans, containment, and is capable of safeguarding your data. If you are in the healthcare industry in the United States, a HIPAA-compliant platform is essential.

Transparency in Healthcare Cloud Computing

Transparency in cloud computing is a vendor's declaration to the customer of their service thresholds. This could include items such as:

Uptime
System availability
Issue response time
Pricing, policies and more

Ask Questions: So, if something happens to go wrong, what will your vendor do to support your crisis plan? This is one of many questions that a vendors' "welcome package" or "sales pitch" should answer. Cloud-computing vendors who are transparent with their clients often earn trust and industry praise.

Accessibility Problems with Cloud Computing

Cloud computing has enhanced the evolution of mobile work. It makes access to files and other important information very easy, especially when on the go. This can also present a variety of risks. What if an employee loses a device or has it stolen? What if access is shared with the wrong person (i.e. information is sent to the wrong employee, or an employee shares information while out with family or friends)? The leak of PHI can also come with some hefty penalties for organizations and civil lawsuits for its officers. It is important to only grant access to those in your organization who regularly require PHI. Keeping accurate records of access permissions is also very important.

Though this scenario can seem daunting, the keyword here is "remote". Employees being able to access information while out of the office or workspace can create efficiencies in an organization's day-to-day workflow. It also allows employees to pace themselves by completing work on their schedule, when possible. Keep in mind that most reputable cloud-computing systems offer up great remote security features. Once notified of a lost, stolen, or compromised device, an organization's IT department could easily wipe a device remotely, to prevent any further data loss.

Downtime & Technical Issues in Cloud Computing

Cloud outages are a prevalent issue preventing healthcare entities from transitioning to the cloud. It can happen for many reasons including a loss of power or other network-related issues. In addition to being a disruption to your normal workflow, it could also result in a loss of data if a recent backup was not performed.The Cloud Academy has outlined a few steps that organizations can take to minimize downtime in a cloud environment, and they include:

Define and implement a disaster recovery plan in line with your business objectives.
If your services have a low tolerance for failure, consider multi-region deployments with automated failover to ensure the best business continuity possible.
Read the fine print on your Service Level Agreement (SLA). Are you guaranteed 99.9% uptime or even better? That 0.1% downtime equals about 45 minutes per month or around eight hours per year.
Future of Cloud Computing and Healthcare
Despite its potential risks, cloud technology in healthcare is the future. It is modern, frequently updated, and promotes efficient workflows, all areas in which older, physical equipment could not compete with.
Moving forward, the cloud will remain a crucial addition in the IT budgets of various industries. Cloud services will provide a foundation for achieving digital transformation and implementing new, innovative technologies. Healthcare organizations are making larger investments – especially in data analytics technologies – in an expanding market. It takes the right strategy and the right partner to make those investments count.