How Telehealth is Revolutionizing Patient Care in North America
Recent pandemics such as H1N1 and COVID-19 have crippled healthcare systems worldwide. Overflowing ICUs, a lack of personal protective equipment (PPE) and large, possibly asymptomatic crowds in hospital waiting rooms are just some problems experienced by healthcare organizations. Out of fear of the circumstances, people flock to doctors' offices and hospitals to rule out a worst-case-scenario. Though for those with mild symptoms or less urgent matters, is a trip to a hospital during an active pandemic worth the risk of infection? Are there more convenient ways to get the attention you need in 2020 and beyond? The answer is yes, and it comes in the form of telehealth.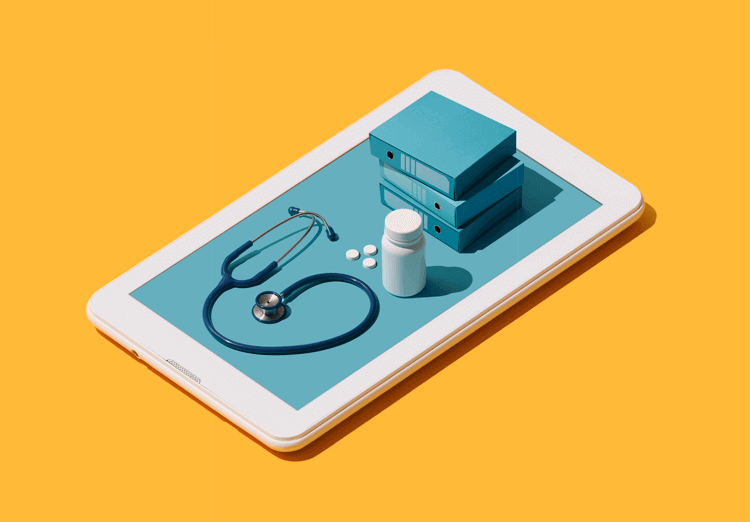 Photo Attribution: Stokkete/Shutterstock.com
Telehealth allows one to receive basic or specialized care over the phone or by video conference. This is ideal for patients with mobility issues, the anxiety of in-person visits during high-risk times, and for those who don't have an appropriate form of transportation to receive in-person care. It also helps to reduce wait times, a benefit for both the patient and provider. Before braving an outbreak, or filling physical waiting rooms, consider the benefits that telehealth services can provide.
How Does Telehealth Work?
Telehealth services were designed with ease of use in mind. They reduce the strain on healthcare providers, while patients receive thorough, virtual care. When pandemics such as COVID-19 reached North America, many doctors' offices, except hospitals, closed their doors to walk-in patients, referring them to telehealth services instead. This was designed with the health and safety of both patient and provider in mind, while further demonstrating the value of this type of service.
So how does it work exactly? Although the process can differ from organization to organization, most should follow a similar version of this four-step process:
An individual uses an app or website to fill out a questionnaire that helps to better identify their concern.

The patient is then routed to set up an appointment with the healthcare professional best suited to deal with the issue.

Depending on the situation, the patient may receive follow-up care, be referred to a specialist, or arrange for the delivery of prescribed medication.

The patient will receive a follow-up with the medical professional who they initially dealt with.
What types of conditions can Telehealth provide care for?
Think you need to visit the doctor for that sore throat? Think again. Though some prefer in-person care, many will also be surprised to find out how extensive telehealth services are. Examples of conditions that may be treated using telehealth services include:
Cold, cough, and sore throats

Skin conditions – thanks to improvements in video quality

High-blood pressure – thanks to daily remote monitoring systems

Gastrointestinal issues

Post-surgery follow-up

Prescription refills

Therapy and counseling services
More services, including access to specialists, may be available, though it is recommended that you contact your healthcare provider for more information.
Is the Telehealth industry growing in the United States?
Yes. The telehealth industry in the United States is experiencing consistent growth in market size, with no sign of slowing down. Growth may be based on demand and available technology, though as Dysphagia Café notes, approximately 1 in 5 Americans live in rural areas, meaning that almost 59 million people live outside of urban centers where medical care is more readily available.
Large companies are also jumping on the telehealth trend to support their employees and dependents. For example, Amazon launched its virtual care program for employees and their dependents, called Amazon Care, in 2019, while CVS Health expanded its telehealth offerings to 26 states. The Federal Government is investing big money in telehealth as well, with a recent 100 million dollar telehealth pilot proposed by the Federal Communications Commission in July of 2019.
With that being said, it is no surprise that telehealth has grown to become a 2.6 billion dollar industry in the United States in 2020 alone, according to IBISWorld. Other important stats from their report include:
The growth of the telehealth industry in the United States is expected to be 9.2% by the end of 2020.

This industry has grown an average of 25% every year between 2015 and the start of 2020.

With large settlements in rural areas and an aging population, the need and size of the telehealth business is expected to increase.
Be sure to check with your healthcare insurance provider to determine if you are covered for telehealth services. Some policies provide partial coverage, while others may not provide any at all.
What about the state of Telehealth in Canada?
Despite being one of the first to trial a form of virtual care, Canada's telehealth systems have not been made widely available, despite growing demand. According to A.M. House and J.M. Roberts in their written work titled "Telemedicine in Canada", this country was one of the first to develop a form of virtual care through the work of the late Dr. Maxwell at Memorial University of Newfoundland in the 1970s. He conceptualized the idea of telehealth by using telephone technology to provide virtual consultations to remote sites throughout the province.
Telehealth in Canada has not been as widely adopted as it has with its neighbors in the United States. Recent surveys conducted by Canada Health Infoway (CHI) back this point further by noting an alarming trend that indicates a clear gap between electronic access that patients would like to have and what physicians are currently offering. For example, a recent CHI study notes that 41% of Canadians would like to have video visits with their health care provider but just 4% of family physicians offer this option.
Though the trend of telehealth growth in Canada has been slower, developments are being made. For example, In March 2019 Telus Health partnered with Babylon to launch an app that will enable residents of the province of British Columbia to have video consultations via their smartphones, with a physician that will be covered by the province's medical plan.
To learn more about Telehealth in Canada, its beginnings, what's holding its progression back and what the future looks like, please refer to a helpful discussion paper titled Virtual Care in Canada.
What's Next?
The Telehealth industry in North America is continuously growing. Demand is fueled by aging populations and those that live in rural areas who find comfort in the ability to easily connect to a healthcare professional with a simple click of a button. When pandemics, such as H1N1 or COVID-19 hit the world at large, telehealth services provide quick access to a healthcare professional, while keeping both parties safe thanks to virtual distance.
A recent IPSOS survey conducted in 27 countries found that just one in ten respondents had used telehealth services, while more than four in ten would try it if it was available. With these types of stats becoming more regular and a clear benefit to all, there is no better time for healthcare organizations to provide some type of virtual service to their patients.
How can Giva help?
Founded in 1999, Giva was among the first to provide a suite of HIPAA compliant help desk and customer service/call center applications architected for the cloud.
While exponentially scaling, how can telehealth and telemedicine providers assist patients using their platforms? Patients and healthcare providers may encounter technical problems with videoconferencing, appointment setting, insurance eligibility, billing and e-prescribing. Also, rapid and successful patient on-boarding may require non-medical personnel working with patients.
Giva has a strong focus on telehealth and we can help you get up and running on a Patient and Healthcare Provider Service Center Portal to increase satisfaction, speed issue resolution and decrease costs.
Sign up for a no obligation 30-day trial of Giva.