The Top 3 Advantages of Telehealth/Telemedicine for Patients & Providers
The concept of telehealth has been around for nearly 40 years. Though lately, more than ever before, telehealth is proving to be a viable option for quick and efficient medical attention, especially for those living in rural areas, and those who simply don't have the means to commute to their healthcare provider.
Telemedicine, which is the subset of telehealth that brings patient care, can be conducted over the phone or through computer-based video chat services. Cutting back on wait times, patients can receive medical attention from general practitioners and specialists. With that being said, there is little doubt this technology brings many telemedicine benefits.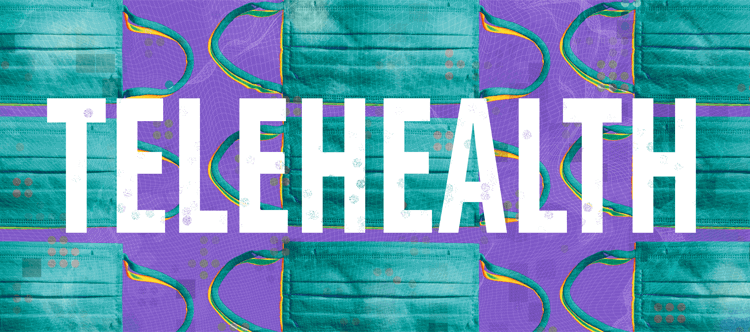 Photo Attribution: TierneyMJ/Shutterstock.com
No matter where you are, care is there
One of the biggest benefits to telehealth services is its ability to break barriers to access of care that may have previously existed for those residing in rural areas, or areas without close access to doctors. This point is highlighted further through the National Rural Health Association which claims that in the U.S., for every 100,000 rural patients, there are only 43 specialists available. Senior citizens without access to proper transportation methods will also benefit from the ease of use that telehealth services provide.
The COVID-19 outbreak of 2020 reveals a unique situation where the benefits of virtual care was highlighted further. Many doctors' offices, except for hospitals, closed their doors to prevent further spread of this virus. In doing so, many replaced their in-person services with telehealth appointments. This instance offers a great example of how to access healthcare, even when it may seem out of reach.
Telehealth can be cost-effective for all involved
Receiving healthcare in the U.S. can get expensive. Telehealth eases the financial burden for both patient and provider, without sacrificing the level of care.
Believe it or not, one of the greatest savings for patients comes in the form of transportation costs, to and from a healthcare facility. Keep in mind that some patients may drive hours for an appointment that could last less than 20 minutes. For instance, Healthcare IT News cites a study out of the University of California Davis, which looked at the transportation costs associated with using telehealth and comparing them to the costs of traveling to a medical facility. They found that over an 18 year period, telehealth visits had saved the studied group of patients nearly nine years of travel time, 5 million miles and $3 million in healthcare system costs.
Getting specific on treatments also reveals that savings are possible. Though this Rand study argues that telemedicine may increase costs of healthcare for the public, it also notes savings on particular diagnoses and treatments. As an example, for each episode of acute respiratory infection, the cost of telemedicine services was about 50 percent lower than a physician's office visit and less than 5 percent the cost of a visit to an emergency department.
The benefits of telemedicine for providers can also be seen in cost management. For instance, patients who move, and might otherwise look for a provider closer to them, could remain with their preferred provider if they are offered a telehealth service that maintains the level of care that they are used to receiving. If uptake on a provider's telehealth program is successful, they may consider extending operating hours or reducing in-office hours. Though both options can increase revenue, the latter means that they may pay less in staffed hours.
Telemedicine offers improved engagement and care
There are certainly those who believe that nothing can replace in-person healthcare. For some conditions and procedures, this belief holds true. However, telemedicine has come a long way and can be used to diagnose, monitor and treat a wide variety of conditions. With that being said, is the level of care provided truly the same caliber as that of an in-person visit? The short answer is "yes", and in fact, telemedicine may even provide better care than an in-person visit would.
For starters, telemedicine visits, whether on the phone or through video chat, offer an unparalleled one-on-one feel. There are no busy office environments to contend with, and the patient is in the comfort of their own home. Secondly, the risk of exposure to other illnesses in crowded doctor's offices and hospitals is real. Especially for those with underlying health conditions, where being brought into an environment like this could prove detrimental. Perhaps one of the biggest benefits of telemedicine is the ease of follow-ups. For those that suffer from chronic pain or might have come out of a recent surgery, having to travel back to your healthcare provider can be unnecessarily painful. Telemedicine provides more convenient options that include results over the phone and detailed next steps, which could mean that you do not need to go in.
To conclude
Many in the United States and other parts of the world have expressed an interest and willingness to use telehealth services if they were available. As they become more accessible, the telehealth/telemedicine benefits, which go above and beyond the three noted here, become clear.
In a nutshell, telehealth can effectively improve a patient's access to providers, reduce costs for all parties, while providing exceptional care, which may be even better than what patients currently receive in-person. Contact your local healthcare provider to understand the scope of their current telehealth offering, if available, and be sure to give it a try.
How can Giva help?
Founded in 1999, Giva was among the first to provide a suite of HIPAA compliant help desk and customer service/call center applications architected for the cloud.
While exponentially scaling, how can telehealth and telemedicine providers assist patients using their platforms? Patients and healthcare providers may encounter technical problems with videoconferencing, appointment setting, insurance eligibility, billing and e-prescribing. Also, rapid and successful patient on-boarding may require non-medical personnel working with patients.
Giva has a strong focus on telehealth and we can help you get up and running on a Patient and Healthcare Provider Service Center Portal to increase satisfaction, speed issue resolution and decrease costs.
Sign up for a no obligation 30-day trial of Giva.