The Top 3 Tools for Telecommuting IT Professionals
Working from home has become the norm for many around the world. According to Katherine Guyot and Isabel V. Sawhill at Brookings, up to half of American workers are currently working from home, more than double the fraction who worked from home (at least occasionally) in 2017-18.
The COVID-19 pandemic has created a massive telecommuting economy. Every role will have its challenges in adapting to this new normal. However, those in IT faced the greatest initial challenge, and continue to encounter new scenarios regularly. They were in charge of quickly adapting to a new work-from-home arrangement for organization employees. If that wasn't challenging enough, they are now tasked with tackling new issues that arise when multiple people are working in a variety of locations using more than one piece of technology. Are there some tools that can make this situation easier for IT professionals? Absolutely. We will have a look at a few of them in this post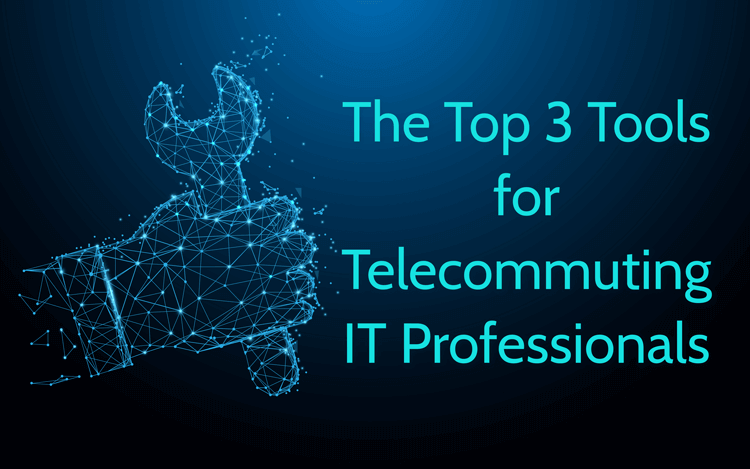 Photo Attribution: Illus_man/Shutterstock.com
Current tech challenges IT professionals are dealing with in light of mass work from home routines:
According to Jones IT, there are a few areas where IT professionals are feeling the strain of a quick transition to work-from-home status of organization employees. This includes:
Network infrastructure at home: Organizations have little to no control over your home network, including chosen router and security level. This opens up the possibility of cybercrime against organization property.


VPN Issues: The VPN systems enlisted by some organizations were not built for mass work-from-home arrangements. This may result in slower speeds when uploading, downloading and working within a network drive.


Cybersecurity hygiene: Much of an organization's tech was meant to work under the roof of one centralized location. Taking it out of its natural habitat presents a host of new challenges that include the use of personal devices to conduct work, varying levels of home network security and the unauthorized physical access of tech by those in the same household.
Helpful tools for telecommuting IT professionals
VPN Manager: Beyond connecting to shared drives, a VPN can help in upholding network security regardless of the employee's location. A VPN manager is software designed to manage VPN service operations on a client, server or both. Otherwise known as "VPN software", this tool is used to automate the process of creating and running communications on a VPN, between connected devices and the network.

Why is it time to invest in a VPN manager? Since most employees were likely all under one roof prior to COVID-19, managing VPN processes was much easier. Now, an IT professional has to deal with the added system pressure caused by a number of employees, accessing, uploading and downloading to the VPN from numerous remote locations.

A solid VPN manager can assist an IT professional in managing traffic on the VPN, improve security through encryption and minimize downtime.

Notable business VPN options with management tools:

NORDVPN Teams - This is the business-oriented division of the well-known NORDVPN program. Businesses that subscribe to this service will also get a suite of management tools, including the ability to oversee user accounts, control permissions, and create gateways. This is all done from a centralized Control Panel. You can learn more at NORDVPN Teams features page.

Perimeter81 - A cloud-based VPN service that works well for businesses that utilize multiple devices and switch from one to another frequently. It is also well-known for its software-defined perimeter (SDP). This is used to restrict network access and provide manageable, custom and secure access to networked systems. It uses its own SDP solution so that cloud migration is secure while also offering guarded access to cloud environments like IaaS, PaaS, and others. Learn more about Perimeter81.

Collaboration Software – Microsoft Teams VS. Zoom:

With employees working from home, a quick walk over to a co-worker's desk is no longer possible. All work must be done virtually, meaning your afternoon coffee chats have likely gone virtual. Most organizations are now relying on tools such as Microsoft Teams and Zoom to conduct face to face meetings, town halls and other collaborative projects. According to a report in MediaPost, Zoom recorded almost 94 million iOS downloads in Q2 of 2020. This outpaced popular social media app TikTok which closed the same quarter with 67 million downloads. Emphasizing this achievement further is the fact that no other non-game app has ever surpassed 50 million downloads on iOS in a single quarter prior to this.

Why are these tools helpful for IT leaders?

Well, once the initial set-up is complete much of the function of both Microsoft Teams and Zoom are handled by the programs themselves. When something goes wrong, it can usually be fixed through an update to the program itself or through a restart of the user's computer. In addition, there is no need for an IT professional to come up with a program of their own, such as one built out using open-source code.

Still need help deciding on which platform is right for your organization? Check out the comparison chart below:

Image courtesy of TechTarget, 2020

Honorable mention: Slack

Slack offers an enterprise level solution that is a scalable, secure, and engaging platform for communicating 1 on 1 or in a larger group. Slack has a 99.9% uptime and customizable workspaces and channels to create for the ultimate collaboration space. Learn more about Slack for Enterprise features.

Install a stronger password management system

Having more people working in so many different locations can complicate the aspect of "control" for any IT leader. The standard security systems they may have had in place when everyone was on site may no longer be strong enough.

According to LastPass, citing Verizon's 2019 Data Breach Investigations Report, 80% of hacking-related breaches are still tied to weak passwords. Unfortunately, and despite the continuous pleas of IT professionals, many employees still do not create strong enough passwords and do not back them up using a two-factor authentication system.

Why is a password management system important to IT leaders working with remote teams?


With IT leaders further away from their team of employees, it may be a wise consideration to invest in a stronger password management system. Password managers are designed to manage a user's password details securely. Explaining its use benefits further, PhoenixNAP Global IT Services states, "password management software does vastly more than just store passwords; it can also generate and retrieve complex, random password combinations it stores in an encrypted database. With this power, businesses can entirely reduce the use of the same or similar passwords."

Notable password management software for business:

Keeper - Besides being one of the most popular solutions, chosen by tech critics, Keeper is also one of the best password management solutions for businesses of all sizes. In fact, they claim to be the #1 business password manager. Keeper will create random, strong passwords for all websites and applications you use. It then stores these passwords in a secure vault across your devices. It is also industry compliant, including HIPAA. Learn more about the benefits of Keeper for Business.

Dashlane - Dashlane claims to have never had a data breach in the 10+ years that they have been in business. It is trusted by over 18,000 companies and 41 million employees worldwide. Dashlane securely fills your passwords, payments, and personal details wherever and whenever you need to enter them on desktop or any other approved device. They will also notify a user when there has been a suspected breach that affects data. In addition, they will advise on how to take action. Find out how Dashlane for business can keep your businesses' accounts safe.
The bottom line: IT leaders have options to improve ease of work during periods of mass remote-work
The work-from-home economy created by COVID-19 fears and restrictions developed a number of issues never before faced by IT professionals worldwide. Besides attempting to prepare all employees with the tools required to function remotely, there was also the challenge of "up-keep". How could they maintain smooth operations without increasing the risk to security?
Thankfully, solutions that include VPN managers, collaboration tools, and password management systems not only make the job of an IT professional easier, but they allow employees to function more productively while working remotely. Though these are just some of many areas an IT professional will have to consider for remote work staff, these solutions provide a great start in drawing a line between productivity, security, and the successful management of both.