What is Conversational AI & How It's Changing the Customer Support Game
Conversational AI definition
We can define Conversational AI as a program built by using artificial intelligence to replace a human-like conversation with a machine so that the program can help a human end-user in resolving queries and perform various functions. Customer service AI has proved convenient, consistent, and available to assist a human in all walks of life.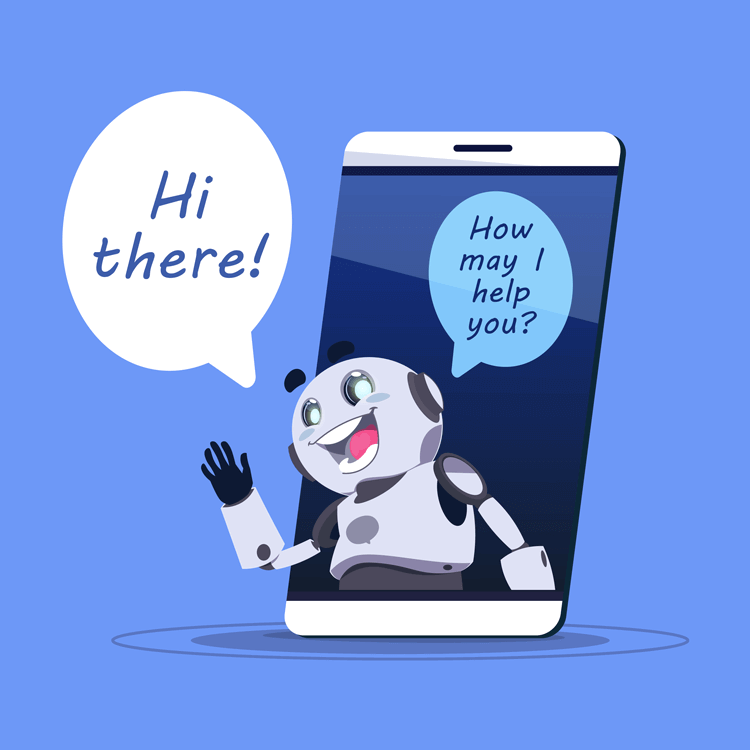 Photo Attribution: ProStockStudio/Shutterstock.com
More specifically, what is Conversational AI?
Conversational AI is software that acts like an artificial brain that enables machines to accept commands in the form of a voice, understand the command, process and respond to it in human language. The goal of customer service AI is to develop a response that sounds more like humans speak - natural, and smooth. Support AI software technology uses available data, language processing, and machine learning to help provide human-like responses to customer queries.
Put simply, support AI apps are like Alexa or Siri, but for a company, which can provide answers or perform certain actions for the customers of the company. It can be used for conversational commerce, provide customer support, brand awareness, subscription services, or collect feedback from customers.
How do AI chatbots work?
Conversational AI bots use a set of technologies to mimic a human conversation such as artificial intelligence conversation software and Natural Language Processing (NLP), also referred to as Natural Language Understanding (NLU), to understand the user's intent, and then process the message and respond as humanly as possible.
As persons express the same things in various different ways, human language is considered non-standardized. It becomes difficult for conversational AI bots to understand the intent of the user for the same keyword. AI-powered customer service uses a natural language process to understand the customer's intent, grammatical mistakes, misspellings, various slang short-forms, and keywords just like a human.
After a customer's intent is determined by AI customer service using NLP, it generates an appropriate response for the user using machine learning technology. As conversational AI bots handle more conversations with the end-user, they become more sophisticated and accurate in performing their tasks.
How can Conversational AI be implemented?
In order to create AI-powered customer service for a brand, the following factors should be taken into consideration: 
Identify your brand requirements

First, identify which part of the business needs AI-powered customer service, such as billing, subscriptions, or customer support. Identify which part of your company is consuming more human resources or needs faster resolution time.

Identify the part of your organization that needs frequent customer support

Some tasks in an organization are repetitive and need frequent customer support, like tutorials for beginners, or asking for feedback, or processing subscriptions. AI-powered customer service can conveniently handle these tasks.

Identify the most accessible and convenient channel for your brand

Artificial intelligence conversation is omnichannel. You should select conversational AI platforms that are easily accessible for customers, have a friendly user interface, and have a high volume of users and users who visit frequently.

Select a brand voice or accent

Choosing a brand voice is an important aspect of customer support AI, as it represents and relates to your brand. For selecting a voice, you should keep in mind the language, accent, and geographical location of the customer. You should consult expert conversational-AI companies to buy the customer support AI software that best suits your company's needs.
Best Conversational AI companies for your business
Here are our top 3 picks for the most effective conversational AI platforms:
SAP Conversational AI

SAP Conversational AI is a sophisticated AI platform that can build very efficient conversational agents in the shortest time. It uses SAP's highly performing NLP technology to build human-like AI chatbots in as many languages as possible.

Pros:

Creating a bot is very easy. The company provides guidance and tutorials to the user from the beginning until the deployment of the bot.
The platform supports all languages and makes the process of building conversational artificial intelligence easy.

Cons:

The user interface needs improvement, UX is complicated for beginners, and some settings are difficult to find.

Kore.ai

Kore.ai is more efficient and makes interactions faster and human-like. Over the years Kore.ai has worked with leading global system integrators to equip its clients with the power of enterprise chatbots. This conversational AI platform is an enterprise level that can design, build, and set up artificial intelligence conversation bots.

Key features of the Kore.ai:

Can support more than 40 channels.
Can provide detailed analytics with easy integration.

Pros:

Easy to use. Code does not need to be written from scratch.
Free demo and trial available before buying the software.
Companies can humanize bot interactions with users.

Cons:

Difficult to implement conversational NLP for small and medium-sized companies.

Houndify

With Houndify, you can build conversational AI for WhatsApp or Facebook messenger without applying a single line of code on messaging channels. Houndify can be used to incorporate an efficient, voice-enabled conversational AI into your business and simplify your UI. This platform uses both Natural Language Processing and automatic speech recognition to increase speed and accuracy.

Pros: 

Easy to use and get accurate conversations every time.
The ease of integration with different messaging platforms is a simple task.
Great user interface, instant synchronization, and can provide detailed analytics.

Cons:

Sometimes it is hard for the AI customer service bot to recognize the customer's voice properly.
Some coding knowledge is needed as this software is not "plug and play".
How to use AI in customer service
The most common use of AI support is to provide 24/7 customer service, irrespective of the time zone. It can be used for lead generation and conversion, provide answers to commonly asked questions, can schedule appointments, collect. customer emails and feedback. AI support can resolve customer queries in the shortest possible time, and this improves the experience of the customer with your establishment.
How can a brand benefit from Conversational AI?
The introduction of customer service AI, either through speech-based assistants or chatbots, has revolutionized customer-company interactions.
Customer support AI is:
Cost-efficient

Customer support AI can help businesses, especially small or medium scale, cut down the cost of hiring and training an employee to perform repeated non-complex interactions.

Can provide customer service 24/7

Chat AI is available 24/7 to respond to customers' queries. As previously mentioned, it is always available for customer service irrespective of time zone, thus catering to the needs of a global client base. Unlike human agents, it does not need breaks and can perform an assigned task consistently and respond to customer queries instantly.

Can help to increase sales and improve customer engagement

Chat AI can create awareness among customers about a new product and the problem it can solve, by sending monthly reminders to a customer. It can recommend trending or similar products to customers so they can decide easily during their shopping journey. This increases sales for the company and improves customer engagement.

Can help to create loyal customers

A brand can benefit from customer service AI by creating loyal customers who would prefer to buy more often. It is natural that a customer who had a pleasant experience with the brand would talk about it in his social circles, thus encouraging others to buy from the brand. In this way, customer service AI can create brand ambassadors, thus increasing sales for the brand.
Conversational AI use cases in various industries
The technology behind AI for customer service is developing rapidly to make conversations more similar to human interactions. For this reason, chat AI is being increasingly adopted across various industries. A few of the industries where conversational AI has proven to be a must-have tool are the following:
Telecommunications

AI for customer service can help with billing and resolve technical issues of a customer in the telecom industry.

Airlines & Travel Industry

Along with providing round-the-clock customer support for the travel industry, AI for customer service has proved efficient in booking or cancellation, and rescheduling or refund of flight tickets for the travel industry.

Ecommerce

AI can guide a potential customer through the purchasing process, offering more relevant suggestions to the potential buyer.

SaaS Companies

It is a common practice for SaaS companies to provide relevant tutorials to their customers during their learning process, and chat AI can guide those customers accurately.

Healthcare industry

AI can help provide quick answers to general health questions.
What is the future of Conversational AI?
The future of talk with AI for customer support looks promising. It will not be incorrect to say that conversational AI platforms are surely the future of customer support. With most organizations preferring automation wherever applicable, like driverless cars for the transport industry to replace drivers, automated warehouses, automated retail stores to replace cashiers and salespeople, and drones to replace food and courier delivery drivers, to name a few, human customer support agents will be mostly replaced by talk with AI, and human agents may be hired only to perform higher-level, complex functions.
We can take the automobile manufacturing industry as an example, where most of the workforce has been replaced by automated robots because the companies have found AI to be more profitable than employing a human to complete the tasks. Similarly, as the technology of AI, for customer support matures, more companies will replace humans with AI support, as it is cost-effective, consistent, and does not have limitations a human might have.