Stages of the Customer Journey: What is Customer Experience vs Customer Service vs Customer Support
A customer walks into a business or starts using an online service. At this point, customer service may not even be necessary. However, there are specific points in the customer journey when customer experience knowledge is required versus customer service skills versus customer support expertise.
A customer journey is the sequence of customer events that take place throughout the customer-business relationship, which typically include customer acquisition, purchasing, usage, and renewal. But what are the support stages of the customer journey? When do I need customer support instead of customer service? When should customer service take over from customer support? These are important questions for you to consider before you invest in any of the services.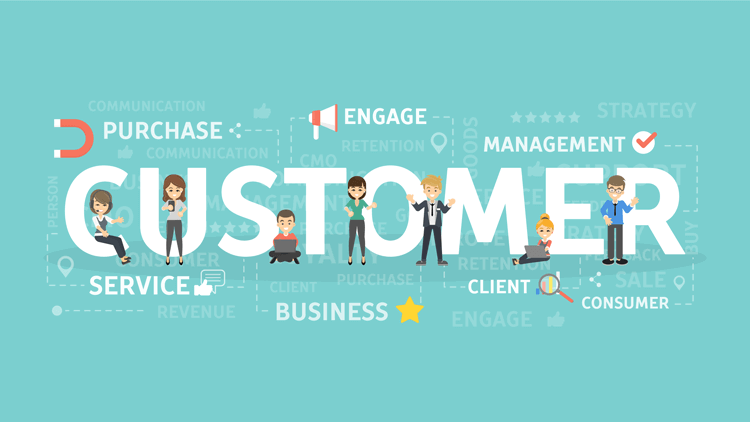 Photo Attribution: Inspiring/Shutterstock.com
What is Customer Experience?
Customer experience has three basic stages: before going to market, during the customer journey, and after customer purchase. This means that the entire customer journey - from when they discover your brand to their buying experience with you, the post-purchase experience, and finally becoming a return customer - falls under the customer experience specialty. 
Often there can be a lot of focus on the customer buying process, while not enough attention is paid to what happens immediately after they buy. This stage can determine whether or not customers become repeat customers. The amount of time that elapses between stages varies depending on the customer's priorities and requirements at any given moment. 
Therefore, customer experience needs to be one of the first services you employ, even before you go to market. It helps you plan out the customer's brand experience and define the approach for customer service and customer support.
Having the best product or service is no longer enough to win brand loyalty in today's business environment. Businesses need to create a positive brand experience to get customers and keep them. If you invest in customer experience, then it will pay off for your business over the long term.
What is Customer Service?
When you are ready to start selling in your business, you will need customer service. Customer service is responsible for onboarding your new clients, addressing any billing or delivery issues, and overall any non-technical issues that may arise. It implements the foundational strategies created for the customer experience stage to keep it all flowing smoothly.
A customer purchase may seem like a simple transaction, but there are many steps involved before and after that point for both customers and businesses. A customer looking for information online might find your business website through search results or an ad, and complete an application form on your landing page, call you up to ask some questions about your product or service offerings, browse your products/services on another website, or end up visiting your store for customer service or to make a purchase. Customer service plays a key role throughout this process.
One of the key duties of the customer service department is to collect and process customer complaints while looking for patterns and commonly-occurring ones so corrective action can be taken. Customer complaint management is a method of customer service used to help businesses identify customer problem areas and improve customer satisfaction.
Customer Relationship Management (CRM) is also very critical in customer experience management because it will allow your business to track customer behavior over time and within different channels. Customer service keeps relationships with customers by communicating with them properly and understanding if their needs are being taken care of, which hopefully leads to customer retention. Your business will be able to deliver an improved customer experience that matches customer expectations. When customers feel satisfied with you, they will be more likely to come back again if there are any new products launched by your business because you are trustworthy, and where customers can expect the same good experience over time.
What is Customer Support?
While customer service is dealing with customers' non-technical inquiries, it falls on customer support to troubleshoot a customer's technical concerns after they have already bought the product or service, although sometimes customer support can be under the customer service umbrella. These support systems usually take the form of call centers, IT help desks, chat support or even email support. Customer support helps a company by making sure its customer wants to purchase from them again. A customer's experience with customer support can turn a potential customer into one who trusts the company. A bad customer support system can have the opposite effect.
Much like customer service, customer support is responsible for customer retention from a product approach. Many users may give products a second chance if the help desk support they receive is phenomenal by responding to their concerns speedily and resolving their problems. Therefore, businesses need to have their customer support team set up as soon as their products are in users' hands. Strictly focusing on the customer purchase experience without much thought to their post-purchase experience can not just lead to loss of business due to refund, but can also cause brand image to suffer, which can hurt the potential of repeat business.
At a lower, technical level, customer IT support is essential for businesses that are majorly web-based or IT-based. Without IT support, some customers will not be willing to buy from a company that does not provide good technical specifications on its products and services. IT support is also responsible for proper backups in case of emergencies (such as hacking or data loss), high-security measures to make sure all data stays private, and an available team of experts who handle technical requests via phone, email, chat, etc.

Conclusion
It is important to understand the difference between customer experience, customer service and customer support, as all three departments are equally important for the customer to enjoy their journey with your business and brand. As a business, you must understand how you will leverage each area's expertise to enhance the customer journey so you cannot only sell your products and services, but retain your customers and have them keep coming back to your company for their next purchase.