How and When Might Be the Takeover by Chatbots in Healthcare
With artificial intelligence taking over the world in the guise of convenience, there is no second thought now that AI will replace humans for complex jobs as well. Learning from human behavior, artificial intelligence has developed so much that it can even perform health care functions like tracking overall patient health, organizing appointments, and collecting patient data for storing health records, to name a few. Considering the present global scenario, where health care workers are hesitant with in-person patient contact because of the fear of contracting the Covid-19 virus, and with mass resignation of workers because of vaccine mandates at work in free countries, it looks like the conditions are fertile for artificial intelligence to compensate for the shortage of workers being faced in healthcare industries.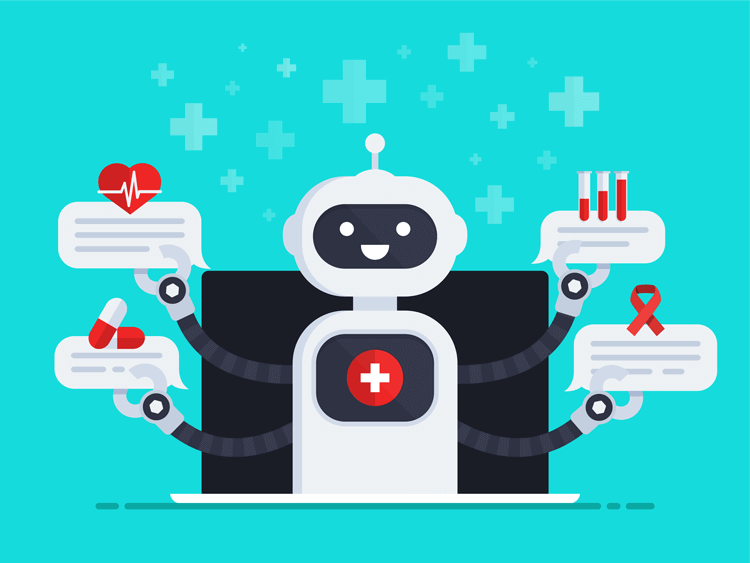 Photo Attribution: denvitruk/Shutterstock.com
As artificial intelligence becomes more advanced, we expect it to take over many aspects of the healthcare industry. One way AI is being implemented effectively today is through the use of medical chatbots.
How are Chatbots in Healthcare Being Used Today?
A healthcare chatbot is trained with algorithms using large amounts of data acquired from public datasets or by conducting research on a disease's symptoms, diagnosis, and treatments. Healthcare chatbot use cases include:
Providing medical information to the patient that can help understand symptoms and provide a treatment plan for the disease after the diagnosis. The best examples of these chatbots include the Healthily and ADA apps.
Arranging appointments for the patients. As healthcare chatbots can be integrated into the medical facility calendar, healthcare chatbots can schedule, reschedule, delete appointments for patients, set reminders, and send updates to patients. A medical chatbot does this by matching the health issues of patients with required healthcare professionals.
Collecting patient data to speed up the admission process, record-keeping of the patient, and for research purposes. The medical chatbots collect data like the patient's name, symptoms, past medical history, and insurance details.
Automating insurance claims, billing services, and resources of patients using a chatbot for health insurance.
Offering mental health help for patients suffering from depression, anxiety, autism, or post-traumatic stress disorder. Medical chatbot algorithms are trained to perform cognitive behavioral therapy (CBT) by using text or cameras. Woebot is a good example of a chatbot in healthcare that can successfully provide CBT.
What is Needed for Chatbots for Healthcare to be More Widely Used?
Chatbots in healthcare are usually effective in patient engagement, but for them to be adopted widely, there are a few features that need improvement:
Empathy

A lack of empathy in the functioning of bots in healthcare gives a robotic experience in a conversation. This makes it difficult for the customers to express their emotions and develop an emotional bond during conversations.

To develop an empathetic bond, bots in healthcare need to:

Understand customer sentiment without asking specifically
Guide the responses and the flow of conversation to make it feel more natural
Ask for feedback at the end of the conversation so that the algorithm can learn from the conversations

Accommodating emotional situations in the training of healthcare chatbots is an important part of making a medical chatbot more empathetic during actual conversations.

Updating the algorithm of a medical chatbot with new information

Programming a bot in healthcare so that it collects information in the initial part of conversations is the secret behind improving a medical chatbot. Collecting information is a method by which healthcare chatbots can keep their data updated, as constantly updating a chatbot in healthcare can be both time-consuming and costly. This is an essential factor in the maintenance of chatbots, as it makes them more relevant and updated with real-time information. Failure to keep the algorithm updated will render the chatbots in healthcare useless for the organization. A constantly- updated chatbot with relevant and sufficient data added to its algorithm is what we need for them to be adopted widely.

Natural Language Processing (NLP)

By adopting Natural Language Processing, a chatbot for healthcare will be adopted more widely. NLP helps a chatbot recognize the natural language of a customer, as it is important to communicate in an appropriate tone with the audience. This makes chatbots for healthcare sound friendlier without being intrusive, allowing the chatbot to interact and engage like a real person rather than robotic software. This provides a personalized and pleasant experience to the customer, and the company benefits by increasing brand loyalty.

Understanding their limitations and improving them

Most bots in healthcare are trained to deal with common and repetitive issues like information requests and feedback requests, but when dealing with more complex queries, they require a human touch. This is a major limitation of a chatbot, and because of this issue, ticket volumes can increase as much as 40% over a holiday season when retailers are at their busiest. Empathy and NLP, combined with a vast amount of data fed into the algorithm of healthcare chatbot, can help to overcome this limitation.
HIPAA-Compliant Chatbot
Just like every other industry has its regulatory requirements, even organizations deploying chatbots are subject to regulatory requirements under HIPAA.
What is HIPAA compliance?
HIPAA (Health Insurance Portability and Accountability Act) requires an organization using medical chatbots for healthcare to:
Protect the confidentiality of a patient and ensure that a patient's health-related information is dealt with a high level of sensitivity
Determine potential threats and increase the security or integrity of the information against the threats
Prevent impermissible use and disclosure of patient information
Ensure that the employed workforce complies with HIPAA requirements
HIPAA has not specified any chatbot guidelines to achieve these outcomes, so the responsibility is upon the organizations using medical chatbot systems to safeguard their customer's personal health information.
What Would a Patient Journey Look Like with Medical Chatbots?
"Hello Grace, this is David! You were reportedly suffering from severe tooth pain yesterday. I wanted to see if I can help you with getting better. On a scale of 1-5, with 1 being no pain and 5 being severely painful, how would you rate your pain today?"
If you think that this is a doctor speaking to his patient, then you are mistaken - it's a medical chatbot app, which is providing patients with help from the comfort of their home.
The journey as a patient starts with symptoms and ends with successful treatment during which they require constant monitoring and support by a healthcare worker, which is not always possible. A patient's experience during the journey is typically traumatic, and the trauma is not just physical but can also be emotional and economic. A hospital chatbot can provide relief at each stage to some extent:
Symptomatic stage

A hospital chatbot can match the symptoms of the patient with the data fed into the algorithm to fix an appointment with the concerned doctor after checking the available slots. A chatbot can set reminders of the doctor's appointment as it is integrated with the user's device calendar.

Diagnostic stage

This is the most traumatic stage of a patient's journey, as the type and severity of the diagnosed disease can determine the duration of treatment and the extent of disability they can experience after the completion of treatment. In this traumatic stage, when a patient requires emotional support and motivation, a hospital chatbot can provide mental health support by acting as a real-life companion, helping with issues like anxiety or post-traumatic stress.

Treatment stage

Hospital chatbots can manage a patient's treatment schedule, handle insurance claims, and help a doctor automate prescription refills where his mediation is unnecessary. A medical chatbot can help patients, specifically dialectic patients and older patients, by setting reminders for their medicine schedule, which increases treatment adherence.
Conversational AI in Healthcare
Conversational AI in healthcare offers human-like interactions with customers in various industries using Natural Language Processing. In the healthcare sector, conversational AI helps in:
Registration and scheduling of appointments for both patients and doctors
Healthcare planning for patients & health insurance billing
Keeping a record of population health
Patient engagement by setting automated reminders, recording actions performed, assisting in adherence to treatment plan set up by management
Examples of a HIPAA-Compliant Chatbot
Previously, we've had some effective medical chatbot apps like Izzy, the handy menstrual cycle tracker for women, or Eva chatbot used for a range of health issues, but we had to say goodbye to those bots as we have newer and advanced versions available. Here is a list of updated medical chatbots:
Oneremission is a chatbot technology in healthcare developed to help with the fight against cancer.
Youper is a chatbot technology in healthcare that provides personalized meditations and the ability to monitor the patient's emotional health.
Babylon Health offers AI consultation based on a patient's signs and symptoms, and offers live video consultation with a doctor.
Ada health chatbot technology in healthcare is a free app developed to provide services based on a patient's symptoms using its huge AI database.
Healthily is also a free platform that offers healthcare information based on highly accurate sources, and lets the user make the best choices for their health.
The Future of Chatbots for Healthcare
With the pace at which artificial intelligence is improving and the pace at which it is being adopted in our daily life, the time is not far when people will start trusting the accuracy of AI more than a human, when artificial intelligence will be adopted from the start till the finish of a patient's journey.  The scenario might be just like a scene in a sci-fi movie which depicts how a patient who has to undergo surgery simply sits in the surgical pod, is injected with an anesthetic, and the rest of the work is done by a machine. Healthcare and medical chatbots are just the beginning.