3 Essential Elements for the Best Cloud IT Backup Strategy
What is a Data Backup Strategy?
Data Backup is storing original data, files, and information at a secondary location by making as many copies as required and using them in case the original data or information becomes inaccessible, corrupted, deleted, or formatted. Data can be stored in something smaller such as an external or USB drive, or something larger such as disk or tape storage systems, or cloud storage.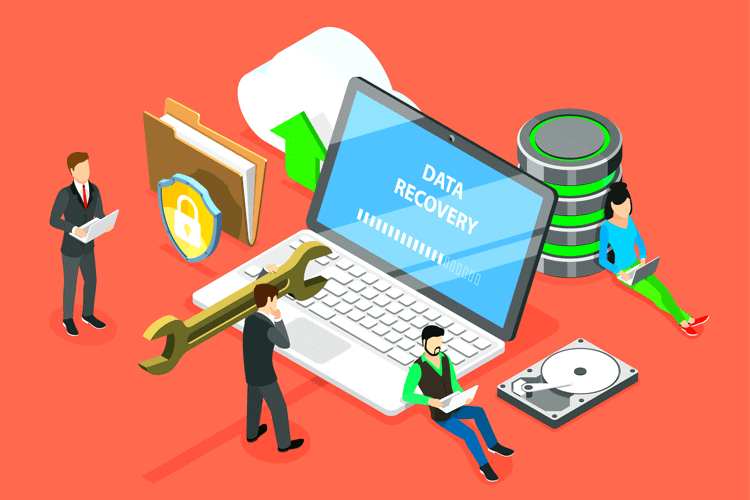 Photo Attribution: TarikVision/Shutterstock.com
Why is a Data Backup and IT Disaster Recovery Planning Important?
Data, in all their types, range from something as simple as a single-device user storing their personal images or emails or their passwords or banking information, to as complicated and huge as storing data of thousands of employees in a multinational corporation, or storing technical information of engineering, scientific firms, or patient information of a large healthcare organization. Data backup strategies are an essential part of an organization's security to ensure critical organizational data is backed up and available for restoration in case of a data loss event because of cyber attacks, data corruption, deletion, or unknown disasters. A backup strategy, along with a disaster recovery plan, ensures a business continuity plan, so that an organization can withstand a security attack and recover all the data with no damage to the business, reputation, and productivity.
Determine the Types of Data Backup Strategies and Data Restoration Solutions
Before backing up data to a data carrier, a data backup plan template needs to be defined in which the type of backup and the type of data carrier that is to be used is specified. Several backup templates can be assigned to speed up the backup process and design them in a way that it becomes easier for the user to understand and execute the backup process faster. Employees must receive proper guidance on what they can or cannot store on their workstations, laptops, and personal devices. Business data should never be allowed to be stored on personal devices. The backup strategy template should also include an automated troubleshooting system to assist employees in identifying data backup issues and provide technical solutions quickly.
There are various backup strategies that can be deployed depending on the type, size, and nature of work done in the organization. Data backup strategies should be in place at all times to protect the company's data along with the latest and updated antivirus software. The staff should be highly trained to ensure data backup strategies are implemented without disrupting workflow or business continuity.
Some of the data backup strategy examples include:
Full and Unstructured Data Backup and Recovery

In this type of data backup, data is dumped in hard drives or other storage devices at the end of a project or a year or specified points in time. These storage devices are kept in temporary places, such as a separate office, before shifting them to a secure location. But during this temporary storage, any disruption or disaster may damage the devices and data will be lost. This type of storage is time-consuming, needs a continuous supply of storage devices and space, but the data restoration process is very simple, easy, and quick.

Incremental Data Backup and Recovery

In an incremental data backup process, the only data that is required for backup is the data that has been changed since the last full backup, and that is the data that is stored separately in each device. This helps in faster data backup compared to a full backup. But the restoration process for incremental backup is the slowest, as the data for each separate day has to be collected in one place and in correct order to get a full data restoration.

Differential Data Backup and Recovery

In this strategy, the data from each day is backed up along with the data from the previous days. This process is slower compared to incremental backup, but the restoration process is faster, as the data is already arranged in order of the previous days, and there is no need to collect previous data.

Cloud Backup Strategy and Recovery

In this process, data is stored in servers that are located offsite via the internet.
The following are 3 essential elements for the best IT cloud backup strategy:
Plan the Cloud Backup Strategy and Recovery

What is Cloud Computing?

Cloud computing is the delivery of services such as storage, data backup, software over the internet. It eliminates the expenditure of buying hardware and software and setting up and running data centers, and IT experts for managing the infrastructure. 

Cloud Backup and Recovery Strategy

Cloud backup strategy, also known as online or remote backup, is a strategy that sends a copy of data to an off-site location to protect against natural or man-made disasters such as fires, floods, or earthquakes. The offsite backup data storage systems are usually hosted by a third-party provider whose fees are determined by various configurations such as space required and actual recovery usage.

This brings into question their ability to maintain the privacy and integrity of their data, and would require data encryption. A HIPAA-compliant cloud backup service provider protects the organization's or user's data by using high-level encryption.

Cloud backup service providers allow you to set a backup template and pre-determined schedule to back up the data that can be continuous data backups or simultaneous backup. Once the schedule is set and the backup strategy template is in place, backups occur automatically, requiring very little manual intervention.

Some cloud backup strategies include:

Direct Data Backup to Service Provider

Data is directly copied on servers provided by third-party service providers through backup software developed by the organization or provided by the service provider. The files stored in these servers may require additional data protection procedures.

Cloud to Cloud Backup Strategy

In Cloud to Cloud (C2C) backup strategy, the data stored on one cloud system is copied onto another cloud system. It is also known as Software as a Service backup.

IT companies have reported huge data loss through SaaS because of user errors such as file deletion, overwriting error, malicious attacks that result in data loss, downtime, and related financial loss. A C2C backup adds an extra layer of protection of data for organizations using cloud services by simply keeping a duplicate copy in a separate cloud.

Prepare a Disaster Recovery Plan

A Disaster Recovery Plan (DRP), also known as IT Disaster Recovery Planning, is a detailed IT blueprint that provides a strategy designed and adapted to assist an organization from disaster events that cause business disruptions, such as malware or other network attacks, natural disasters, power failure, user errors, hardware or software failures and in executing recovery of the organization's data.

What is the Purpose of a Disaster Recovery Plan?

Organizations create and manage massive amounts of critical and non-critical data which can be exposed to corruption or data loss. Therefore, it is essential to create a plan to recover the data as quickly as possible. The purpose of a disaster recovery plan is to explain the actions required to be executed by the IT specialists of an organization in case of the above disasters so that the entire data is recovered easily and seamlessly to avoid disruption of business workflow. IT disaster recovery planning protects organizations and users from financial loss, privacy and data loss, which affects productivity in case of a disaster event.

Businesses and organizations usually make a mistake thinking that having a backup is similar to disaster recovery, but it is not. Simply having copies of data doesn't mean you can keep your operations running. To ensure business continuity workflow, robust and tested IT disaster recovery planning is required.

In Planning for Disaster Recovery, What is the Ultimate Goal?

The ultimate goal for disaster recovery planning is to ensure that systems are fully operational with minimum downtime in the face of a disaster event. To anticipate scenarios that would seriously affect the running of a business, and plan appropriate action needed to be taken to protect and recover data.

How to Prepare a Disaster Recovery Plan

At the time of preparing and structuring the disaster recovery plan, it is important to first evaluate the goals that outline what the organization wants to achieve at the time of the disaster.

The structure and planning of disaster recovery should include several features, such as the following:

Setting up Goals

Long term and short-term goals of an organization needs to be recognized before preparing a disaster recovery plan. Critical data needs to be identified from non-critical data to protect it from potential attacks.

Roles and Responsibilities

An organization chart needs to be created and responsibilities need to be assigned to each individual as per their relevant expertise and roles. It should clearly define tasks to avoid confusion and conflict.

Employee Training

IT disaster recovery plan should outline the skills and training an employee needs to possess so that he can perform efficiently, giving accurate and faster results.

Clear Communication

In case of a natural disaster, there should be direct and clear communication between the business and local protection departments, such as fire protection, civil defense, and ambulance service to minimize the damage caused.

Testing

A disaster recovery plan needs to be tested under strict testing conditions on a continuous basis to ensure that the DRP is executed properly at the time of disaster with no disruptions to the workflow. Improvements in DRP must be made from time to time to counter the latest threats and attacks.

Disaster Recovery Playbook

A disaster recovery playbook is a piece of practical advice delivered in a concise form to cover any specific incident. Organizations will need to perform assessments to figure out what disaster recovery playbooks they need.

Test Data Backup and Data Recovery

Why is Testing Required?

Testing ensures the process of data backup and recovery works smoothly and as expected in a disaster event. Technology environments, including hardware and software architectures and configurations, are constantly changing, and because of this, backups that are not tested regularly can end up being completely ineffective. Without consistent testing, organizations and businesses risk losing the backup data with almost no way to recover them. 

Steps to be Considered for Backup and Data Recovery Testing

Prior to testing, the criticality of the data backup should be prioritized, and data backup which is critical needs extra testing to ensure fastest recovery time and increased workflow in case of a disaster event.
Testing of a backup should start with testing Recovery Time Objective (RTO). RTO is the time taken for the system to recover the backed-up data after a disaster event. RPO (Recovery Point Objective) should also be tested, which refers to the data loss the organization can endure and still operate.
Backup testing should also include connecting users to their restored workloads and verifying that the workloads restored actually function.
Full or partial restore needs to be tested since full restore can take time. Partial restore can be used to back up and recover the required data to continue the business workflow.
Spot checking can verify data recovery by comparing the actual data available against the data recovered. If the results match, then recovery was a success.
Another test connects applications to the recovered data following a disaster and ensures business applications are operating correctly.

Testing helps in properly implementing recovery procedures and taking the steps needed to ensure organizations do not lose valuable information following an event.
Conclusion: Begin Data and Cloud Backup Strategies and Disaster Recovery Planning Today!
Data and information stored on the servers are critical to business and its cost is often higher than the cost of the hardware and software used to store them as backup, and their loss can lead to catastrophic outcomes for the organizations. A good data disaster recovery plan is critical, and a strong data backup system is the foundation of a good disaster recovery plan. By backing up data and practicing recovering, loss of data is prevented even in the event of force majeure or cyber attack.