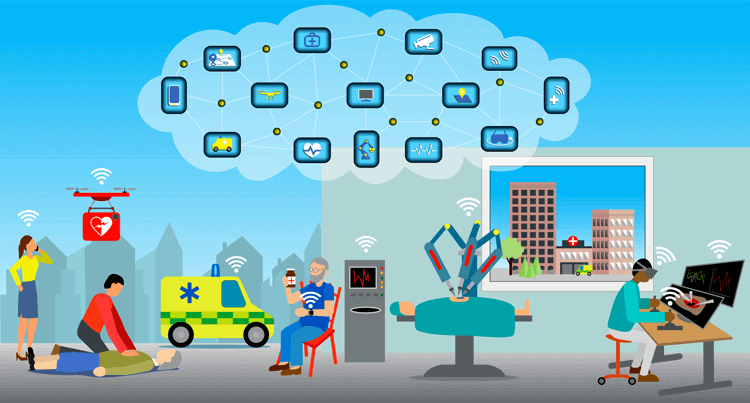 Photo Attribution: Solveig Been/Shutterstock.com
In the health sector, priority is always given to saving lives while the security of personal health records (PHR) is sometimes overlooked. This is because, in comparison to emergencies, the storage of information seems very insignificant. As a result, an increasing number of healthcare providers are facing the consequences.
A new report by Black Book Market Research forecasts that data breaches against the healthcare industry are likely to triple in 2021. The survey also found that 75% of the organizations responding felt they were not prepared to act when a cyberattack hits and almost all (96%) felt that cyber criminals were ahead and outpacing their organizations.
Methods most commonly used by cybercriminals include email hacks, ransomware incidents, and malware infections, among others. Cyber-crime is stronger than it has ever been and there are no signs of its decline. Therefore, healthcare providers should counteract this by rising to the occasion and replacing outdated security tools with updated technologies and strategies.
Automated Tools

Even though automated tools were introduced long ago, many healthcare providers are still not taking advantage of their benefits. Automation is effective when it comes to regularly resetting passwords, conducting updates and security patches. Even though much of the process is "automated", it still requires a degree of human interaction in the form of documented processes and monitoring.

David Finn, Executive Vice President of Strategic Innovation for CynergisTek states, "Automation doesn't mean the elimination of people, it means the re-deployment of people to do the work that can't be automated -- work that requires real-time decision-making outside of the prescribed rules."

Multi-Factor Authentication Process

The multi-factor authentication process (MFA) double checks the identity of the user before giving them access to important information by requiring them to input a code sent to another device. Besides keeping records of organizational permissions, it is recommended to also implement the use of strong passwords and multi-factor authentication on all programs.

Did you know? Microsoft says that users who enable multi-factor authentication for their accounts will end up blocking 99.9% of automated attacks. Though this does not apply to Microsoft programs only. Enabling MFA will have similar results for users of most other platforms as well.

Segmented Networks

If correctly enforced, network segmentation can effectively limit the access that a cyber criminal has to a system. This means that in the event of a breach, hospitals and healthcare providers can continue to use their other networks while an incident response team manages the compromised network. In this case, if a ransomware attack holds one part of a network hostage, the organization won't suffer a complete outage and can continue providing services to its patients.

Secure Messaging and Email Encryption Technologies

Communication is a vital aspect of any healthcare organization. There are now secure messaging applications and email encryption technologies that are HIPAA compliant and ensure that any data that is transferred through them is safely encrypted. Additionally, secure messaging applications ensure that data is only sent to users that are a part of a covered entity's system. In the event of theft or loss of a device, one can remotely delete messages. This mitigates some of the inevitable risks of data sharing.

Few things cause more anxiety than waiting to receive crucial test results from a healthcare organization. In this regard, timeliness is an added benefit of secure text messaging in a healthcare setting. If they have not done so already, organizations should be looking into methods of reaching patients (and vice versa) promptly while still protecting the sensitive information being transmitted.

Store Data in The Cloud

According to a West Monroe Partner's report, 35 percent of healthcare organizations surveyed held more than 50 percent of data or infrastructure in the cloud. This number is continuously increasing year over year, with the healthcare industry being a leader in its adoption compared with other industries.

There are other benefits related to storing data in the cloud, they include, but are not limited to:

Secure data storage and transfer


Reduced downtime in case of a cyber breach


Scalable software - only purchase services that you need (no physical infrastructure)


Ease of use (operate and control remotely)

Next-Generation Firewalls (NGFW)

This tool consists of a combination of an enterprise firewall component, an intrusion prevention system (IPS), and application control. It improves functionality by strengthening pre-existing security systems and can monitor the presence of malware in system applications.

As is explained by this Infradata article, "there are many types of malware that a firewall can protect against these days, including ransomware, viruses, worms, trojans, adware, and more. Next-Generation Firewalls (NGFW) take it a step further, by offering the ability to not only identify but to also completely block malware before it enters your network."

Anti-Spam Software

The most successful attacks on healthcare organizations often occur through email. Users repeatedly fall for phishing scams, ultimately providing cybercriminals access to the system and its contents. Anti-spam software is capable of scanning incoming attachments and more before they are available for an end-user to interact with. This is both a useful and practical way to mitigate the risk of cybercriminals accessing sensitive healthcare information.