What is the State of Telehealth in Canada and Where Does it Lag?
Telehealth can be super convenient, effective, and affordable. With the prevalence of COVID-19, many are now more comfortable with seeking medical advice from the comfort of home, rather than visiting a physical doctor's office. Today, there are many free and confidential telehealth services run by the public health authorities across Canadian provinces and territories. Generally, these services are government-run and match patients with healthcare professionals, all via the phone. Once connected, patients can ask for medical advice on a variety of non-emergency topics. Most of the subject matter will revolve around healthcare professionals advising patients whether or not the particular condition is something that can be managed at home, or something that should be referred to in-person care.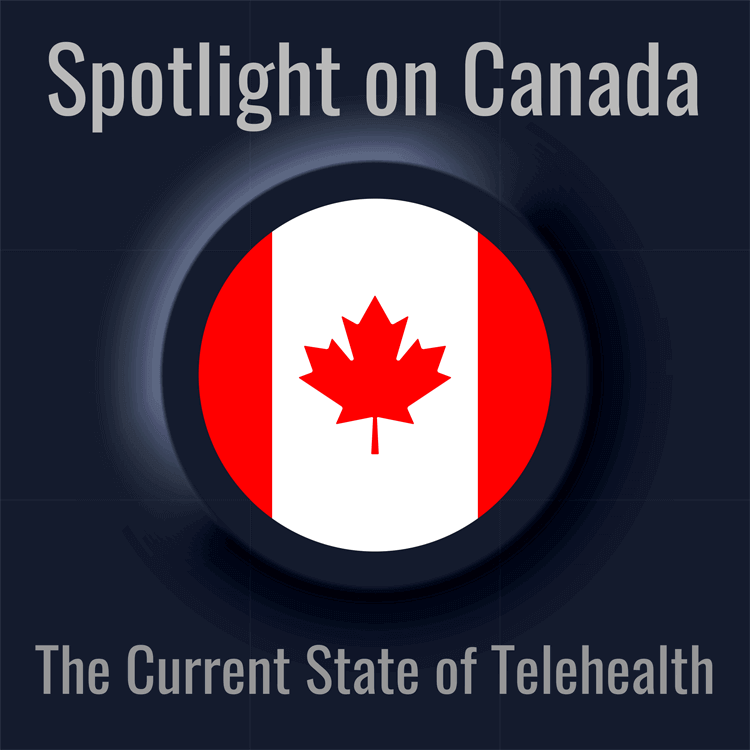 Photo Attribution: Bagel Studio/Shutterstock.com
According to A.M. House and J.M. Roberts in their written work titled "Telemedicine in Canada", this country was one of the first to develop a form of virtual care through the work of the late Dr. Maxwell at Memorial University of Newfoundland in the 1970s. He conceptualized the idea of telehealth by using telephone technology to provide virtual consultations to remote sites throughout the province.
Despite pioneering the idea of telehealth early on, Canada has failed to keep pace with its American neighbors in advancements in this field. So where is Canada's telehealth system today, and why is it lagging behind other first-world countries?
Is there a need for telehealth in Canada?
Telehealth is valuable to those with mobility issues, and those in rural areas, where healthcare is less accessible. Some contributing factors to a larger demand for telehealth in Canada might be a result of the increase in housing prices in urban areas, which have forced many to move into rural areas of the country. Also consider recent pandemics, such as COVID-19, which have resulted in the shutdown of many healthcare facilities except hospitals. In those particular times, telehealth is the only option for many who require medical attention.
According to aTouchAway, an estimated 18.7% of the Canadian population lives in rural areas.
What about patient demand?
In statistics provided by MaRS, the United Kingdom saw 14% of general-practice appointments conducted over video conferences. In the United States, the Kaiser Permanente health system noted that more than half of all contact between patients and care providers was virtual. In Canada, only 0.15% of 270 million billable services were conducted virtually. The COVID-19 pandemic changed these trends, increasing them for all countries. Whether it be out of will or necessity, demand has soared. A poll released by the Canadian Medical Association (CMA) found that 47% of Canadians have used "virtual care" such as calls, email, texts, or video during the pandemic. Of this group, 91% claimed to be satisfied with the experience they received.
Even if individuals are yet to use virtual care in Canada, the consensus is clear. According to the Canadian Attitudes on Healthcare and Telemedicine Report, 70% of Canadians believe telehealth represents the future.
By April of 2020, the Government of Canada had no choice but to react to the surge in virtual care usage. They did this by allowing every province and territory to create new billing codes to allow doctors to provide and get paid for virtual care. The changes were meant to be temporary, but most observers believe that they will become a permanent fixture in the post-COVID-19 world.
The story of Maple Telehealth
Maple is a telehealth provider based in Toronto, Canada. 24 hours a day, 7 days a week, Canadians can be connected virtually to a doctor within minutes for a small fee. The platform offers up a neat waiting room, abilities to send additional information such as pictures and of course a live chat.
Maple CEO, Dr. Brett Belchtz, had a feeling that the COVID-19 pandemic was going to lead to an increase in patient visits to his service. The results exceeded his expectations. Internal statistics showed that visits to Maple quadrupled to over 3000 per day in early March 2020. This meant that Belchtz had to look into an extra set of computer servers to meet the demand. One evening, when usage was at a lower point, he flipped the switch, immediately increasing capacity.
Although the pandemic will be seen as a negative global event, Belchtz says, "the one silver lining from the pandemic is that it forced governments to recognize the value of virtual care and start funding this kind of care." He is not wrong. The Canadian federal government has taken notice. They budgeted 13.4 million dollars in late 2020 to fund three other Toronto-based companies and an innovation hub to support digital health treatments, including telehealth services.
Telehealth services in Canada are growing in both the number of companies arriving on the scene and the number of patients choosing to use the services. Reluctancy comes in many forms and resides among different user groups; and although data security is never fully guaranteed, patient privacy is backed by strong encryption.
General telehealth protocols in Canada
Although rules for conducting telehealth visits in Canada are not overly restrictive, they do follow a similar trajectory to in-person visits, creating difficulties for practitioners at times. Dentons has come up with a list of regulations, which we have summarized here.
Physicians can only practice in the province or territory in which they hold a license. If a doctor has to treat a patient who is located in a different jurisdiction, even if it is virtually, they must adhere to local licensing or registration requirements first.
Physicians need to ensure that their location, identity and license status is known and easily verified by the patient.
Physicians must provide appropriate medical assessments of patients, accounting for history, medication and more.
Physicians must inform patients of the limitations and privacy issues that can be related to telehealth services.
Telehealth does not eliminate the obligations of the physician to conduct a patient follow-up.
All Canadian jurisdictions have a process in place whereby patients can file complaints against practitioners with their associated medical colleges.
The bottom line: Canada is lagging when it comes to telehealth
Originally a leader in telehealth, Canada has begun to lag behind other countries in recent years.
The Canadian Medical Association (CMA) spent almost a year coming up with new ways to move Canada's telehealth system forward. Some of their key recommendations to the federal government include:
A national approach to standards for personal health information access (PHI).
Simplify the process for physicians to register and obtain licenses to treat patients in other jurisdictions.
A framework to regulate the quality and safety of telehealth services.
Recommend that both provincial and territorial governments work with key stakeholders to develop new fee schedules that are revenue neutral for telehealth services.
Incorporate telehealth education at medical schools and other continuing education facilities for healthcare professionals.
Until these recommendations or some form of them are adapted, very little will change when it comes to the growth of telehealth in Canada. Many might wonder how much further behind this sector might have been if it was not for COVID-19. The fact of the matter is that challenges remain. Out of date provincial funding models and inter-provincial licensing rules that are restrictive are just a couple of examples of why Canada's telehealth system is growing slowly compared to other first-world countries.