6 Ways SaaS Can Support Your Startup's Success
Running a startup company is no easy task. You have to worry about hiring the right people, getting customers, and maintaining an efficient workflow. The best way to do all of these things? Build a strong foundation with Software as a Service (SaaS) tools. There are many software options for startups that will help you grow your business in different ways. No matter what stage you are at or what type of business model you use, there is something out there for every company that can help it grow without breaking the bank or taking up all of its time.
Here are 6 ways SaaS can support your startup's operations: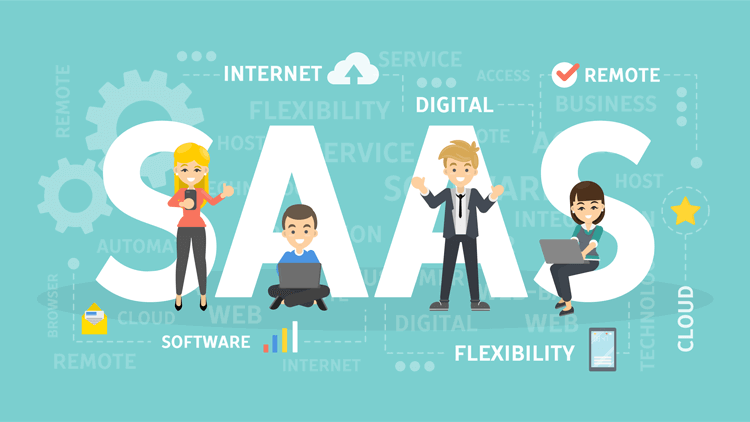 Photo Attribution: Inspiring/Shutterstock.com
Manage customer relationships more easily

Customer Relationship Management (CRM) tools are key to any startup's success. They can help you save time and money by managing customer relationships in a more efficient way, as well as keeping your team on the same page.

CRM systems have consistently supported improving customer relations. The software can help increase sale conversions by 29%, and can also help increase sales productivity by 34%. Its ability to track customer data and share it with the rest of the company has improved forecast accuracy up to 42%.

Automate marketing

CRM software will make you more efficient at what you do best--selling. By using this technology to manage all aspects of marketing from lead generation, engagement and retention, companies are better able to capture potential customers. If done right, automated campaigns can save hours each day on tedious tasks like outreach emails or product announcements for inactive users. Marketing automation software allows companies to send personalized messages tailored to each customer's needs and interests.

You can plan for growth with marketing campaign management. Marketing campaigns are crucial if you want word of mouth advertising or to drive new customers into your business model. Marketing campaign tools make it easier than ever before to build these campaigns from scratch while also tracking ROI accurately, ensuring that your investment pays off in the end.

Efficiently monitor metrics and performance

Startups do not always have teams of data analysts at their disposal, so they need another solution for keeping track of metrics and performances quickly but efficiently. Metrics reporting software helps businesses measure performance with accurate data. You can also identify trends in which channels are producing the most leads and measure how well those campaigns are performing by tracking key performance indicators such as lead conversion rates (LCR) and return on ad spend (ROAS).

SaaS products can even produce reports to manage your costs. They can evaluate customer acquisition costs (CAC) and customer lifetime value to help you make smarter decisions about marketing efforts. This type of data, which is collected in real-time, can also be used for predictions that might not have been possible before with older models. These are powerful tools that will grow along with your company as it matures into an established business entity.

A solution service can track site traffic and conversion rates while providing insights on user behavior, so you know what content resonates most with visitors. You can also measure how well different aspects of your website such as design or layout affect conversion rates from prospects to leads or customers.

Organize online space better

Project management tools make planning easier by organizing tasks in an online workspace. Your organization can easily manage projects and events using project management software. Startups need to remain agile in their projects and operations.

Project boards make it easy to manage tasks and collaborate with coworkers who are on other teams or in different departments. They give a bird's-eye view of company projects so the teams can understand resourcing and schedule needs in a snapshot.

Project management software can be integrated with analytics in order to better understand how your online space is performing. Analytics like conversion rates and bounce rates give an indication of what the company needs to improve on and where they should focus their time and energy.

Secure data

Since cloud services are consistently being improved, they are better equipped to respond faster to malware and adware threats. SaaS systems are typically configured with a multi-layered approach to cybersecurity that mitigates risks. Cloud services may also offer advanced encryption for strong encryption and protection against brute force attacks.

With a lack of hardware, SaaS software can be updated with the latest security patches and fixes more frequently than a regular computer.

Furthermore, because cloud services are hosted externally, usually in data centers located offsite of your business's location, they have better cybersecurity protection against malware that might infiltrate through other software on company networks.

Remote access and team collaboration

Finally, SaaS systems can provide you with added convenience by allowing remote access from anywhere to take care of work tasks while away from home or office. This includes providing employees with offline document storage so even if there is no internet connection at their current location, all files will still be accessible for viewing and editing when an internet connection is restored.
Finding the right SaaS for your business can be a daunting task. However, with so many options available, it is important to find one that will work best for you and support your company in its growth while minimizing costs and increasing productivity. SaaS solutions can be beneficial to any business, and can certainly help in boosting the success factor for any startup.