What is IT as a Service (ITaaS): Evaluating the Benefits and Risks, and Top IT Service Companies
Organizations of all sizes have traditionally had in-house IT staff, or at least an employee or two, who could figure out tech-related issues when they arise. Duties of in-house IT staff also include procuring new technology and maintaining existing infrastructure. In recent times, there has been a shift away from this traditional approach thanks to the onset of cloud technology, which has fundamentally changed IT. Organizations who have adopted this technology now find that in-house IT has become redundant, or at least less significant, since most or all data management is occurring offsite via external cloud vendors. Organizations may elect to keep in-house IT teams to support business partners in tech and rectify small-scale issues among employees; however, IT as a service is becoming a more popular solution for modern organizations.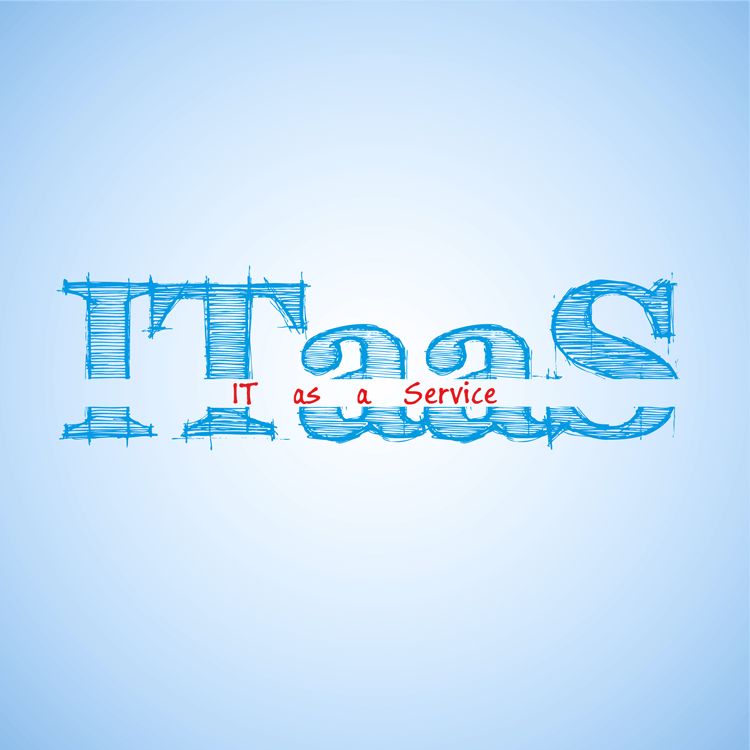 Photo Attribution: Luna2631/Shutterstock.com
What is IT as a Service? It is essentially the outsourcing of IT services. Maintaining a dedicated IT team in-house is expensive and will not always be fully encompassing. For example, an organization may have just switched from physical data storage to the cloud. As a result, the workload of your current IT team is reduced, but you are still paying everyone a full salary. Outsourcing IT services means that organizations can re-evaluate their spending and only pay for services they require, whether that be to build, maintain, update, or service tech as needed. Although cost is one of the main driving factors in determining uptake of IT as a service, organizations should evaluate the pros and cons in full. Continue reading to learn more about this approach to IT and if it is right for your organization.
Are You Ready to Adopt IT as a Service (ITaaS)? What are Some Important Considerations?
Before transitioning from an exclusively in-house IT team to either a hybrid model or full outsourcing of services, there are a few considerations that organizations need to think about:
Review & prepare for risk: By transitioning data to the cloud and outsourcing IT services, organizations will be entrusting third parties with their data. These new interactions call for leadership teams to rethink current risk-management policies.
Financials: Moving to an ITaaS structure can save organizations money, and most organizations make the switch for this very reason. However, leadership teams should accurately forecast what services are needed, and which they can do without. Implementing ITaaS can quickly become an expensive venture - more than having an in-house team - if you are not clear on the landscape of your current IT situation. Organizations may want to consult with in-house or outside IT experts on specific needs.
Think about your employees: Taking away responsibilities or removing your IT team can cause issues with internal staff. You may cause employees to feel a sense of insecurity. To mitigate the creation of a toxic work environment, it is best to explain your reasoning to current and outgoing staff thoroughly.
What are the Top Benefits of ITaaS?
Implementing ITaaS is seen as a modern solution that provides a more tailored approach for your organization. It comes along with many benefits, so we will review the top ones following:
Cost savings: Perhaps the biggest reason many organizations will migrate towards ITaaS is its cost-saving benefits. Organizations can save on things like upfront costs for hardware installation, maintenance, upgrades, and more. For added scalability, organizations that decide to utilize a pay-as-you-go plan can save even more by only purchasing the programs and services that they need. Pricing is also transparent and more predictable on a monthly basis - or however you decide to set up your payment plan.
Time savings: Software updates and improvements are completed on the schedule of the service provider, which means little to no interruption in the form of downtime. It also means less time wasted by internal staff trying to troubleshoot issues - the onus is on your service provider to take care of these things behind the scenes. It is still a good idea for organizations to verify that software updates are conducted regularly to ensure data remains as safe as possible.
Keeping up with the competition: In today's economy, staying on top of the latest trends is key to survival and growth. Many medium and large-sized organizations are moving corporate infrastructures to new service models like ITaaS. It helps them remain agile while utilizing the latest technology, providing ancillary benefits, such as better production and security.
24/7/365 monitoring: When the clock strikes five, many office-based employees, including your IT staff, go home. Although they may receive notification of anomalies, reaction time after-hours is almost certain to be slower. Any delay in response to an issue, like a potential cybercrime, can be costly. When you employ ITaaS, there is almost always a guarantee of 24/7, 365 monitoring. This is additional peace of mind for organizations that are concerned about data being held off-site.
To get a visual on additional top reasons for outsourcing your IT services, see the following graphic: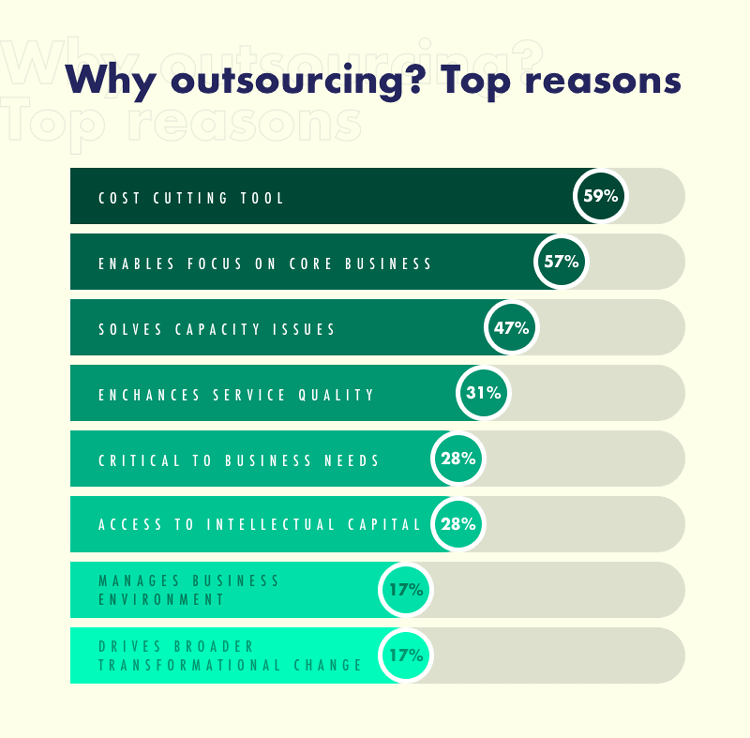 Are There Risks to Using an IT Service Model?
Like most things, outsourcing IT is not perfect and does have its drawbacks. Depending on your organization, and the industry you operate in, you may experience benefits and drawbacks differently. Let us have a look at a few potential issues related to this trend.
Trust & security: Whether the data is being stored and managed down the street or half a world away does not change the fact that you are sharing it with a third party. Ensuring there are guarantees of reliability and security is important to avoid data leaks that are either unintentional or intentional. Organizations should also ensure that the ITaaS provider has set schedules for software updates, as they often contain critical security patches.
Lack of in-person support: Although many have become used to work-from-home situations, nothing quite replicates in-person support. When organizations move to an ITaaS program, it often means calling or emailing IT support for help. Submitting assistance tickets this way can waste time, especially when your situation is urgent. In-house IT staff are often more accessible since they are in the same building. Outsourced IT staff deal with service tickets from many people across many organizations. This means that response times can be delayed. Organizations may also want to make note of where support will originate from, and if they are located in the same time zone.
Workflow instability: Whether you choose to go with a full ITaaS arrangement or a hybrid model, someone at your organization will need to work with someone at the outside IT firm. Ensuring similar work styles and thought processes is important to avoiding disagreement. Finding an IT firm in the same time zone or a time zone with similar working hours to your organization is critical to collaboration. Consider language barriers if you go with an IT firm located in a different country.
What about company culture? As mentioned earlier, outsourcing IT can give off a negative signal to other members of your internal team. Will their positions be outsourced next? Employees may begin to feel uncertain or less motivated if they feel that their positions could become redundant.
Consider These Top ITaaS Companies in North America
CyberDuo - Based in Los Angeles, CA, CyberDuo works predominantly for small and medium-sized businesses. They offer up a 24/7 help desk and specialize in monitoring and reacting to the security of their clients. In addition, they help their clients migrate to the cloud. This is great for organizations that have employees who work a traditional 9-5 and can't always be available to monitor systems. CyberDuo has helped in stopping over 50,000 threats against their clients and have completed over 600 productivity projects.

Learn more about how CyberDuo can help to secure your business.

Field Nation - This ITaaS company helps you find the right person in your area to get the job done. So, when something comes up, head to their website, and use the interactive tools to specify what you are looking for and where. Once you have specified the job, pick from the available talent pool to start your work order. Field Nation allows companies to save service companies in a talent pool just in case you need their services again in the future. Field Nation is best for organizations who either do not currently have an IT team, or whose teams may lack a particular level of experience to complete a specific job. Since you will be placing a work order, service may also not come as quickly as if you have a dedicated ITaaS company in place.

Learn more about how Field Nation provides "as needed" IT service.
The Bottom Line: How to Determine if ITaaS is Right for Your Organization
Determining whether you should outsource IT is a big decision that has many implications. It means either reducing or eliminating positions and trusting a third-party company with sensitive organizational data.
For most organizations, the benefits far outweigh the negatives when it comes to cost savings via a tailored approach to services. Save time and stress by avoiding in-house implementation, updates, and maintenance. Moving data to the cloud and employing IT as a Service is quickly becoming a competitive edge for medium to large-sized businesses, and you would not want to be left behind.