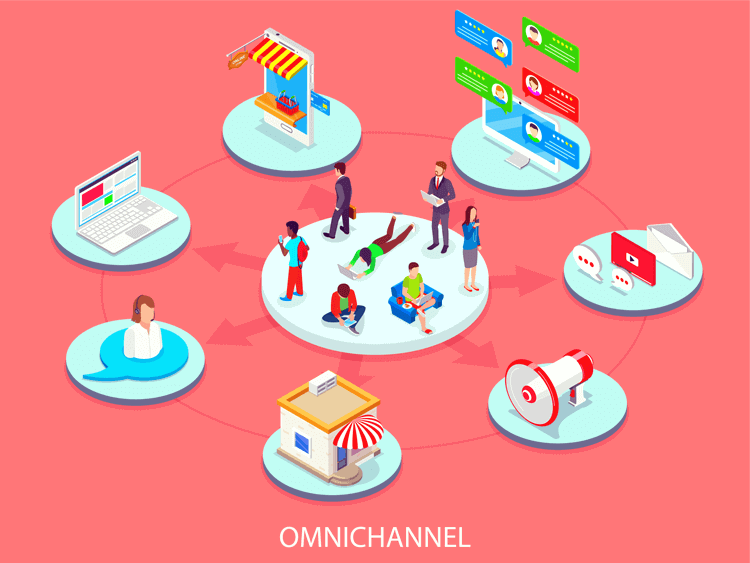 Photo Attribution: TarikVision/Shutterstock.com
What is OmniChannel?
A "channel" in business is simply a medium through which a company can communicate its products to customers. This can be done through websites, advertisement hoardings, social media platforms, or by contacting customers via email, phone calls, or messages.
In the past, marketing was done through one or two channels or mediums such as printing advertisements in a newspaper or running television ads, but now with the availability of smart devices, such as mobiles or tabs, there are a plethora of digital platforms through which a company can market their product to the customers anywhere in the world. This kind of marketing interaction is called Multi-Channel Marketing. In multi-channel, a company can advertise their products and get feedback for their services on different platforms. This helps in getting a wider reach to customers, but the drawback is that all these apps and platforms work separately from one another, and to extract feedback from them is a difficult task and results in longer response time. A multi-channel environment is a great approach to increase the overall visibility of the products but does not provide good customer service or customer experience.
"OmniChannel" – with "omni" meaning "all" – is an integration of all channels, physical (such as retail outlets) and electronic (such as social media platforms, shopping apps, or websites) to provide a unique customer experience. It is a seamless integration of various channels where customer experiences, engagement, and communication techniques run in parallel while complementing each other to provide customers the product experience which they really require.
What is OmniChannel Customer Experience?
An omnichannel customer experience means that a customer can communicate with a company across various channels as one frictionless omni-channel customer journey, which includes searching for products, making purchases, and reaching customer support when required. A company can advertise its products and support customers across many channels, treating each sales and support touchpoint as one complete experience. All this journey is synced up so a consumer can effortlessly navigate from one channel to another to make their purchase.
An omnichannel customer experience example includes a consumer who wishes to purchase a piece of fashion, say a dress, that the consumer checked on a social media platform. After checking the reviews and then clicking the advertisement on the social media platform, the consumer is directed to the online store website but finds out the size of the dress is not available. Then the customer uses the live agent tab on the website to check the availability of the required size, and the agent directs the customer to the nearest store where the dress is available and books it. The customer pays online for the dress and picks it up directly from the store, and all this is done in one effortless and smooth transaction. If the omnichannel experience was not in place, then the customer would have to individually connect with each touchpoint, which results in more time taken to actually make a purchase, resulting in the customer perhaps losing interest and not making a purchase at all.
This integrated experience entirely influences the quality of customer exchanges and creates significant customer support, and involves not just interacting with customers through several channels, but also provides a unique solution for each customer. Omnichannel concentrates on developing a united experience in real-time.
Some of the benefits of OmniChannel customer experience:
Helps in customer retention and increases sales while providing quicker customer service and customer support.
Increases brand visibility, product availability, sales and purchase, customer satisfaction, customer retention and develops customer trust.
What is an OmniChannel Platform?
Online communications consume a lot of time regardless of technological advancements, business size, or type of industry. An OmniChannel platform can support this type of operation and provide a complete and updated interface between companies and their customers. The omni channel platforms come with features that refine customer interaction at all touchpoints to form digitally effective communication between businesses and consumers, and are the latest technological inventions that quickly interact with customers across all available online mediums, which provide an OmniChannel customer service strategy to help minimize operating expenses, facilitate a staff that helps clients, and offers quick responsiveness to consumers any time. OmniChannel platforms completely transform the way companies communicate with customers by creating better omnichannel customer experiences and interacting with them on the channels they like.
Some of the best Omnichannel platforms are:
Shopify
Magneto
Contalog
Netsuite
BigCommerce
What is OmniChannel Customer Service?
OmniChannel customer service is a strategy that allows multiple exchanges across numerous touchpoints between a consumer and company, smoothly from one channel to another. OmniChannel customer service has several features to handle consumer journeys across different channels by connecting with the consumer and providing the best possible solutions. It is a synchronized functioning application in which all touchpoint channels are aligned to provide constant support. In OmniChannel service, companies work as a single medium, producing high-quality omnichannel customer experiences. By applying an Omni Channel customer service strategy, companies get a better understanding of consumer preferences, requirements, and lifecycle, which helps businesses increase sales.
OmniChannel service provides a coherent consumer understanding and does not depend on how a consumer approaches the company. For example, consumers or buyers can use various devices and various platforms to obtain or purchase a certain product, and an omnichannel service strategy ensures that there is a smooth transition from one platform to another to make the required purchase.
Some of the benefits of OmniChannel customer service:
Helps in increasing customer interaction through various channels and provides a seamless transition of information between the customer and company through data integration.
It increases the quality of consumer interaction and reduces the response time.
What is OmniChannel Support?
OmniChannel support provides support for all channels used by the customer to engage with the company at all the touchpoints, which is different from multi-level customer support. OmniChannel support gives a unified experience to the consumer across numerous channels, such as e-mail, phone calls, live web chat, social media platforms, phone apps, and so on. Consumers can initiate a conversation on the channels that they like at any time and resume their conversation from another channel at any place and at any time. By using OmniChannel support, the company can store consumer data in one platform so representatives of the company can address the situation with correct information and reduce waiting times.
Overall OmniChannel Capabilities and Benefits
Visibility of the brands on a huge number of channels and availability of the product in required shape and size is essential for a business to survive and make profits while catering to customer requirements. OmniChannel has the capabilities to manage all these features while maintaining a smooth transition, quick response time, and customer support at all touchpoints across all channels at any place in the transaction.
OmniChannel capabilities range from product selection to customer satisfaction, providing support services, and also predicting the future purchase requirement of the customers based on their search history or personalized data.
Top Examples of OmniChannel Customer Experience Stategies
Zumiez

The main goal of Zumiez is to provide an uninterrupted OmniChannel customer experience while consistently improving business performance. Customers can search products online, then make a purchase and get them home delivered, or pick up in their store while accessing and collecting loyalty points through any channel. They may also return their products through any channel. Customers can now book or buy online, ship from any location, and pick their purchases on the very same day. Thus, stores are an important part of Zumiez's OmniChannel customer service experience.

Sephora

Sephora is one of the top beauty brands in the world currently with consistent growth and profits, much due to Sephora's early understanding and implementation of an OmniChannel customer service strategy. Sephora's phone application uses customers' search history or purchase patterns to identify their requirements and provide suitable deals for them. It also showcases thousands of different combinations of shades and styles, new products, video tutorials of their favorite beauty bloggers, and all the latest trends for the customer to find their perfect match, which is what an OmniChannel customer service experience is. Sephora combines its offline stores with the online world to provide a unique experience, and exclusive deals while creating brand loyalty by connecting with customers on a deeper level and making profits at the same time.

Bank of America

Bank of America develops and deploys OmniChannel strategy and customer service experience efficiently. OmniChannel banking provides customers with different channels that let them switch between them while continuing the human contact that is crucial to building trust without interrupting their journey. Bank of America, through their desktop website or mobile apps, allows the customer to deposit their checks, transfer amounts, pay their bills, purchase insurance, schedule an appointment, and much more with no hassle, all because of an OmniChannel customer service experience. Banking issues and customer complaints are resolved swiftly and efficiently through online channels. This results in cost and time reduction for both the customer and the banks. OmniChannel banking provides more flexibility and security with a unique experience, and personalized solutions to each customer, which increases customer satisfaction and brand loyalty.

Starbucks

Starbucks uses OmniChannel customer service experience effectively to achieve a personalized and seamless customer experience, and much more. They partnered with Microsoft to develop solutions to streamline their orders and pick up. Starbucks uses various channels to approach the customers in the store or drive-thru using their mobile application, and provides customers with information such as deal of the day, daily specials, or custom-made and personalized recommendations based on store location and according to their purchase patterns or previous orders. They also send promotional offers or discount coupons via on e-mail, which can be accessed from the mobile device while purchasing their product.

Disney

Disney merges the online world with the physical one and provides the best customer service and maximum satisfactory experience for customers by using a perfectly integrated OmniChannel customer service experience. Customers can use the Disney Experience app on desktop or portable devices and take advantage of its seamless experience of managing their Disney trip, which includes booking hotels, buying tickets, scheduling activities, etc. Customers are provided with digital bands on which funds are loaded from the Disney app, thus eliminating the need for extra cards or cash. This band is like a key card that can be used to access hotel rooms, rides, parks, meals, activities, games, and much more.
Conclusion: OmniChannel for Businesses and Customers
With the fast pace of growing industry and technology and varied requirements of the customers, it is essential for retailers and companies to establish effective OmniChannel customer experience and service strategies as soon as possible. This helps in reducing the time taken from searching the product to placing an order while connecting with the customer service agents through various channels which in turn increases profits, ease of doing business, and customer retention. An OmniChannel customer experience should be a customer-focused design to avail maximum benefits – higher sales, customer satisfaction, and customer loyalty.