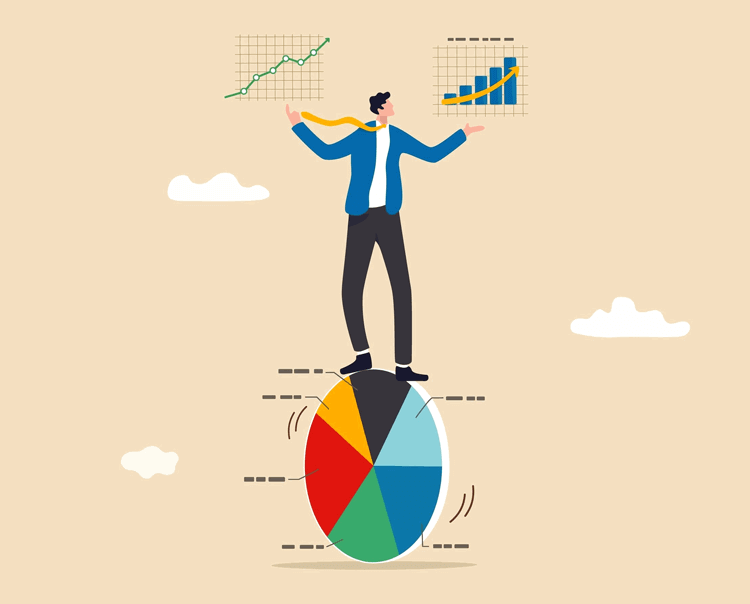 Photo Attribution: eamesBot/Shutterstock.com
At some point or another, we have probably trusted our "gut" with making a decision. In other cases, you make a decision, which turns out to be incorrect, and then proclaim, "I should have gone with my gut." Intuition can seem like an attractive prospect in decision making, although there's plenty of research to suggest that it is nothing more than the luck of the draw. Whether you are deciding on a new personal auto insurance plan, or a big partnership at the company you run, data can help you better understand and quantify a decision. This is where data-driven decision making, or DDDM for short, can make a big difference. So, how can you validate an action before committing using DDDM? The answer is not straightforward. How you incorporate DDDM into your business is highly subjective. It will depend on things like the industry, business goals, client-type and, of course, the way you collect and process data. Continue reading to find out how you can transition from intuition to data-driven decision making at your business.
Where to Begin for Making Data-Driven Decisions?
Are you ready to let data work for you and your customers? Getting started on a DDDM plan can be overwhelming. There are likely many complex data sets that you can look at, however, figuring out how each set relates to one another and builds into a larger picture can be complicated. So, let us take a step back to create a five-point action plan.
Identify a problem or new goal: Before analyzing data, you need to identify the purpose for doing so. Perhaps slumping corporate sales have you concerned. On the other hand, you may have an idea to grow your loyalty program engagement.
Pinpoint internal and external data sets for analysis: Each case noted above would require looking at different data sets to unveil a bigger picture. Identify both internal data sets like financial records and external items, like industry performance to use in your DDDM business case.
Set Key Performance Indicators (KPIs): Before diving into the data, it would be valuable to set KPIs. These are certain benchmarks you would like to see along the journey to your goal and before making a decision. They can motivate teams and help you better understand how pragmatic your goal is.
Analyze the data: You have selected your data, and now it is time to monitor and report. Review and share data with a wider team on a regular basis.
Make a decision: Over time, the data you have chosen can present a strong trend making it easy for you and your team to make an informed decision.
For the visual learner, the following graphic outlines the steps that organizations should adhere to when looking to implement DDDM:

How can Giva help? Create easy to read, customized reports in just 3 clicks. Yes, you read that correctly. With Giva's data analytics integration, organizations receive real-time metrics to measure performance. Take the fear out of processing large amounts of data, and let us do the "heavy lifting." Learn more and start a 30-day free trial to see for yourself!
Examples of Data-Driven Decisions
There are many ways your business can make more informed decisions using data. A few of the most common examples come courtesy of Harvard Business School Online:
Collect survey responses: This can help a business identify products, services, and features their customers may be interested in
Conduct user testing: Observe how customers use products or services and identify potential issues before a new release
Test a new product in a specific market: Launch a new product or service in a "test market" to gauge how a product might perform in the wider economy
Analyze shifts in demographic data: Determine business opportunities or threats
Case Study: Southwest Airlines
One of the best data-driven decision-making examples comes from Southwest Airlines. With the information collected by Utica University, we see that this airline employs several methods to serve its customers better, while growing its corporate bottom line.
In particular, Southwest Airlines collects data on customers' online behaviors and actions to offer competitive rates and to determine new services of interest. Thanks to this commitment to data-driven decisions, they have increased both new customer acquisition and repeat business.
Why Data-Driven Decision Making is Important
Nowadays, there is an almost endless amount of data that an organization can analyze. Plugging one data set into another can help build a larger picture of what is going on in the market and your organization. Though this can sound intriguing, it is not always a good thing. Data can be complex and challenging for organizations to digest, especially if there is not a dedicated individual or team to manage the process. This concept is highly subjective as the type and amount of data you need can be influenced by the organization's size, industry, and current goals.
Tasking an individual or team with this process can be valuable. The benefits of data-driven decision making are far-reaching, but let us take a look at a few of the core advantages.
More transparent actions: When using DDDM, an organization creates templates of their thoughts, goals, plans and actions. It allows other stakeholders to see what the organization is interested in and the direction they are heading through the data they are analyzing. When organizational leaders employ DDDM, they also inspire others in the organization to adopt these methods for more informed decision making.
Speed and accuracy: Organizations are moving at an incredible pace to snap up more market share. This is mainly due to evolving technologies, though data is playing an important role too. Combining real-time data analysis and historical trends, organizations can make quick and accurate decisions - all based on facts. In the hyper-competitive marketspace, there is very little time to waste.
Learn more about your organization: DDDM can help you discover things about your organization that you did not know you needed. Some organizations will analyze certain data sets to get to the bottom of an overarching issue, such as slumping sales. In other cases, organizations simply want to analyze data on a regular basis to identify trends and to better understand "hot" or "cold" products or seasons. When doing general monitoring, you may discover things about your organizations and market that you were not originally aware of. In both use case scenarios, DDDM can help an organization to improve and innovate.
Intuition vs Data
Intuition in business decision making can be tempting. When deadlines are tight and data is scarce or too large to analyze, relying on your gut for a decision can be an intriguing prospect - and it can pay off. Unfortunately, however, no matter what your data intuition track record may be, the odds are not in your favor. When making important decisions at an organization, the benefits of making one based on data far outweigh those made solely through intuition.
Data-Driven Decision Making: The process of analyzing multiple data sets to come to a specific conclusion on trends, insights and actions. This use of objective information is utilized when an organization wants to come to a confident decision that can be backed by data.
Intuition: A subjective act made on the basis of either none or a small amount of data. This tactic is usually used when data is not readily available or time is limited. It is often risky and decisions cannot be backed by much data.
The Bottom Line: Data-Driven Decision Making Provides Organization-Wide Benefits 
So, what is data-driven decision making? In layman's terms, it is the process of analyzing past and real-time data to predict future outcomes. These future outcomes can be anything from increased sales, identifying new trends, or even ensuring current trajectories remain status quo. On the other hand, relying on gut intuitions can be riddled with bias and lead to false predictions.
Before getting started, ensure that you have set your key performance indicators (KPIs). KPIs act as your benchmarks - they are your intentions and goals. They are the overall reasons for your data analysis. Since data is plentiful, it can be overwhelming, and this is especially true when there is no set direction to follow. Once you have your KPIs, begin your data analysis and celebrate milestones along the way. Keep in mind a few core benefits of the DDDM process from the start - this will help you realize its value further:
Organization-wide transparency on decisions made (promote employee trust)
Improved efficiency thanks to quicker decision-making processes
Decisions are well-informed and based on fact