What is Data Governance and Who Does It?
Now more than ever, data governance is crucial to effective management and decision-making within enterprise organizations. 
Data governance is a process and set of principles whereby a company manages data availability, security, integrity, and usability within systems, software, and databases.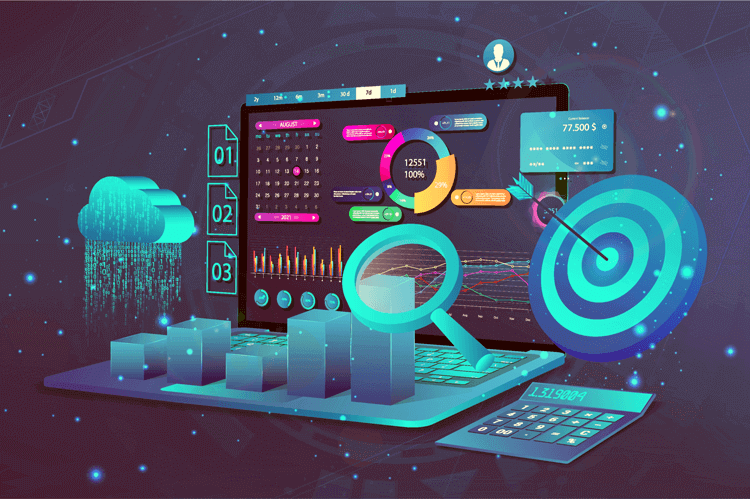 Photo Attribution: SergeyBitos/Shutterstock.com
According to Experian, data governance is "a process to ensure data meets precise standards and business rules as it is entered into a system."
Experian goes on to explain that: "Data governance enables businesses to exert control over the management of data assets. This process encompasses the people, process, and technology that is required to ensure that data is fit for its intended purpose."
Companies generate and need to process, store, and share more data than ever before. Both from customer interactions within internal systems and relevant third-party data flowing into the business. In 2018, the amount of data captured, created, and replicated had reached 33 ZB (zettabytes), according to an IDC report. Since then, the world's data volume has already exceeded 44 ZB zettabytes, and this figure keeps increasing exponentially, with it projected to reach 175 ZB in 2025.
In this article, we take a closer look at principles of data governance, data governance examples, and help companies answer the question many still struggle with: What is data governance, and why should we bother with it? 
Data Governance vs Data Management: Are These the Same?
Data governance is not the same as data management.
For example, if we are to compare data with customers, front-line customer service agents implement a company's customer service policies, while the customer service leadership team designs the strategies, policies, and processes. Implementation flows from having a clear strategy, processes, systems, policies, and procedures.
The same applies to data governance. Data management is the practical implementation of data governance principles, and is primarily seen as a function of an IT department. Data management encompasses the lifecycle of a company's data assets.
Whereas, data governance is the creation of a set of standards, principles, processes and systems that oversee the management of data within an organization.
With an effective data governance model, organizations experience numerous benefits, including:
Ensuring data consistency across an organization, and that data is trustworthy and doesn't get misused
Managing and navigating data compliance and privacy laws worldwide (such as CCPA in the U.S., and GDPR in the EU)
Breaking data out of silos so that it adds more value across an organization
Supporting leadership and front-line teams with more effective access to data to help optimize operations and drive data-driven decision-making
Business leaders make better decisions when they have access to the right data, at the right time, in a format they can use. An effective data governance model founded on the principles of data governance makes this possible.
What Are the Principles of Data Governance?
According to the Data Governance Institute, there are eight core data governance principles that every organization should follow. When you follow these principles, managing data becomes easier, and companies benefit from unlocking the potential of data within an organization that drives more effective decision-making.
Implementing data governance principles and using an agreed-upon data governance model also reduce data inconsistencies and conflicts that are inherent in any midsize to large company.
Here are recommended principles every organization can follow when creating and implementing a data governance strategy:
Integrity

Data governance officers and staff implementing data governance strategies must act with integrity in data management. Anyone who plays a role in collecting, storing, processing, and analyzing data is a steward of the data system within a company.

Integrity is essential in any data-related role. Data stewards must be transparent when discussing constraints, drivers, options, and the impact of any data-based decisions.

Transparency

Transparency is equally essential when designing and implementing data governance principles. Data governance and stewardship needs to make transparency a core practical principle, and every participant and auditor need to know the reasoning for data-related controls and decisions.

Auditability

Any data-related process, system, and control process managed according to data governance principles should be auditable. Auditing data is integral to managing it, making it more useful and powerful within an organization. Documentation is essential to data governance and management as part of this process.

Accountability

Companies need to avoid gaps and overlaps when it comes to data management. Data governance defines accountabilities for data-related controls, decisions, and processes.

Stewardship

Top-level data stewardship should start with a governance team, a steering committee, and a team of data stewards. To ensure data governance is effective, a C-Suite Executive, such as a Chief Data Officer (CDO), should lead the data management office (DMO), and have a seat or advocate within the senior leadership team.

The governance team needs oversight for data stewards' activities to ensure everyone responsible for data is achieving the relevant KPIs.

Checks and Balances

Essential to data governance are checks and balances between business and technology teams.

Alongside this, there should be checks and balances between those that create and collect data, and those who manage it, use it, and adhere to compliance requirements.

Standardization

One of the big challenges of data governance within enterprise organizations is the variety of formats and systems data sits within. A lack of standardization causes conflict, inefficiencies, and inconsistencies.

Data governance is responsible for introducing and supporting the standardization of data across a business.

Change Management

Data governance can support proactive and reactive change management across an organization. Data governance principles are responsible for data values, and the use of master and metadata. A good change management software tool can be of great assistance as well.
What Is the Importance of Data Governance?
Data is the fuel that drives decision-making and change within an organization.
Data governance should always be viewed as a business strategy, rather than an IT and technology function. IT teams can play a role in data governance, especially when it comes to managing, storing, and stewardship. However, the reason for implementing data governance should be a business and operational decision.
According to a McKinsey 2019 Global Data Transformation Survey, 30 percent of time spent within an enterprise organization was wasted on non-value-adding tasks due to poor quality and limited access to data.
Companies have eliminated millions in data-related costs after implementing data governance models. Billions of dollars of value is being generated by companies investing time and energy in data governance, compared to those that don't take this seriously, according to McKinsey research.
McKinsey says that: "Data governance is one of the top three differences between firms that capture this value and firms that don't. In addition, firms that have underinvested in governance have exposed their organizations to real regulatory risk, which can be costly."
Some of the largest creators and consumers of data are healthcare organizations, financial services companies (such as banks), and technology firms. When a company commits to enacting data governance principles --mdash; which is a gradual process that takes time and investment --mdash; millions or billions of dollars in value can be unlocked.
What Are Examples of Data Governance Models?
Now let's take a look at some examples of data governance in action, and data governance models you can adopt, adapt, and put into practice.
If this is something you know your organization needs to tackle, or attempts have been made in the past that weren't successful, now is the time to focus on data governance. Before we get into how to implement a data governance strategy, you need to know the different data governance models, and how they might apply to your business.
Decentralized Data Governance Model, Single Business Units: In a decentralized data governance model, individual stewards and users of data implement a strategy within a business or business unit with limited centralized oversight from senior data leadership.
Decentralized Data Governance Model, Multiple Business Units: In this model, that same implementation strategy is being managed across multiple business units. Although taking a light-touch approach, each unit would benefit from sharing data best practices and pooling access to data.
Centralized Data Governance Model, and Execution of the Strategy: This is the model we covered before. A centralized leadership team, and management of data stewards and users by that team.
Centralized Data Governance Model, with Decentralized Execution: This approach is a hybrid, with centralized control and management, but a delegation and decentralization within various business units.
How to Implement a Data Governance Strategy
Here are some of the basic steps you should take to implement a (centralized) data governance model:
Secure C-Suite support

Data governance needs a champion. To ensure success, a Chief Data Officer (CDO), needs to secure support and buy-in from business and operational leaders. A CDO needs a budget and team to implement an effective data governance strategy, and as this is likely to cause change and transformation across an enterprise, support needs to come from the top.

Business leadership buy-in will prevent challenges during the implementation phase. Data stewards within the business will accept this as a mission-critical priority, making time for it accordingly.

Integrate data governance with core transformation goals

Data governance is easier to implement when teams and business units can see this is part of a wider transformation process. CDO's and the data management office (DMO) should seek to integrate data-related changes with broader goals and programs.

Transformation programs popular across enterprise organizations right now include:

Digital transformation
Omnichannel enablement
Resource-planning modernization

Data governance should be aligned with all of those to ensure greater success.

Prioritize data assets

Data is everywhere, it impacts every part of an organization. You can't tackle every data-related challenge at once. But you can make a strategic priority list, and then start working through that according to business needs.

Set governance guidelines accordingly 

Don't attempt to "over govern" data. It's an essential element to so many staff across multiple teams and roles. Don't make it harder to access, especially if the data assets are low-risk. Aim to apply the right level of data governance in the most effective ways so that you are taking a "needs-based" approach.

Ensure implementation is iterative and focused 

Senior leadership is going to want to see value generated fast from data governance efforts. Focus those activities to strategic goals that will add value, generate real results from the time/money invested, and demonstrate the useful impact of data governance.

Make sure implementation is iterative, focused, and supported by relevant training efforts. Once one data governance project has demonstrated value and success, aim to roll this out across the entire enterprise. Make data governance integral to everyone who creates, interacts, and shares data within an organization.
Conclusion:  Is Data Governance Worth It?
Data governance is not to be taken lightly. But it is worth investing in, now more than ever. With so much data flowing into, across, and out of mid-size and enterprise organizations, getting a handle on it now will unlock huge value, while ensuring reduced risks, and greater levels of compliance.