IT Job Outlook Post Pandemic and Great Resignation
In January of 2022, Giva published an article about the Great Resignation, and halfway through 2022, we wonder what's next? Is the Great Resignation still happening? Is it changing, and, more importantly for our audience, how is it or will it affect jobs in the IT industry?
Employees in every sector are unsettled in a post-COVID-19-pandemic world. When you factor in the rising risk of a recession, higher inflation, food and gas prices, and other global and local sources of unrest, it's no wonder people are looking to change careers.
It has become known as the Great Resignation, and it appears the Great Resignation is here to stay for some time.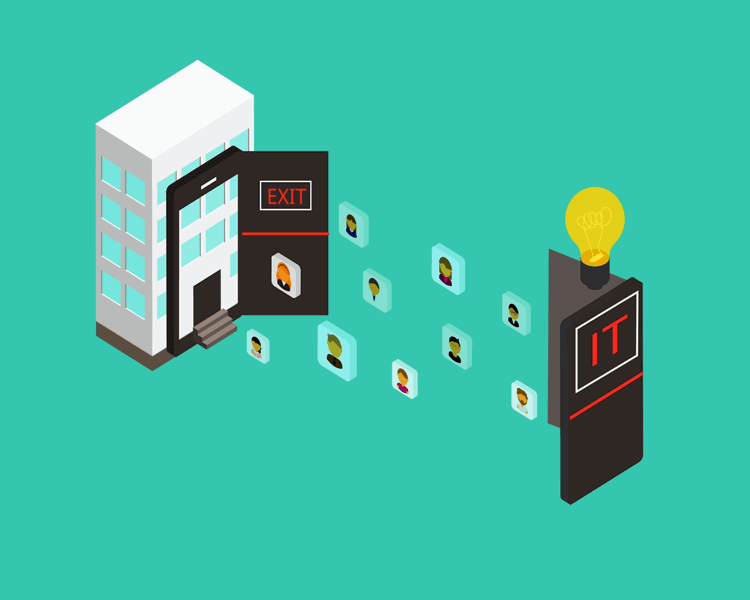 Photo Attribution: Piscine26/Shutterstock.com
What Caused The Great Resignation?
People are leaving jobs in record numbers.  In May 2021, businesses and economists noticed employees were leaving at a much higher rate than statistical averages for staff turnover, coining the phrase, "The Great Resignation."
It started during the pandemic. Faced with the prospect of continuing to work in jobs where employees were unhappy while coping with the challenges of a global pandemic -- while working from home with kids off school, or being furloughed for months -- many chose to quit.
Naturally, this is a cause for concern for businesses, especially in the IT industry, and we'll explain why this should worry CIOs. According to the World Economic Forum, "one in five workers plan to quit their jobs in 2022, according to one of the largest surveys of the global workforce."
The WEF report goes on to say that, "Although most are seeking higher salaries, over two-thirds say they are seeking more fulfillment in the workplace." Based on data from PwC's Global Workforce Hopes and Fears Survey of 52,000 employees in 44 countries, "pay is unsurprisingly the main factor in people wanting to change jobs, with 71% citing it as a key reason."
However, staff feeling fairly rewarded financially is only one factor -- important, yes, but not the only reason for the Great Resignation wave.
Flexibility is also important. Employees value and want the option to work remotely, either full time, so they can live and work anywhere, or following a hybrid model. After the pandemic, work-life balance is crucial. Regrettably, while 26% of employees want to work remotely full time, only 11% of employers are likely to adopt that approach.
Job satisfaction is another crucial factor. Only 69% of employees find their jobs fulfilling, and the percentage of workers who can't go remote or hybrid recorded even lower job satisfaction scores (45%).
The Great Resignation is happening worldwide. Millions of employees are leaving jobs to go elsewhere, or start their own businesses. In many cases, employees nearing retirement are giving up work for good. Millions of people have left the workforce and won't return.
A mass exodus and moving around of employees is leaving a huge hole in the labor market. In the U.S. alone, there were 11.3 million vacant jobs in demand as of May 2022, according to the most recent U.S Bureau of Labor Statistics data.
Now that you understand the context, let's dive deeper into how the Great Resignation is impacting the IT industry and the role IT leaders need to play in managing their teams effectively.
How is the Great Resignation Affecting the IT Industry?
The post-pandemic resignation boom is having a seriously negative impact on the IT industry.
According to a recent Gartner survey, "Only 29% of IT workers have high intent to stay with [their] current employer."
It gets worse for IT leaders and CIOs.
The survey goes on to say: "IT workers are more inclined to quit their jobs than employees in other functions, with a 10.2% lower intent to stay than non-IT employees -- the lowest out of all corporate functions."
So, if only 29% intend to stay in their current role with their current employer, then a massive 71% intend to quit. Not all of them will, of course. But given the tech sector is currently fighting a war for talent -- despite some prominent layoffs and hiring reductions -- IT workers looking for a new role have many options, making the IT career outlook very positive.
Especially when you consider the fact that IT and tech-based work can be done remotely, so you don't only need to worry about local competitors, the global tech sector is hiring and wants your dissatisfied team members.
Naturally, IT leaders are wondering how to fix this problem. How do you retain valuable talent when unhappy employees (and many you may not even know are unhappy) are looking for the nearest and quickest exit?
How Can IT Leaders Solve Talent Retention Challenges During The Great Resignation?
Give IT teams the ability and option to work remotely, ideally full time. It doesn't mean they can't or won't come into the office. But, it could go a long way towards increasing employee satisfaction and helping you retain valuable IT talent.
According to Gartner: "Data shows that more flexible and human-centric work policies can reduce attrition and increase performance."
The report goes on to say: "In a 2021 Gartner survey of 3,000 employees across a wide range of industries, functions and geographies, 65% of IT employees said that whether they can work flexibly will impact their decision to stay at the organization."
"CIOs who adopt a human-centric work design will out-hire, out-retain and out-perform those that revert back to industrial-era work paradigms," says Gartner.
Here are three steps CIOs can take to implement a more human-centric working model for IT teams:
Make working hours more flexible

Although this might be difficult when you have Service Level Agreement KPIs to hit, when you have the resources, it's possible to make working hours more flexible.

Companies and countries everywhere are pioneering four-day work weeks, flexible working, and hybrid/remote models. Now is the time to start experimenting with designing work weeks that align more closely with the needs of employees.

Remove the need for office-centricity

The pandemic changed many things, including the myth that employees are only productive when they're in an office. Despite the challenges of trying to carry on as normal during the pandemic, hundreds of millions of employees did. Many continue to work as productively -- if not more so -- from home.

Unless your IT team needs to be physically present in the office, as knowledge economy workers, they can perform just as well from home. Trust them to keep doing the work. Use the same KPI-based targets as when they're in the office.

Measure IT teams based on their work and performance, not whether they are physically present in an office environment.

Reduce the number of meetings

Before scheduling any meeting, always ask yourself, Does this need to be a meeting?

If the answer is "No", then find a more cost and time-effective way to achieve the same results. Meetings are a business practice that dates back centuries. Businesses had to gather people in one room to make decisions.

Now, with a vast selection of digital collaboration tools, remote work, and asynchronous and synchronous communication, makes physical meetings redundant. Not every decision needs to be made in real time.

All of these tools do make having remote team meetings easier. However, if something doesn't need to be a meeting, you can ask employees for input, await their responses, and then make a more informed decision.
Summary: Retaining Talent with Tech Jobs in Demand
CIOs and IT Leaders should be concerned about IT teams. Compared to employees in other corporate functions, there's a high level of dissatisfaction. Unhappy employees won't stick around forever. You've probably already lost team members, and others might be busy looking for other opportunities.
Now is the time to take action. Give your team a reason to stay. Make IT operations more human-centric, and give your company the advantage in the IT war for talent.