Project Management Software vs. Ticket Management Software: Do You Need Both?
Project managers (PMs) and IT support specialists serve critical roles in a modern organization.
PMs have many responsibilities — running meetings, planning and scheduling, managing resources and budgets, analyzing reports, delegating tasks, and more.
Like PMs, IT support specialists are responsible for juggling multiple tasks simultaneously. IT service or help desk employees analyze, troubleshoot, evaluate and resolve technical issues for an organization's customers and clients, among other things.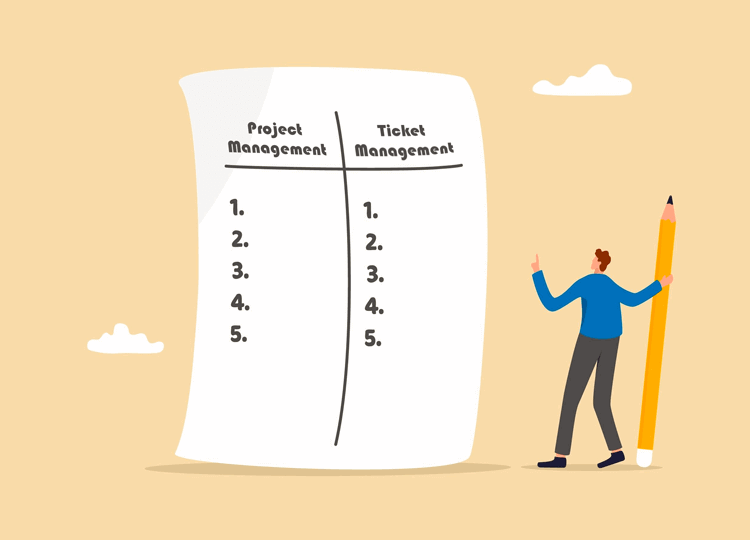 Photo Attribution: eamesBot/Shutterstock.com
At times, these roles are demanding and stressful. Thankfully, two digital solutions can assist PMs and IT services employees in managing their duties: project management (PM) software and ticket management software.
What is project management software? What is an IT ticketing system? In addition to these questions, you might wonder if your organization needs PM software, ticket management software or both.
Here's more information about PM and ticket management software and their similarities and differences, which will help you determine which solutions best suit your company.
What Is Project Management Software and What Does It Do?
Why use project management software? PM software provides project managers and other employees with a suite of tools to manage all aspects of project organization, planning and execution.
Companies across all industries use PM software in various ways. A construction firm might use it to build a structure, while a consumer electronics business will use it to expand into new markets.
PM software solutions are typically used for these basic project management functions:
Project planning
Document sharing
Team communication and collaboration
Calendar and contact sharing
Task management
Bug and error management
Time tracking
Some of the best project management organizational tools offer additional features to help even the most experienced PMs maintain high productivity levels and meet their unique daily responsibilities. PM software simplifies, streamlines, organizes and automates various project management tasks to lighten the workload.
Consider how important it is for companies, especially remote-friendly or remote-first organizations, to leverage the power of PM software.
Suppose a PM for a major corporation is working with multiple departments in different locations to complete a project. In that case, the corporation's PM software plays an even greater role in the project's success.
What Is a Ticket Management System and What Does It Do?
What are ticketing systems? In an IT department, a ticketing system, sometimes called IT ticketing software, helps professionals deliver exceptional customer service to individuals using high-tech products and services, such as internal employees and external customers.
Employees in other departments, such as marketing, accounting or human resources (HR), typically lack IT knowledge. As a result, these internal employees must contact the company's IT department to resolve any tech-related issues.
IT ticket management software offers several benefits. For example, these solutions can: 
Streamline IT troubleshooting activities to fix issues more efficiently
Track live employee IT requests
Collect and store incoming support calls
Send timely alerts from failing hardware and software
Monitor software licenses, assets, requests for change (RFCs) and other activities the IT department is responsible for
Act as a resourceful knowledge base
Help IT departments communicate with users experiencing technical issues
Many large corporations leverage IT ticketing systems to manage the high number of requests received by their help desks. Consider how many digital devices use a corporation's network. Without an IT ticket management system, departments would find it impossible to process all the requests they receive daily.
Additionally, IT ticketing systems can help improve the employee experience. Companies with the right tech support for remote and in-office employees can foster a positive work environment, increase employee productivity and keep workers engaged.
Managing IT requests efficiently and effectively is critical because the number of remote employees in today's workforce is growing exponentially. Home-based workers struggling with technical problems can lead to lost productivity.
So, Do You Need Ticketing or Project Management Software?
PM and ticket management software are highly useful, especially in the modern workplace. Organizations that adopt and implement the latest technologies with advanced features and capabilities tend to have an upper hand over their competitors.
PM software and IT ticketing systems share some similarities, so it's understandable that making this decision is challenging for you. For example, both solutions can: 
Improve and maintain employee productivity
Provide structure to otherwise unorganized tasks
Streamline communication between employees across several departments
Allow workers to set important reminders
Help managers delegate assignments
Require experienced users, such as PMs and IT support specialists
Track time spent on tasks
Enable better collaboration and file sharing
If you're choosing a tool for your company's IT department, investing in an IT ticketing system makes the most sense.
This software solution will do most of the heavy lifting for your team and help them manage support requests, allowing them to focus on more meaningful activities. IT ticketing systems can also handle other calls from departments like HR, facilities, customer service, legal and accounting.
On the other hand, selecting a PM software for IT purposes could cause potential issues, especially if it lacks crucial IT-related features. For example, PM software does not alert employees to hardware and software issues, which could lead to more employee downtime. Ultimately, though both solutions can be useful, an IT ticketing system will likely be the best choice for increasing efficiency, structure and productivity.