Are IT Certifications Worth It? Our Guide to the Top IT Certificates
Is it worth it for companies to encourage IT certifications for their technology employees? What certifications are organizations most interested in? Gaining competency in various areas helps expand the possibilities for your company's growth and an individual's job opportunities. If you're seeking a job in the IT industry, you want to know the best option to land the position you want.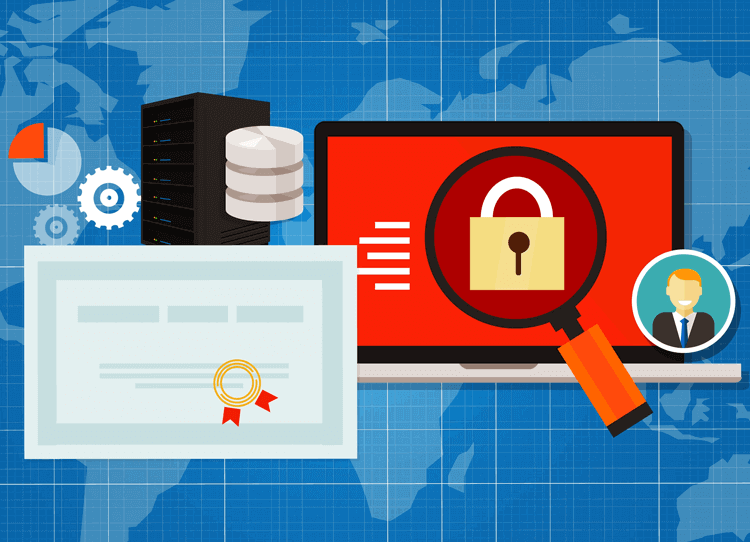 Photo Attribution: Bakhtiar Zein/Shutterstock.com
Whether IT certifications are worth it depends on your business needs and which skills areas your workers may need to improve. Certifications can help people advance in their careers or find a better-paying position with another company. Some industries require employees to be certified to meet regulations for HIPAA and avoid issues with GDPR and other privacy regulations. An IT certifications list will narrow things down and help companies find the best one.
Which Certification Is Best for IT Technology?
The U.S. Bureau of Labor Statistics estimates over 2 million people work in computer and information technology, many with specific concentrations. Around 98% of them focused on information systems, computer management, security, telecommunications or computer science. With so many people working in varied areas, figuring out the best IT certifications is challenging.
So, what IT certification should I get? Employees should start by talking to their current employer about opportunities for promotion. Management can discuss the future career plans of their workers and see what gaps they can fill to work their way up in the department. Certificates can benefit companies and individuals when approached strategically. Although the certifications you need will depend on your department's strengths and weaknesses, none is objectively better than the others.
You may also need to meet certain regulatory requirements via training and certification. There will likely be a few IT certificates that pop up repeatedly in your research. These are the ones most companies seek in their employees.
What Certifications Should You Get for Information Technology?
In this guide, we'll look at the top certifications and what people can learn by seeking one in each area. Gaining a certificate requires basic information technology skills as a building block.
Here is a list of certifications companies and IT professionals should consider.
AWS Certified Cloud Practitioner
Amazon's cloud-based systems work with big and small organizations to provide web hosting, storage and even a delivery system to sell software. Working within the AWS environment is different from other cloud-based systems, so knowing the ins and outs requires training.
Those seeking AWS Certified Cloud Practitioner certification must understand how cloud computing works but don't necessarily need technical knowledge. Gaining a certificate shows employers an individual can communicate about working in the AWS environment and understand instructions.
Seeking certification ensures you'll understand basic IT services and how to utilize them on AWS Cloud. You'll also gain knowledge of AWS services, billing and pricing, overall security and how a business improves by using the cloud. The exam costs $100, and it takes about 90 minutes to answer 65 multiple-choice questions.
Organizations with AWS-certified employees will experience improved communications and fewer misunderstandings. Since it's a popular cloud platform, the knowledge often transfers from one job to the next.
Certified Ethical Hacker (CEH)
Testing your systems to ensure hackers can't easily get through shores up your security and protects crucial digital assets. Rather than hiring a third party to find weaknesses, enlist the help of one or more internal workers to probe your system for vulnerabilities.
Certified Ethical Hacking certification takes the knowledge your IT department already has and teaches workers more legal and ethical techniques they can use. CEH certification starts with understanding what employees should and shouldn't do while hacking your systems, even for tests. Individuals with this type of training stay out of trouble and add value to the brands they serve.
A CEH certificate leans toward a firm understanding of the network security framework. It's an intense certification for which you'll need to develop new skills. However, the effort is worth it as employees gain skills that help protect the company they work for now and in the future.
CISM
CISM stands for Certified Information Security Manager. To earn your CISM credentials, you need five or more years of information security experience and a minimum of three years of information security management and other practice analysis.
You must gain experience first, so you'll need some information management knowledge ahead of time. The process is challenging but ensures only those with the proper training and credentials are ready for more rigorous responsibilities.
Since your organization's cybersecurity is one of the most crucial aspects of your business, CISM may be one of the best cyber security certifications to ensure only those most qualified manage your security. Your team will gain credibility and improve efficiency, proving the value of IT certification.
CISSP
Certified Information Systems Security Professional (CISSP) gives you the authority to be a cybersecurity expert. Similar to CISM, candidates for this IT security certification must have five years of experience in the field. A four-year college degree satisfies one year of the requirement.
Getting credentialed in cybersecurity protects your organization from cyberattacks and adds legitimacy to your IT team.
CompTIA
CompTIA certification is another cybersecurity acknowledgment. The 2022 Dice Tech Salary Report listed CompTIA A+ as bringing the highest-paying salaries in the industry, with a 6.9% increase year over year. Is it worth it to earn this information security certification? If you want to gain workers at an entry-level position and train them in cybersecurity, earning various CompTIA certifications is a smart course of action.
Passing the tests isn't enough to land a job, though. Employers want to know how you apply the knowledge you've gained in real-life situations. CompTIA has no prerequisites, but the organization does recommend two years of experience in IT management and security before taking the exam.
ISACA
The Information Systems Audit and Control Association offers IT security certifications like the COBIT framework, CRISC, CGEIT, CET and ITCA. The group's purpose is to help tech professionals and their companies understand the positive potential of technology.
Prerequisites vary depending on the information security certifications your employees seek. Finding a place where workers can take multiple exams and learn simultaneously saves you time and effort and ensures you obtain all the necessary skills.
ITIL
The Information Technology Infrastructure Library (ITIL) sets forth some basic practices for IT service management and asset applications. Learning how to best use the framework benefits any brand creating digital goods and services.
The ITIL 4 Foundation helps people learn about the ITIL framework in networks and certifies professionals in its use. ITIL is used from development to delivery for creating and improving tech products and services for the public.
Certification focuses on using the framework and tapping into the resources library. The exam has 40 multiple-choice questions and takes about 60 minutes. To gain certification, you must answer 26 questions correctly.
Are Certifications Worth It?
Each certificate has unique pros and cons. The similarity is that workers must spend time and effort to gain credibility for every certification. Whether or not this matches the outcome is something employers and workers must decide together. Think through the benefits and determine which types of IT certifications are worth it.
What will you gain? The advantages can be anything from more confident employees to credibility with your clients. What will receiving the certification cost monetarily and in time or other resources? Only your management team and employees can determine the best for your unique situation. This list of IT certifications should help you determine what's best for your company.
Stay inside the parameters of GDPR and other privacy regulations, including HIPAA or HITECH. Check out how Giva's certifications page digs into the details of crucial employee training and provides information on good IT certifications to have.