How to Get Buy-In for Your IT Self-Service Portal
Self-service in IT Service Management (ITSM) refers to a model in which users can access and manage IT services without needing to involve IT staff or other intermediaries. This is accomplished through customer self-service portals or other tools that provide the information and resources needed to resolve common issues or grant access to services.
In the ITSM landscape, self-service can present itself in several ways. For example, it can: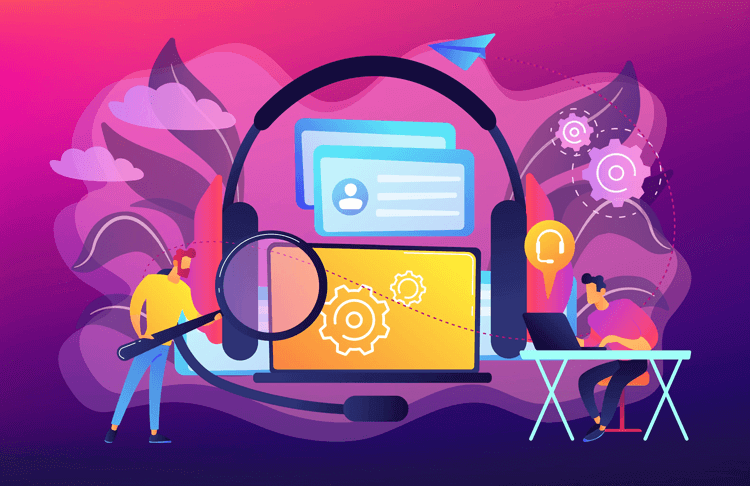 Photo Attribution: Net Vector/Shutterstock.com
Allow users to request new services
Report incidents
Check the status of their requests
Access knowledge bases and other resources
Additionally, self-service systems can automate routine tasks, such as provisioning new accounts or resetting passwords, ultimately reducing IT staff workload and improving service delivery.
So you might be thinking — this seems like a lot of work for an organization to put into place. You are right. Building resource banks and outlining new processes are time-consuming and can receive pushback from those unwilling to embrace change. Despite these instances, IT self-service portals are critical in today's market, which is often fast-paced and demanding. How can you get your customers, employees, and agents on board? Let us take a closer look!
Get Buy-In from the Organizational Level
Getting buy-in for IT self-service portals at the organizational level can be an easy sell. Besides introducing a new process to existing employees (which we agree can be challenging), there are several angles from which IT professionals and executives can find value — whether it be cost, operational efficiency, customer satisfaction, and more. Here are some examples of how to obtain buy-in for this concept at your organization:
Cost savings and reduced full-time equivalent hours: Employees can resolve issues and access information without intervention, reducing the need for IT staff to handle simple or repetitive tasks.
Increased customer satisfaction: By providing employees with easy access to the information and tools they need, self-service portals can help reduce the time it takes to resolve issues and improve overall efficiency. Customers want resolutions, and they want them quickly. Self-service portals can contain information to expedite the process. For example, if an organization has documented ten similar issues, this may indicate a trend. Saved into a knowledge base, customer service employees can refer to the solution in these cases for future instances.
Better tracking and reporting: IT self-service portals can also provide better tracking and reporting of IT support incidents, allowing organizations to identify and address common issues more effectively. For example, regular service tickets related to a particular software may indicate that it is time to consider something new before renewal.
Proactive support: IT self-service portals can provide support and guidance to employees, reducing the likelihood of incidents occurring in the first place. For example, when employees notice a suspicious email, they may report it to IT through a service ticket or click on links and attachments to verify its legitimacy. Rather than straining resources or taking unnecessary risks, they can refer to a knowledge bank to better understand the process for identifying and destroying the potential threat.
Business case example: University of South Dakota
At one time, The University of South Dakota (USD) had data stored in different places among its various departments. Compounded by poor communication, this was the perfect recipe for disorganization and inefficiency. In response, the faculty shifted all departmental data into a single knowledge base, easily accessible to those with permissions. According to the article linked prior, following implementation, USD rapidly saw an 18% reduction in the time it took to attend to service tickets. Six months after implementation, there were 31,000 users, 262,000 page views, and 5,000 knowledge articles in the knowledge base. With impressive and rapid results like these, it is easy to convince employees at all levels to buy into the idea of implementing a form of IT self-service portal at your organization.
Get Buy-In from Agents
The benefits of a self-service helpdesk for an organization's agents can be plentiful. As we will see, many benefits ultimately allow for agents to free up time — which can then be used to take allotted periods of rest or to focus on more complex tasks.With customers being as demanding as ever, here are a few of the benefits which may be realized by staff on the front lines:
Reducing workload: Self-service portals allow customers to find answers to common questions and resolve simple issues on their own, which reduces the number of incoming requests and frees up staff to focus on more complex tasks.
Improving efficiency: Self-service portals can be accessed 24/7, so customers can get the information they need at any time without waiting for a staff member to become available. This feature can be beneficial to short-staffed organizations. It can allow employees to take allotted breaks without worrying about returning to a line-up of chats and tickets.
Mitigating burnout: By handling repetitive tasks and common issues without intervention, self-service portals can help reduce the workload on staff members, which can ultimately help mitigate worker burnout.
Enhancing knowledge management: Self-service portals can store and organize information and knowledge, which can help to ensure that staff members have access to the information they need to do their jobs effectively.
Enhancing automation: Self-service portals can be integrated with other tools and technologies to enhance automation.
Get Buy-In from Customers
Whether in a grocery store, hardware shop, or restaurant, customers are not willing to wait long for service. According to data presented by Mindful via Velaro, nearly 90% of customers who called a business to rectify customer service issues were willing to wait less than 5 minutes on hold before abandoning the call. Although this data is more than 10 years old, Mindful has found that much of the data has remained the same. The chart below shows customers' tolerance levels drop significantly after the 5-minute mark.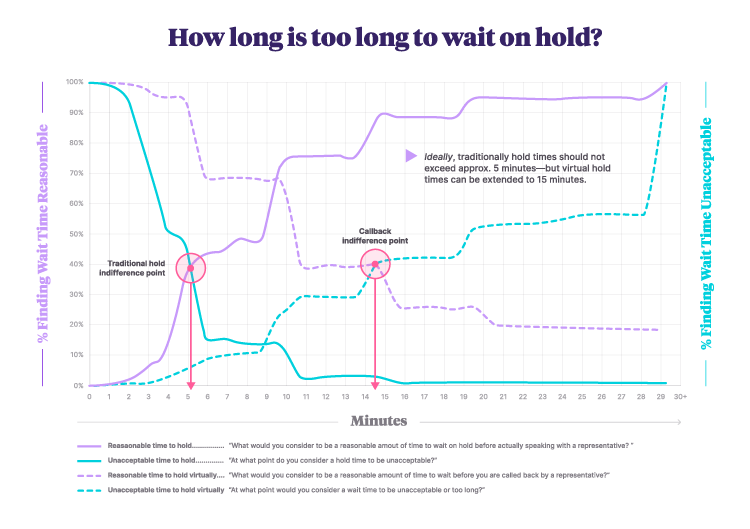 A self-service help center can benefit customers by providing a convenient and efficient way to access information and services. These portals typically allow customers to view and update their account information, submit service requests, and access knowledge bases or FAQs. If you are ready to put your customers in the "driver's seat," here are a couple key benefits to share:
Increased convenience: Customers can access the information and services they need at any time and from any location, without having to contact the company directly. This convenience can refer to things like resetting passwords or modifying orders.
Provide instant access: Self-service portals can provide customers with instant access to information, reducing the need for customers to wait for assistance. This access can be helpful when customers are interested in checking the status of an order or tracking information.
Examples of these types of self-service options can include a sign-in customer portal, automated live-chat functionality and more.
Pro tip: Ensure the layout of your digital self-service apps are user-friendly on desktop and mobile. Making them tricky to navigate can defeat the purpose and result in new service tickets. 
If you are interested in "selling" customers on self-service portals, organizations can highlight these benefits and demonstrate how the portals will improve their experience. They can also provide training and support to help customers navigate the portal and make the most of its features. Additionally, companies can ensure that the self-service portals are easy to use, reliable, and accessible on multiple devices.
The Bottom Line: Customer Self-Service Portals and Self-Service Solutions — A Win-Win Scenario
The benefits of a self-service portal are far-reaching, offering advantages to agents and customers. Agents can improve productivity and focus on priority tasks, while customers can quickly access answers to their questions without waiting for a live agent. This solution not only benefits both parties but also helps to keep customers satisfied and coming back.
However, it is relevant to note that the purpose of an ITSM self-service solution is not to replace the role of IT professionals but rather to enhance time management. Allowing customers to take charge of specific service request categories creates a win-win situation.