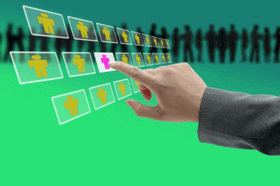 To understand the financial impact of the various Help Desk staffing models discussed in Part One, the important question to answer is, "How many Help Desk staff are required for your call volume?"
The Meta Group and the Help Desk Institute have calculated the cost per call resolution at the various levels of support. These studies show the real financial impact of the different models. In all cases, the Generalist Model is about 48% more cost effective.
The following are methods of determining how many Help Desk staff are required for your volume:
Determining Direct Labor Requirements. How calls are submitted determines the biggest impact of labor requirements. The percentage of calls actually being resolved at the Help Desk have a direct impact as well.
Determining the Number of Potential Direct Labor Hours Available. It is unrealistic to think that anyone who works a 40-hour week will be available for all 2,080 theoretical hours in the year. When you factor in and deduct hours for company holidays, vacations, sick time, training, etc., the net number will determine the potential direct labor hours available.
Utilization Rate. This rate reflects the fact that inbound calls arrive randomly. Rarely does a new call arrive at the exact moment an open call is concluded. The level of service required of analysts determines an "appropriate" utilization rate.
Sample Formulas. Calculations to determine:
Total numbers of hours required
Number of potential direct hours available
Actual number of direct labor hours available
Gross staffing level
For these formulas and much more in-depth information, please refer to Giva's Whitepaper on Help Desk Staffing Models.