Cloud Computing for IT Help Desk & Customer Service/Support
Learn Latest Help Desk & Customer Service Best Practices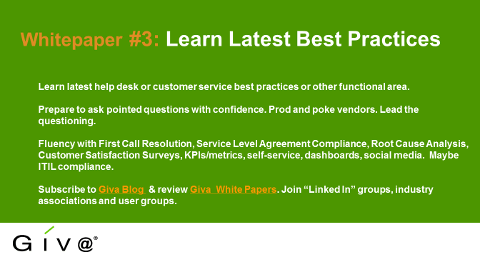 The #3 Key Point we discuss in the "Winning Strategies for Purchasing IT Help Desk and Customer Service Software or Cloud Computing" webinar is to learn the latest help desk and customer service best practices.
Before engaging with software vendors, read up on help desk and customer service "best practices" as appropriate, so that that you can ask pointed and direct questions with confidence. For example, you want to be able to speak about First Call Resolution, Service Level Agreement Compliance, Root Cause Analysis and Customer Satisfaction Surveys with authority and competence to prod and poke at vendors. It is important to show vendors that you understand the latest best practices and industry trends, so you can make sure that they have evolved their products.
Click "Download White Paper" to read more about help desk and customer service best practices.