Ask Software or Cloud Vendors Tough Questions Early and Often
Cloud Computing for IT Help Desk & Customer Service/Support
Ask Vendors Tough Questions Early and Often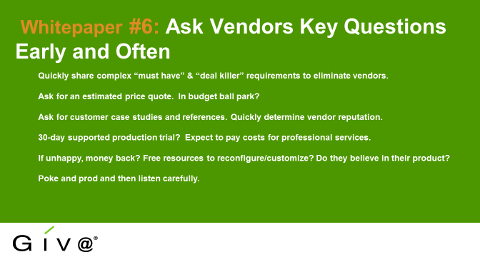 The #6 Key Point we discuss in the "Winning Strategies for Purchasing IT Help Desk and Customer Service Software or Cloud Computing" webinar is to ask vendors tough questions early and often.
Once you have documented your product requirements, share them with a small list of vendors. Share the most complex "must have" requirements first. This will help you eliminate vendors and save time. Saving time and narrowing your list is your top priority. Engaging with vendors is very time consuming; and the more vendors you engage with, the more your daily productivity will decrease. Put the "must haves," which are your "deal killers," on the table and carefully listen to vendor responses. If any vendor cannot meet your "must haves," quickly cross them off your list. It is important to be efficient and disciplined as this approach will keep morale high. Remember that engaging with vendors takes significant effort and is very time consuming. It takes your people away from their every-day responsibilities, which they are expected to perform.
Click "Download White Paper" to read more about how to ask vendors tough questions early and often.