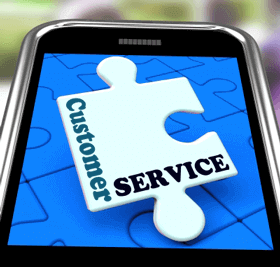 Micah Solomon, best selling business author and named by the Financial Post "New Guru of Customer Service Excellence," wrote about an important principle of customer service titled the BUBL method in his informative article, "The One Customer Service Training Secret You Need To Know". The simple acronym stands for Begin immediately, Uncode, Break Your Schedule, and Leave Room For More:
Begin Immediately: This means giving immediate attention to the customer. Keep in mind they are here for your service; their needs are your priority.
Uncode: Be receptive to the body language, tone, and verbal cues of your customer to decode their persona and adjust your attitude accordingly.
Break Your Schedule: Throw your to-do list out the window. Customer service entails tending to customer needs as they are needed, so assure your schedule is their schedule.
Leave Room For More: Lastly, leave your interaction open-ended. In other words, make yourself available for future assistance.
These four practices are essential to successful customer service interactions.
But how do you provide helpful customer service when you are not physically present? Excellent online customer service is equally possible; however, business methods must be adapted to digital spaces:
"Beginning immediately" is no longer an issue in an online environment where the desired information should be readily available. A customer service representative or associate may not be present, but providing a Frequently Asked Questions page in your navigation can substitute as a reliable resource for any business-related questions your customer may have. Additionally, a search feature will assist users in navigating your website for any specific questions.


Uncoding a customer's presence online may not be possible , however, knowing what your customers find helpful or unhelpful is critical to the success of your business. To quote Bill Gates, "We all need people who will give us feedback. That's how we improve." Encouraging customer input by Including a survey or feedback form is a simple and effective way to gain that feedback. Consider using websites like Survey Monkey.


Navigating a website is a self-serving practice prohibiting you from personally tending to the customer's schedule. Instead, implement an analytics program to view the effectiveness of your website. By tracking metrics, you can gain a comprehensive look at customer interactions and pinpoint what areas of your business need improvement.


With regard to leaving yourself available for further interaction, be sure to provide a customer service phone number and email address in a clearly visible area should a visitor have additional questions or concerns. Regardless of the efficiency of your website's navigability or helpfulness, customers will always genuinely appreciate the option to communicate with a live person.
The online customer brings different challenges to the customer service environment, and successful organizations will find creative ways to closely interact with them, even if it is through "personal" virtual means.