What Makes a Great Help Desk? Top 3 Strategies & Success Metrics
Customer service is integral to the success of any organization that sells a product or service. Loyalty and retention are both built off of the very principle of customer service. When your customers are happy, they will likely return and recommend your business to their friends, family, and co-workers. With that being said, customer service is an evolving sector that requires organizations to remain current and efficient. How is this done?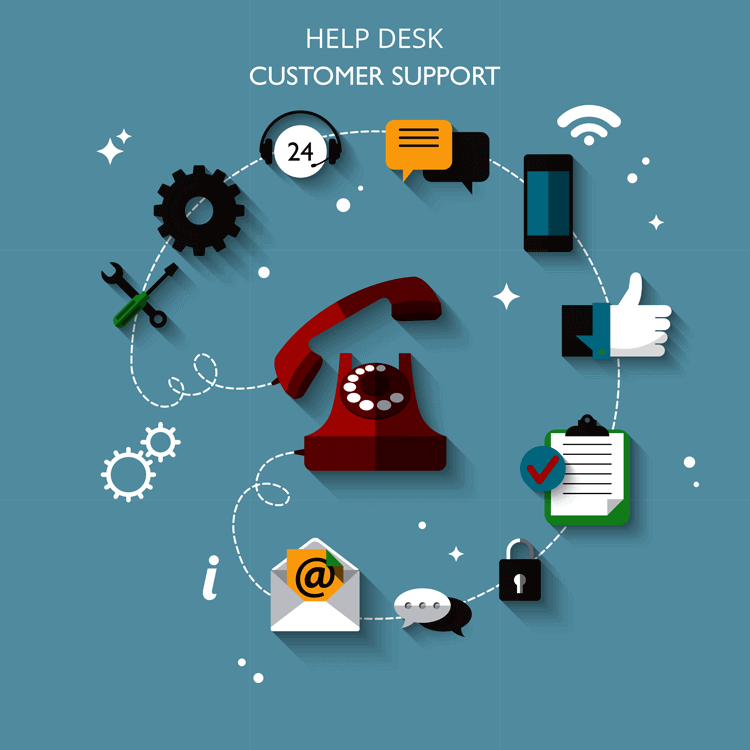 Photo Attribution: Maglara/Shutterstock.com
A great help desk system can aid in achieving the highest standards of customer service. What is a help desk? As a high-level explanation, a help desk system assists your customer service team to handle queries and complaints. Although, as we will see later on in this piece, the functionality of a help desk system goes even further than that. According to data provided by Market Research Future, the market for global help desk automation is expected to reach USD 11 billion by 2023 at a compound annual growth rate (CAGR) of 33 % during the forecast period of 2017 - 2023.
John Allen, Director, Global SEO at RingCentral, in his article "How to Improve the Customer Experience Using a Help Desk", states that businesses, "often think of customer experience as happening between the initial contact and the sale, but it's much broader than that, encompassing any and all interactions, from sending the prospecting letter to the post-sale ones." As an organization looks to either implement or replace an existing help desk system, there are three areas to ensure it operates well in:
Focused on customer service
Streamlined processes for customers and employees
Service desk tools
So, how can you ensure that you have a great help desk in place? Consider these three areas of operation.
Provide customers with an omnichannel experience

As a business, you have customers who have different preferences in style and communication. When it comes time to resolve an issue, they want to do it their way. Whichever way they choose, they want their questions and concerns attended to as quickly as possible. As an owner or employee, you should be invested in providing the resources and responses that meet your customers' demands. As was mentioned earlier, it is these actions that will manifest loyalty, retention, and repetitive buying behaviors

How can you go about implementing a system that elevates customer service? Ensure that there are clear ways of contacting your help desk via multiple channels. This can involve the implementation of a website form to quickly submit issues, live chat, and social media channels - all directed back to the help desk team. You want your customers to have a true omnichannel experience. When there are many contact platforms in place, a help desk system to manage requests, and a physical team to react, you will be increasing resolution rates while, at the same time, keeping your customers happy.

How to track success? Improved first call resolution rate (FCR)

Perhaps one of the most important metrics to track is your organization's first call resolution rate (FCR). According to the International Customer Management Institute, "FCR is a measure of how effectively your contact center conducts its business and is a function of many factors, including the complexity and types of transactions handled, the experience of your agents, the quality of agent training, and tools such as knowledge management and remote control. The metric is most often measured monthly because a monthly time frame is long enough to provide statistical significance. But it can also be measured annually, weekly, daily, or even hourly."

Image courtesy of Sprout Social 2020

You can learn more about FCR by reading this Giva whitepaper.

Create a more efficient ticketing system

Ticketing systems are used across a variety of industries. They often act as a "to-do" list for employees. A help desk usually feeds tickets into a shared inbox, which is then organized categorically, and assigned to the team best suited to address it. Although this can be done manually when an organization is dealing with smaller volumes of inquiries, it can be much more difficult when volumes increase. A help desk speeds up ticket acknowledgment and resolution.

How to track success? Improved agent usage efficiency

For organizations, one of the biggest benefits to a ticketing system is that they can gather better insights into what their customers seem to inquire about most, and take steps to address them.

Customer Think has identified a few areas where an automated ticketing system can be useful:

Ticket backlogs: reduce or eliminate ticket backlogs thanks to a more organized approach and standards set through your help desk system.
Create a customer journey: develop personal connections with your customers thanks to real-time solutions.
Maintain customer support standards: categorizing tickets can assist staff in a more consistent approach to similar issues.



Allow your customers to be self-sufficient

Although you may have a help desk system to handle incoming tickets, overloading your system with inquiries is still not a good idea. Submitting a ticket should be one of the last tools a customer reaches for. How can this be done? Allow your customers to be self-sufficient through informative FAQ sections on your website. Organizations can get creative with their FAQ content by making it visual through an infographic or a video tutorial for those customers who prefer that method of information consumption.

Another way to improve customer self-sufficiency is by the implementation of artificial intelligence (AI). Already seen across a variety of organizations, AI can appear in a few different forms, but most common is automated chatbots that can respond to or direct customers to the answer they may be looking for. This is all done without human intervention.
How to track success? Improved agent usage efficiency and customer satisfaction
You might be wondering, how does customer self-sufficiency relate to a good help desk? Well, it doesn't relate directly. However, indirectly, customers helping themselves can relieve additional strain placed on your system and staff by having fewer tickets to resolve.
When your staff has lower ticket volume, they may allocate more of their time to doing other tasks beneficial to the organization, including re-focusing on their original job description. Though it is not always the case, contacting a customer service line should be the last resort for customers who cannot find a solution to their issue sooner. Creating a valuable resource that makes customer resolution simple and efficient is a win-win situation for all parties involved, and more satisfied customers.
The bottom line: why it is time your organization invested in a help desk solution
What does a great help desk bring to the table? Besides happier (and hopefully repeat) customers, help desks provide reporting on how customer inquiry resolution is handled at your organization. It will assist in tracking metrics related to the number of inquiries received, what type of issues are most encountered by customers, how long it takes for tickets to be resolved, and how happy customers are with the resolution.
So, you have gone ahead and set-up your very first help desk software platform, or replaced an existing one with something better, such as Giva's cloud help desk software. While we are confident you will see positive changes in your customer service performance, there a few areas to monitor closely when measuring success; they include:
First contact resolution rates: How many of your clients need a follow-up to resolve an issue?
Agent utilization: Do your employees find the program useful? Are they adapting well and is it making them more efficient?
Customer satisfaction: Are your customers happy with your customer service? Perhaps sending out a survey or measuring metrics including keeping track of repeat customers is a way to gauge this.
Overall, the implementation of a great help desk creates an all around winning situation for an organization, its employees, and especially the end customer.
Why choose Giva for your help desk?
Giva's help desk software can be deployed in days, with employees trained in as little as one hour. Giva's cloud help desk software is highly customizable, robust, fast and secure. It solves several common issues faced by today's organizations that handle large numbers of customer inquiries, including:
Implementing workflows and standard responses
Illiminating "unnecessary" tickets by your customers
Increasing FCR
Measuring customer satisfaction
Giva's real-time dashboard with charts and metrics will certainly take your organization's response to customer service to a whole new level.
To learn more and to obtain a 30-day free trial, please visit Giva's cloud help desk software homepage.