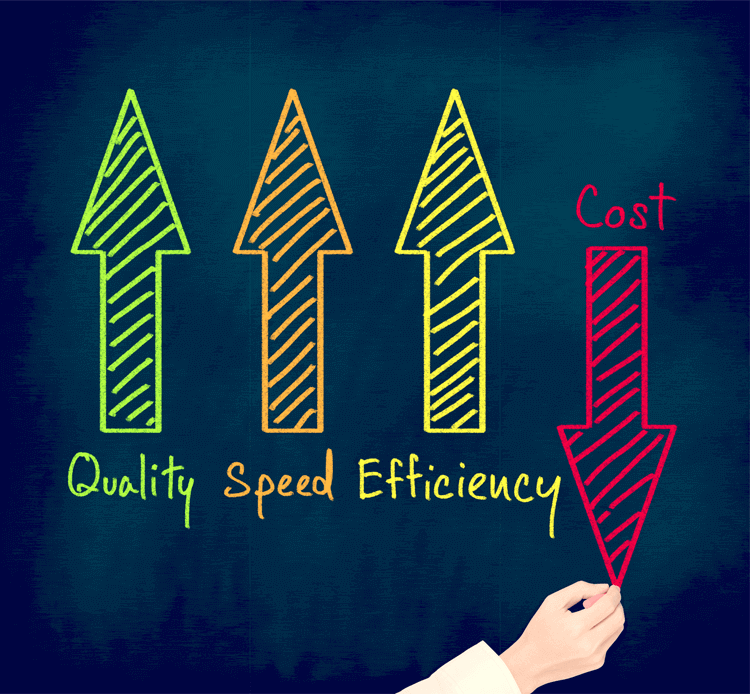 Photo Attribution: Dusit/Shutterstock.com
Small and medium-sized organizations on a budget may be hesitant to initiate the process of looking into and implementing a help desk solely based on cost. Whether you decide to choose between an open-source program, software based in the cloud, or something else entirely, there are ways to generate cost savings, while still capturing the services you require to operate efficiently. Continue reading to gather our tips on implementing a cost-efficient help desk at your business, even when budgets are tight.
What is a help desk?
These days, there are many ways customers can address their issues. Some will opt for email, others prefer social media, while human interaction also remains an integral component to customer service. To best collect, manage, and resolve customers' issues, a help desk is recommended.
Keeping track of a large number of daily inquiries, both internal and external, can become an insurmountable task, especially if you aim to respond promptly. This is especially true for small and medium-sized businesses that may be less prepared to deal with higher volumes of inquiries from a staffing standpoint. A help desk is designed to specifically meet all of these needs.
What are the benefits of a help desk and how can it help save (and make) money?
A recent TechTarget article notes the following as key benefits of a help desk:
Manage increased workloads: An increasing volume of support requests can be more easily managed through the automation of IT workflows.


Less is more: Although the number of inquiries being received by IT teams and customer service departments is on the rise, automation can greatly assist in responding and dealing with many of these. This means that staff can remain focused on other, higher priority tasks.


Improve response time: Your customers want answers, and they want them quickly. Thanks to automation, some responses can now be instantaneous, while staff has more time to respond to inquiries that require more attention.


Creation of a knowledge base: As more tickets are received a knowledge base can be created. Keeping track of similar issues and responses means that a standard can be set when it comes to replying to different types of scenarios. No need for employees to "reinvent the wheel" each time an inquiry is received. This will also save employees time while getting customers the answers they require.
Benefit to customers: Most importantly, the implementation of a help desk and efficient process should reflect well with your customers. An improvement in your organization's first call resolution rate means that your customers are receiving a solution quicker. This is a good way to promote customer loyalty and retention.
Cost benefit to organizations: Saving costs on extended employee work hours is a key trait of a great help desk and its long term benefits on budgets. Overall this can not only help an organization save money, but it can also help to make money.
Different types of help desk software available today:
Olha Kurinna at Learning Hub lays out a couple of the most common help desk software types available on the market today. These include:
Best return on investment

Cloud-based: Operates securely from the cloud. Need to move from one space to another, such as moving from the office to home? A cloud-based help desk software system makes the transition seamless. All an employee is going to need is login information, a device (mobile or computer) and an internet connection.
In addition to being easy to use, from almost anywhere, a cloud-based help desk software can be installed and deployed quickly. Learn more about Giva's cloud-based help desk software.
Free*

Open-source: Organizations get access to source code. They are then able to customize the program as they see fit. Although in most cases open-source help desk software is free, they need to be managed and built out by an IT professional who will need to keep a close eye on future updates and improvements. This additional cost or burden on an IT team may make this option a "no-go" for some organizations.

*Although most open-source programs are free to obtain, they often require paid labor and expertise to expand and maintain.
How can you save money on a future help desk software program?
There are many reasons why an organization may desire to implement help desk software. Larger corporations might be able to implement a system without thinking about its cost. Some smaller and medium-sized businesses might need to give the decision a bit more thought based on the available budget and projected income.
In any case, there are a few key areas to consider when budgeting and looking to save money on a help desk software program:
How big is your team? Since most help desk platforms charge "per agent" it will be important to consider who in your organization requires the use of this software. When you're on a budget consider limiting the number of agents who require a login or even sharing one master login if possible.


Help desk + more? Not all help desk platforms encompass all necessary features. Some will require you to add additional features for an additional cost. As an organization on a budget, attempt to find an all-inclusive help desk offering.


Compatibility: Is the help desk software you have chosen compatible with other programs already in use at your organization? Perhaps you already have software that can do some of the tasks of a help desk. This means that you may be able to scale back required help desk services, ultimately saving your organization some money.
Which software option is best for an organization on a budget?
When an organization is on a budget, selecting the right help desk software can become difficult or an afterthought altogether. For organizations that are on the greatest budget limitations, an open-source model can be the most cost-effective since it is usually free. However, don't be fooled by the word "free", as there are some limitations. Open-source needs to be built out and maintained. This isn't just a task that can be done by anyone. It usually requires a trained IT professional. In this case, open-source is an ideal choice when an organization has an IT professional already on-staff, with knowledge on how to maintain and build the program out further.
For those looking to get the best value for their money, cloud-based software, such as that offered by Giva, is the best choice. It is mobile, secure, and easy for employees to learn without "breaking the bank". Still not convinced? Learn more and start a free trial by visiting the Giva cloud help desk software homepage.