What You Will Need to Set Up a Telehealth Practice: The Essentials
Telehealth allows one to receive basic or specialized care over the phone or by video conference. This is ideal for patients with mobility issues, easing the anxiety of in-person visits during high-risk times, and for those who do not have an appropriate form of transportation to receive in-person care. It also helps to reduce wait times, a benefit for both the patient and provider.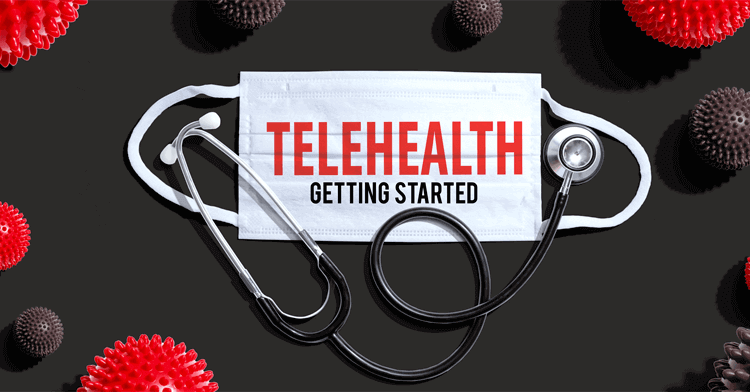 Photo Attribution: TierneyMJ/Shutterstock.com
With these benefits in mind, you have decided that telehealth is about to become an important part of your business. What essential tools do you need to get started?
A proper video conferencing program
The backbone of any telehealth system is proven and reliable video-conferencing software. The ability to see your clients and analyze their concerns visually not only adds a personal touch to care but may also enhance the accuracy of a practitioner's diagnosis.
Be sure you are equipped with the following:
Webcam
Microphone
Speaker
Strong WIFI connection that is not overloaded with too many other devices
Ensure you have modern technology and a secure firewall that is not overly sensitive to video conferencing programs. Old computers and firewalls can create roadblocks to seamless video
You will also want to confirm that the service you enlist to run video (Skype, Zoom, Go-to-Meeting, etc.) will provide an unlimited video time allowance. In most cases, you will have to purchase a plan above and beyond a free account. For instance, a free Zoom account will give you forty-minute sessions at a time before disconnecting. This would interrupt the flow of your appointments, not to mention being unprofessional.
Most video conference providers will offer HIPAA compliant programs, so it is important to look for this type of service, wherever possible. HIPAA requires you to have a Business Associate Agreement with your technology provider. This will ensure that those working with Personal Health Information (PHI) remain responsible for it. HIPAA does not require encryption for compliance if it is unreasonable for you to implement (ex. too expensive). You can learn more about HIPAA's video conferencing requirements at this VSee blog post.
A virtual waiting room and booking system
Telehealth is all about convenience. Equally as important to both patient and provider is the ability for the system to operate similarly (or better) than an in-person clinic would. Instead of having a human operator, a patient should be able to easily make an appointment online using a calendar with available time-slots. The booking system should be able to handle the rest from there, including the sending of reminder emails. On the day of the appointment, a patient should be able to join a virtual waiting room where they can find information on how many patients are ahead of them, as well as an anticipated wait time. This will also give the healthcare provider an overview of how many patients are in the queue. The waiting room could also be configured to accept walk-in patients.
There are plenty of available programs on the market, and some even offer booking systems, waiting rooms and video all-in-one. Experienced IT professionals can even work with some program developers to build it into a provider's website for added efficiency.
According to VSee.com, the ideal virtual waiting room should encompass the following three abilities:
Triage - to place patients in order of urgency of the condition
Workflow - to help providers prepare for their day and to see who is waiting for care
Follow-up visits - the ability to schedule directly and perform these types of visits
A Telehealth IT professional
Regardless of the specific platform on which you decide to host your telehealth services, providers and any other employees involved should be well trained on basic troubleshooting in the case of technical issues or potential data breaches. Whether you decide to purchase video-conferencing, booking and waiting room services separately, or as an all-in-one package, most programs will provide some type of training modules that you should take advantage of. There are two important steps that a new telehealth business should undertake before launching operations.
Whether that person is you, or someone external, each telehealth operation should have a go-to person in charge of IT. This individual should have IT action plans for a range of scenarios, as well as being informed on all facets of the programs employed.

Providers should incentivize a small number of patients to participate in your first telehealth appointments under the promise that they provide feedback on the service afterward. This feedback should not only include information on the provider's care but also include the technological platforms used. VSee notes that feedback should ask a few key questions that include:

What types of devices are they using for their appointment? (laptop, mobile, etc.)
What kind of networks are they using? (WIFI, LTE, etc.)
What features do they like? What features do they have difficulty finding?
Final Thoughts
There are many components that go into developing your own telehealth business. Even providers who have been in business for some time may feel overwhelmed at first. Ensuring that proper video, waiting room, booking and IT capabilities are in place is just the start of a complex, yet rewarding system for both patient and provider. Not included in our list is an electronic medical record (EMR) system that can help providers track scheduling, billing, prescriptions and more.
It is highly recommended that providers lay out the costs of each individual system mentioned here as well as complete solutions that cover all areas of their business, to determine which works best with their budget and to provide the best patient care.
How can Giva help?
Founded in 1999, Giva was among the first to provide a suite of HIPAA compliant help desk and customer service/call center applications architected for the cloud.
While exponentially scaling, how can telehealth and telemedicine providers assist patients using their platforms? Patients and healthcare providers may encounter technical problems with videoconferencing, appointment setting, insurance eligibility, billing and e-prescribing. Also, rapid and successful patient on-boarding may require non-medical personnel working with patients.
Giva has a strong focus on telehealth and we can help you get up and running on a Patient and Healthcare Provider Service Center Portal to increase satisfaction, speed issue resolution and decrease costs.
Sign up for a no obligation 30-day trial of Giva.