3 Ways to Help Make Telehealth Simple and Secure
Individuals looking to partake in telehealth appointments often do so for its various conveniences that limit the need to travel from the comforts of home. Many patients have become accustomed to care that resembles that of an in-person appointment. Though the quality of patient care is of the utmost importance, the user experience is also important encompassing everything from making a booking to after-care.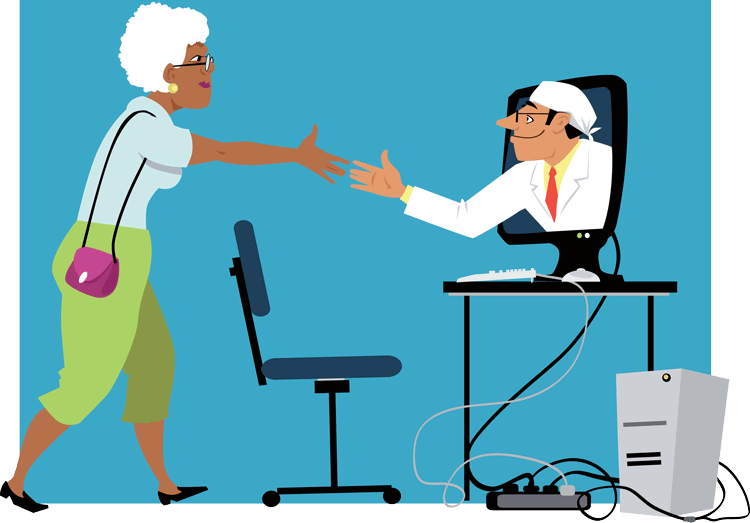 Photo Attribution: Aleutie/Shutterstock.com
According to the Huron Consulting Group, the number of telemedicine consultations will reach 160 million cases by the end of 2020. This reflects a 700 percent increase from 2015, while 77 percent of consumers say they would be more likely to choose a doctor who offers telehealth than one who is not using the technology. The popularity of this type of service is clear, though before building out your service, consider adopting these recommendations to ensure a great user experience.
Go Mobile
A key to great customer service is availability. Whether it is product or service, being able to offer customers what they need, and when they need it, is important, and smartphones are helping us get that done. The same can apply to telehealth and the conveniences associated with booking appointments, monitoring progress, and retrieving results on a patient's smartphone.
No matter what service you deploy to manage your telehealth practice, ensure that your patients can access key actions through a mobile application on their smartphone.
Did you know? According to Statista, the number of smartphone users in the United States in 2020 is estimated to be 275 million. It is anticipated to grow to 290 million by 2024.
Screen Sharing
First-time patients or those who may be less technologically-savvy might need additional assistance navigating certain features of a telehealth platform. Whether trying to book an appointment, monitor their data or start a video-conference, providers should be there every step of the way, ensuring their patients find their platform easy to use.
Sometimes, attempting to correct issues over the phone is difficult. Demonstrating solutions visually can enhance a patient's understanding. Enter screen sharing, a simple way for a provider or their IT support to navigate patients through their platform-related questions. This can also be a great way to cut back on future call-backs and the strain it puts on your customer service team, especially for providers with smaller work forces.
Did you know? Tom Martin, CEO of customer-experience technology company Glance Networks, says that his clients report that a customer enrolling in a new healthcare plan will call their new provider an average of six to seven times and that each call can last 20 to 30 minutes.
Seamless and secure data
Whether you are just starting out or moving your physical practice to a virtual one, you will want to ensure that you have access to patient data, as well as a way to securely store that data. This will help to paint an entire picture of a patient's medical history, therefore improving a provider's ability to provide proper care and overall appointment efficiency.
Many using telehealth services for the first time may be skeptical about the privacy of their data. This may play a part in their initial uptake of telehealth and whether they continue using it in the future. Therefore, adding a sense of reassurance to your clients is critical. You will also want to invest in a platform that is HIPAA compliant (if based in the U.S.), and one that is managed entirely in the cloud for added security.
Did you know? According to the Hosting Tribunal, 93% of U.S. enterprises have adopted some type of cloud service to both host and protect their data.
To conclude
Great user experience is not solely dependent on how nice and helpful a customer service team is. That is to be expected. User experience goes beyond manners and towards options available to make life easier for the patient. So, when it is time to implement a system to host your telehealth practice, ask yourself a few of these questions. If you answer favorably, there is a good chance that your patients will better appreciate your service and return in the future.
Are actions easy to navigate and find?
Would a patient feel secure entering and sending sensitive data through this form?
Is help easy to find if needed?
How can Giva help?
Founded in 1999, Giva was among the first to provide a suite of HIPAA compliant help desk and customer service/call center applications architected for the cloud.
While exponentially scaling, how can telehealth and telemedicine providers assist patients using their platforms? Patients and healthcare providers may encounter technical problems with videoconferencing, appointment setting, insurance eligibility, billing and e-prescribing. Also, rapid and successful patient on-boarding may require non-medical personnel working with patients.
Giva has a strong focus on telehealth and we can help you get up and running on a Patient and Healthcare Provider Service Center Portal to increase satisfaction, speed issue resolution and decrease costs.
Sign up for a no obligation 30-day trial of Giva.