The Complete Help Desk Technician Job Description & How To Become One
Help desk technician is a job that does not seem to be talked about enough. It is an essential position in any business, and it is not going anywhere anytime soon. Those in these positions often work in the IT department of an organization but can also be employed by a software company or other vendors that sell computer-related products and services to businesses.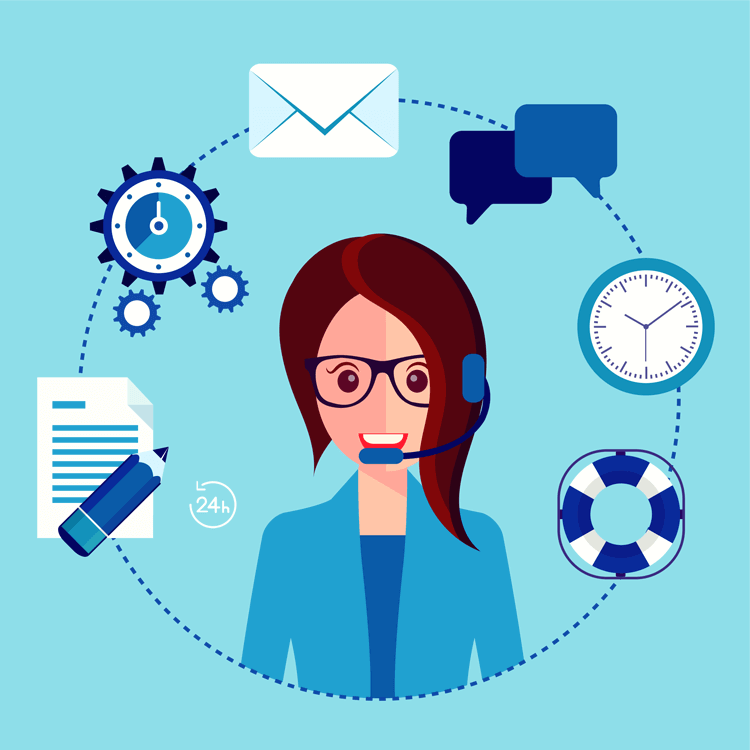 Photo Attribution: Makyzz/Shutterstock.com
Help Desk Technician Job Description
The help desk technician's job is to provide support services, either over the phone or through online tools. This often includes answering questions about company products and using remote access tools to fix computer problems for customer employees. They help troubleshoot software and hardware concerns.
A help desk technician's role can be very rewarding. Even if they do not specialize in IT, every company needs customer support, and it is a great way to gain experience working with computers before moving into the field of computer science or another related major. The training process also allows some people who are interested in becoming an engineer or programmer to see what kinds of questions will be asked during the interview process at their desired job, which can help better prepare them for future interviews by knowing what skills are expected of them, as well as exactly how much education they need.
Many companies offer certification programs that train individuals on specific products so that they have all the knowledge necessary to assist customers with problems regarding those items. This saves time because there will be less time spent on the phone, and it also saves money because those who are highly skilled may be able to answer most questions without transferring callers to other technicians.
How To Become an IT Help Desk Technician
If there is anything being said here it should be that anyone can pursue IT-related careers, even if they majored in something completely unrelated -- especially art-related backgrounds. The most important skill for a helpdesk technician is their ability to communicate and listen well. Courses such as A+, Network+, Linux+ or even just a basic computer repair course are all that is required to get started in this career path, but if you are really serious about it, then you should seek out post-secondary education (college/university) in the field of information technology because employers will always favor candidates with degrees over those without them, especially for more senior positions like help desk manager or network administrator.
At its most simple form, a help desk technician performs troubleshooting tasks on behalf of end-users within their company when they run into problems with applications, hardware, or network issues. The best way to train as a help desk technician is through hands-on experience. You will find that most employers are willing to train you on the job, or even provide some work-related training (such as computer repair courses).
As your career progresses and you seek out more senior positions like help desk manager or network administrator, it is expected for an applicant to hold certifications in technical areas of expertise such as networking (Cisco Certified Network Associate - CCNA), security (CompTIA Security+), project management (CAPM) etc. These certification exams cost money though; usually several hundred dollars per exam. If this process involves studying at home with manuals before sitting down for a multi-hour exam, then expect to spend $500-$1000, between books/exam fees, until all required certifications have been completed. Luckily, there are many employers that fund the pursuit of higher education.
Since this field has been around since businesses began, it is experience-rich too, which means that veterans have many lessons they have learned over the years that they are ready to share with others just starting out in their careers. It is a good idea to reach out to technicians within the company to see if they are willing to pass on their knowledge.
Community colleges also provide a great way for people to get the necessary training required in order to start working as help desk technicians at entry-level salaries. Although it could depend on the location of the role, an entry-level IT help desk salary can be above $50,000 per year. If you attend classes full time and work full time, it will most likely take two years or more before you have enough education/certifications/experience under your belt that would allow for someone higher up within an organization to consider promoting you into this role.
Help Desk Technician Skills
The best traits a help desk technician can have generally fall into a few categories. These include the following:
Good Communication Skills: Both written and verbal.
People Skills: Being able to quickly deal with people from all walks of life, often under stressful conditions, is an essential trait for those who work as help desk technicians.
Attention to Detail: This can be required when working on software or hardware issues where the smallest details matter greatly in terms of how something works/or does not work.
Being Willing to Learn New Things: Technology advances at such a rapid pace that your average technician will need to constantly update their knowledge base just to keep up with changes within their organization and industry.
Being Willing to Work in an Office/Corporate Environment: Most IT help desk technicians are required to perform their duties within a physical location. This can be great for those who enjoy working with others and having face-to-face contact every day. However, this practice has been shifting to be more remote-friendly.
Thinking Analytically: It is important to be able to critically analyze the situation from every angle. The user may only be able to communicate the symptom of the problem they are experiencing, nor be able to understand what the cause could be. It is the help desk technician's responsibility to figure out the problem from every angle, while walking the user through the steps.
But Should You Be a Help Desk Technician?
The first thing to understand is that a help desk technician is not really a "job", it is more of an "entry-level career path" – there are opportunities for people to grow within the role by developing new skills and taking on additional responsibilities.
In fact, many companies will hire entry-level technicians as part of their IT support team but then train them to become full managers or directors in charge of managing those same technicians who were once training them.
So, if you are considering entering this field, make sure you can answer yes to these questions:
Do you enjoy working with others?
Are you willing/able to work in an office setting (or remotely)?
Can you handle emergency situations like data loss or a breach in data security?
Are you excited to solve problems?
Do you enjoy learning about new technologies?
Can you stay calm in stressful situations?
Being a help desk technician does not come without its own complications. Some of these challenges include the following:
Working with different people and personalities (which can be difficult because everyone deals with stress differently)
Not having the proper tools to resolve an issue or do your job, especially if you are working for a smaller company
Being able to learn new things quickly, as technology is constantly changing. Even within one program/software application, there will always be new releases or products that will make issues easier and more efficient to resolve. And depending on which department you work in, some programs may not even exist yet. Learning how to adapt and overcome those challenges then becomes crucial.
But these issues also help build character enhancing management skills, such as patience, problem solving abilities, clear communication, time management, and empathy towards others' feelings.
Also, with these challenges come great rewards—working with IT support means that when something goes wrong for an employee at work (whether it is on their computer or phone), your solution will make them happier than when they started out.
So, if you are considering becoming an entry-level technician so you can gain experience before moving up the ladder within tech support, or are interested in learning how to provide support for others but were not sure where to start or even what exactly help desk technicians do daily, consider the information above to help start your journey!