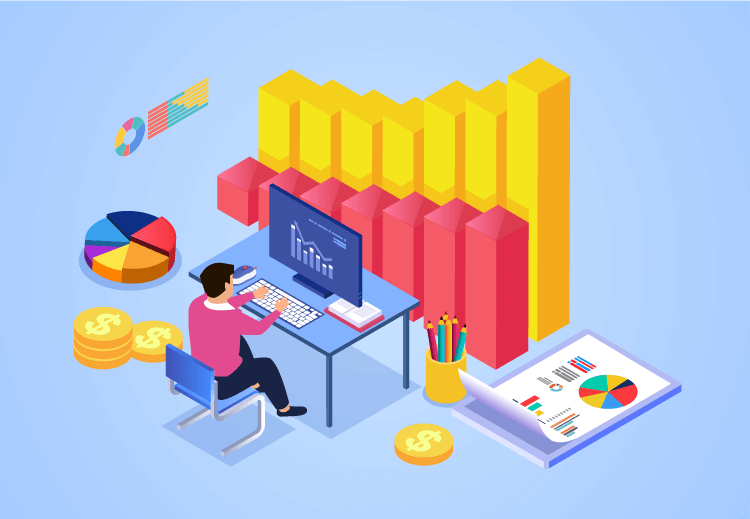 Photo Attribution: wan wei/Shutterstock.com
When it comes to drafting up the yearly budget, organizations are always looking to gain efficiencies. This could involve cuts to programs, salaries, or physical equipment. There are always more dollars to be saved. 
Sometimes, it is not about making cuts but simply managing finances more efficiently. Putting more money towards new programs or initiatives and hiring more employees to meet demand are examples of re-prioritization. 
Whatever the situation at your organization, an IT financial management system (ITFM) can help you plan, maintain, and meet the economic goals set forth. Let us take a look at some of the essential elements of ITFM. 
What is IT Financial Management?
So, what exactly is IT financial management? Well, the concept is pretty straightforward. It is all about reducing operating costs to generate savings for other ventures and the general well-being of the organization. ITFM aims to reduce IT expenditures. However, most departments in an organization require IT services like acquiring and setting up computers, cell phones, printers, and more. That means ITFM plays a near organization-wide role and is very important to shaping a budget. It has become so important that organizations are best off seeing what IT spending or cutting will occur before considering any other numbers first. 
How Can ITFM Save Your Organization Money?
There are several ways in which you can leverage ITFM to save your organization money. When looking for IT best practices for financial managers, these tips should be at the top of your list. 
Tech is ever-changing: Technology changes in a blink of an eye. What was "in" yesterday could be inefficient today. That means it is best not to go "all-in" on one software or device unless you are confident something better will not come along within the same budget year (at least). Technology can make organizations more competitive, and you do not want to be left behind because you do not have the budget to make it happen.

For example, instead of purchasing all members of your sales team the iPhone 13 Pro Max, consider purchasing them the more entry-level version, iPhone 13 Mini, or another smartphone altogether. It will likely be just as good for the purposes required, at a lower cost. Remember, in Apple's case, they release a new and improved version of their phone every year.

Purge unused software and hardware: We all have experience with recurring payments. You wake up, check your banking app, and find a withdrawal for a service you use. Sometimes these charges are unpredictable, and they certainly add up over time.

The same can occur in an organization. Licensing fees and subscriptions to programs can cost thousands of dollars a year. IT managers should check with department heads to determine what programs are necessary and which ones are not. Going one step further, IT teams can work with employees to scout more cost-effective alternatives, as long as it does not sacrifice the quality of work. The same theory applies to seldom used technology.

Cost-benefit analysis: Along the lines of unused software and technology is inefficient software and technology. Just because you use it does not mean it is benefitting the organization.

For instance, an organization may be paying for two separate licenses - one to access Google Sheets and one to access Microsoft Excel. It turns out that only a small number of employees use Sheets, with the majority using Excel. It may be worth it for an IT team to convert employees using Sheets to Excel. This can be achieved through additional training and ultimately helps to consolidate program subscriptions.
We understand that undertaking the above actions can be a lot of work, especially at organizations with a smaller IT presence. However, many components represent a necessary step prior to the creation of any IT-driven budget.  Adapting the old adage of teaching a person to fish....if you instruct an employee to simply cut a certain amount from the budget, they will accomplish that task for the day, but if you train them to analyze each line item and determine the short and long term efficiency or inefficiency, they will add great value to your organization for the long term.
Next, we will look at vendors and tools that can help in the ITFM process. 
Are There Vendors That Can Help You Achieve the IT Financial Management Process?
Figuring out where to save money is going to be difficult without detailed records or instant updates. Pen and paper, or even an excel spreadsheet is not going to cut it. You need an automated system that is monitoring angles of your organization for you - behind the scenes. There are several ITFM tools that organizations can consider when it comes to finding opportunities for economic savings. 
Apptio: The program offers a wide-range of ITFM products for your organization. The entry level offering, called ApptioOne streamlines both financial and operational data into one repeatable report. It allows IT professionals to categorize costs, and plan for the future by setting metrics and KPIs. The dashboard is bright, bold and easy to follow along with.

Key benefit: Ease of use

ComSci: Developed by Upland Software, ComSci offers IT professionals a wide-range of tools to improve their approach to ITFM. The colorful dashboards provide information on the usage of your IT products, cloud usage and other services. This helps to determine what to keep and what to consider cutting. The software also provides insights tailored to the organization, vendor analysis, forecasting, and so much more.

Key benefit: Most useful for checking on IT-related product usage

Nicus ITFM Suite: This software is all about offering the best in self-service and the creation of workflows. It helps IT professionals to paint a picture of how each piece of technology is helping (or not) an organization. Through its dashboard, identify ways in which you can re-invest the cost of counterproductive technology into new initiatives. Promote transparency of costs per each vendor being used, see bench-marks, and forecast for the future. Best of all, Nicus ITFM Suite explains all of this in terms that almost anyone in an organization can understand.

Key benefit: Puts data and explanations into terms that those who are not in IT or finance can easily understand
Where Can You Find ITFM Informational and Support Resources?
The IT Financial Management Association (ITFMA) was founded in 1988 and is a valuable resource dedicated to the IT Financial Management Profession.  Their website provides a wide range of ITFM tools and resources including the following and much more:
Upcoming IT Financial Management Conference Information
An IT Financial Management Certification Program
IT Financial Management Books which can be ordered through their website
The Bottom Line: Implement ITIL Training in the Workplace
According to Global Knowledge, ITIL, which stands for Information Technology Infrastructure Library, "is a framework designed to standardize the selection, planning, delivery, maintenance, and overall lifecycle of IT services within a business." Combining ITIL courses with real world experience can make all the difference when looking to either improve current IT teams, or hiring new staff.
The ITIL financial management process is included in the service strategy portion of the framework. It can help to inform IT teams on the following: 
Create complete lists of inventory, including software & hardware
Prioritize what an organization actually needs in terms of tech - and what it can do without
Improve efficiency
Reduce the cost of servicing tech
So, if you are unsure about where to start with ITFM, consider taking courses that are part of ITIL, more specifically those in the strategy section. Armed with this knowledge, you will be ready to either tackle ITFM manually, or with the help of a dedicated software platform. Either way, having a plan to manage the IT finance budget is important to the overall well being of an organization.