What is Service Integration and Management? SIAM Made Easy
What is Service Integration and Management (SIAM)?
Service Integration and Management (SIAM) is a successful outsourcing service model designed to handle multiple vendors. SIAM will help your company find new ways to improve its existing processes by leveraging more than one supplier for different aspects of business operations. The SIAM approach has been used by large organizations for many years, but it has not seen widespread adoption until recently. SIAM was created to optimize the critically-needed area of Information Technology (IT). These days, most companies rely on IT systems to run their business operations. To ensure that these systems continue functioning properly, they must have a SIAM provider who can manage all of their suppliers while also ensuring that they are using best practices when it comes to supplying IT services.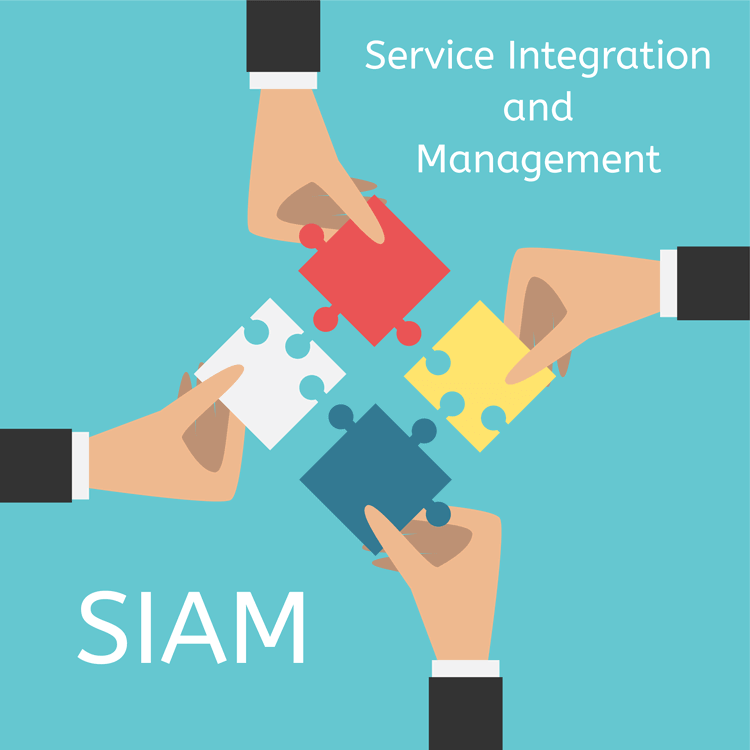 Photo Attribution: inimalGraphic/Shutterstock.com
SIAM's core principle is better management through integration. Any good service provider will work hard to ensure that all suppliers follow SIAM principles so their customers can experience more stable, secure, and efficient technology across the company as a whole.
While most corporations have an in-house IT department, not all their IT needs are addressed by the professionals that work in the organization full time. A SIAM provider can dramatically improve a company's IT management by leveraging their own SIAM professionals to help the organization with strategic planning, budgeting, and prioritizing needs.
SIAM will also manage all the providers for an individual client so that they have only one point of contact when it comes time to make any changes or resolve issues. This means no more dealing directly with multiple suppliers; everything is streamlined through SIAM instead. The SIAM professional takes on this role because they know what questions to ask to get good data about performance while still respecting confidentiality concerns. SIAM better enables you to leverage your company's investments in technology through service integration and management foundation that allows the company's vision for future growth with minimal disruption from today's IT infrastructure.
SIAM also works to foster a culture that encourages people across your organization to work together with common goals for successful integration. SIAM is not only about resolving problems but rather making sure they never happen again through continuous improvement initiatives which support long-term enhancements in business processes and systems outcomes. This includes developing effective communication strategies between end-user customers, managers, project teams, SIAM professionals, SIAM providers etc., without imposing too much overhead or bureaucracy upon them.

SIAM Models
There are four SIAM models you can implement in your organization, which are Internal Service Integrator, External Service Integrator, Hybrid Service Integrator, and Lead Supplies as a Service Integrator. Each model provides solutions based on the complexity of your IT integration needs and the in-house expertise your company already holds:
Internal Service Integrator (ISI)

This model ensures that most of the control over external service providers stays within your organization. This is done by sharing SIAM responsibilities with the internal IT staff.

External Service Integrator (ESI)

This model involves outsourcing SIAM management to an external SIAM provider or SIAM consultancy firm. This approach minimizes your organization's risk but also limits its control over suppliers and services provided. The needs of ESI are simple enough that most small-to-midsized companies can meet them through in-house expertise alone.

Hybrid Service Integrator (HSI)

The hybrid service integrator model works like a combination between ISI and ESI models, where ISIs provide basic SIAM functions under close supervision of the CIO office while HSIs handle complex issues with support from ISI experts when necessary.

Lead Supplies as Service Integrator

The last model is the SIAM model that is closest to outsourcing. This approach uses an IT services provider, SIAM consultancy firm or SIAM lean supplier as a single point of contact for all outsourced activities. A service integrator organization may also support this type of SIAM contract by providing guidance on good practice in managing multiple suppliers and coordinating actions with your company's business units.
The first three types (ISI, HSI & ESI) are generally less expensive than Lead Supplies because they rely on existing infrastructure such as employees and existing agreements.
Key SIAM Benefits
There are key IT capabilities that SIAM can provide for your business:
First, you will be able to define and adapt service governance better. As a business scales up, it is inevitable that it will source multiple vendors and service providers for their business needs. SIAM ensures that the business can consolidate its IT services around common SIAM processes and procedures. This can be critical when it comes to responding to increased demand or unplanned events, ensuring continuity of core capabilities across multiple suppliers. SIAM also enables you to achieve compliance with industry best practices such as ISO's 27001 standards for Information Security Management Systems (ISMS).
SIAM will improve customer service by driving quality improvements in both internal and external service providers, thus enhancing overall satisfaction levels among customers/business units who rely on those services. It even reduces time-to-market by allowing faster response times between teams and infrastructure operations groups within multiple organizations.
Being part of a multi-sourcing organization's team means employees need to be able to work with different tools and information distribution methods. SIAM helps align the teams better and improve development and support processes to make sure they work together seamlessly.
Lastly, IT services are required to manage business services end-to-end. This means every part of business practice must have IT services integrated in its actions. SIAM ensures that everything is on the same page and that employees have a better understanding of what services are available to them. SIAM offers guidance on good practices in managing multiple suppliers for IT services, whether they be internal or external. SIAM allows companies involved in multi-sourcing organizations to work together more efficiently as well as provide insight into specific business needs like customer service levels set by management, how much time it takes before an issue escalates within teams, etc. SIAM also helps identify where improvements can be made, and which parts of the system need attention first. It provides an excellent framework for effective integration among subcontracted Managed IT Service Providers (MSPs) by providing guidelines aimed at aligning different departments' goals within the organization's overarching business vision and mission.
When it comes to outsourcing, you have plenty of choices. One of the best possible solutions - that will integrate seamlessly into your organization and maximize efficiency through better management - is Service Integration and Management. SIAM has proven successful time and again in companies around the world because it combines all resources under a single umbrella while still allowing them to go about their daily business as usual. With the right SIAM model, it is possible to increase your productivity and customer service efficiency.