What Are the 7 ITIL-Guiding Principles
The IT Infrastructure Library, abbreviated as ITIL, is a library of guidelines that were first introduced by the British government's Central Computer and Telecommunications Agency (CCTA) during the 1980s that outlines a complete list of best practices to be adopted for delivering IT services. The guiding principles listed in ITIL have undergone several revisions over time after they were first introduced and currently include five books, each dealing with different aspects of IT services, with one unit of the ITIL System focusing on the 7 guiding principles.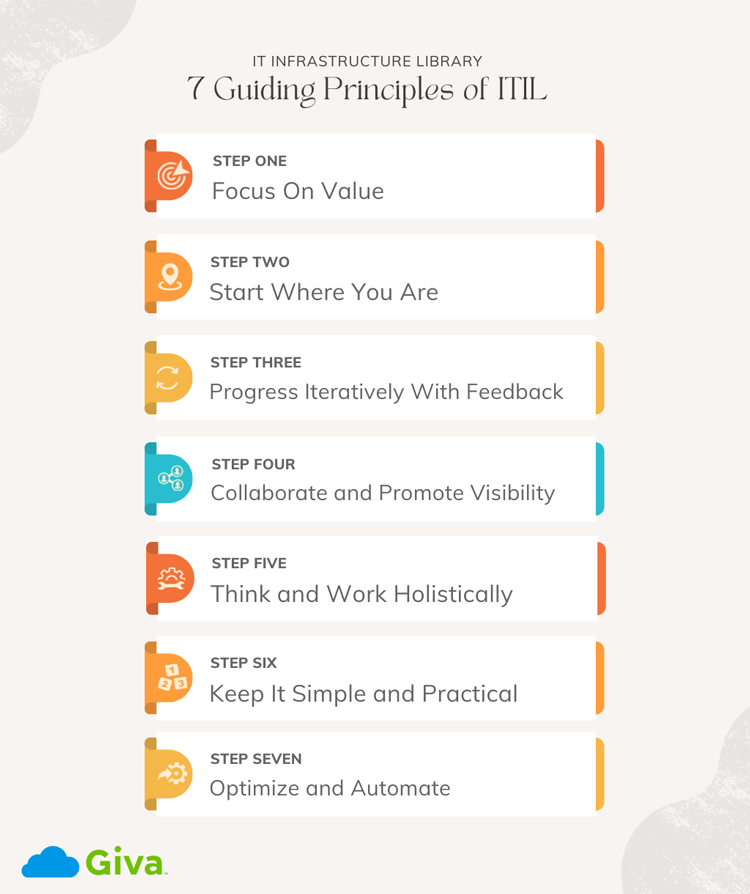 What Are the ITIL Guiding Principles Used For?
These ITIL principles are a set of recommendations that provide guidance to an organization in any circumstances, regardless of shifts in their objectives, policies, or management framework of a project. These 7 guiding principles form the foundation of ITIL, which are a modification of the guiding principles of the ITIL Practitioner course of 2016. The outlined IT guiding principles help an IT organization implement strong actions and excellent decisions at all levels that promote growth and scalability, along with being cost-effective at the same time.
The 7 guiding principles of the IT Infrastructure Library are:
Focus on Value
Start Where You Are
Progress Iteratively With Feedback
Collaborate and Promote Visibility
Think and Work Holistically
Keep It Simple and Practical
Optimize and Automate
ITIL Principle 1: Focus On Value 

In the present day, consumers in general are value-oriented. They search for value in any product and are ready to pay top dollar for when they find one. To add value, a company must know what its consumers value most in a product. This step of ITIL guiding principles starts with building a consumer persona by understanding factors like consumer demographics, level of customer awareness, primary pain points, and the source of customer knowledge. Apart from these factors, it is important for a service provider to determine the customer's experience and expectations with the service provided, and with the organization as a whole, to determine any improvement that can be made which adds value to the service.

To successfully apply this IT principle, you should focus on adding value to any product being developed or modified by constantly seeking feedback from service customers and regularly motivating staff to find opportunities that add value to new products or services.

ITIL Principle 2: Start Where You Are

Do It Yourself (DIY) from scratch might sound satisfactory, but it is not always a good option, as it might be time-consuming and might not be cost-effective. A company must first consider leveraging what is already available before building any new project from scratch. The available options in the company's current state have to be analyzed accurately using metrics while not being over-reliant on the data.

To apply this principle of ITIL successfully, identify what options exist based on the correct information. Those options should be modifiable at any stage, based on the goal set by stakeholders of the project. After understanding the available options, apply skills to decide how the information can be replicated and modified from the current state to achieve the desired outcome.

ITIL Principle 3: Progress Iteratively With Feedback

This is one of the most important ITIL guiding principles that is often ignored during a project due to time constraints. Progress should be made gradually and not instantly by considering one suggestion at a time from the stakeholders of the project. Organize the planned work into sections and work up to the desired goal. By organizing, efforts can be kept focused and accurate, which helps in completing the project in a timely manner.

To successfully apply this principle, you should be able to differentiate between productive and detrimental feedback, be accepting of negative feedback, and have the eagerness to improve after considering it. Your progress should be stepwise and iterative without compromising with the desired goal.

ITIL Principle 4: Collaborate and Promote Visibility

Knowledgeable people in their specified roles, working as a team who are designated as stakeholders, can provide creative ideas that will help in achieving more productive outcomes and long-term success. The first important step is to identify the stakeholder in a project. A customer has to be considered as the most important stakeholder in any project as the service is basically designed for them. The other stakeholders might include developers, internal and external suppliers, along with relationship managers associated with the project 

The contribution of stakeholders is important at each level. It is important to address their concerns, include their suggestions, and engage with them at all levels, insofar as their influence is not altering the desired goals of the project. Improving the visibility of the project to the stakeholders matters in the project's success. If the stakeholders have a poor understanding of the work in progress, then it can lead to poor decision-making, which can risk the success of a project.

To successfully implement this principle, collaborate by improving connectivity and communicating in a simple, understandable, and universal language, and then decide based on available data and performance. Maintain transparency with stakeholders by keeping them informed at every stage of the project.

ITIL Principle 5: Think and Work Holistically

Having a holistic approach while dividing the project into sections is one key factor to its success. This ITIL guiding principle involves understanding and connecting all the fields of a project together after the completion of each step. It is important to take a holistic approach from the beginning and understand that no service or department or individual can outperform if they do not work together as a team. As in complex projects, any minor alterations can affect other elements of the project and have a completely different impact on the result, which can prove costly to rectify in the end.

To implement this principle successfully, first create a prototype of the finished product which can be done through automation. Identify the level of complexity and focus on project and people interactions and connectivity in each step whenever necessary.

ITIL Principle 6: Keep It Simple and Practical

Unnecessary processes, actions, or steps should be identified and eliminated to keep it simple. Always try to reduce the number of steps towards your goal. Keeping it simple can increase interest in stakeholders, and this will be a value-creating factor in itself.

From a customer's point of view, simplicity develops confidence and reduces the pain of going through complex and multiple steps. Simplicity helps to maintain interest and this factor alone can increase the conversion rate many fold. Every step assumed theoretically has to be evaluated practically to check for simplicity and effectiveness with respect to all the stakeholders.

To successfully apply this principle of ITIL, ensure simplicity over complexity without compromising on the value of the service. Minimizing the number of steps and using easy-to-understand language adds to the simplicity of a program, which helps in saving time and money for the customer.

ITIL Principle 7: Optimize and Automate

The option of automation has always proved cost-effective and a time saver for any organization. Automation has reduced workload and has brought in an era of singly-owned, multi-million dollar companies. Technology can help organizations with performing frequent and repetitive tasks effectively, requiring only complex functions to be carried out by humans. The only downside is that technology in its current state can only be implemented under human supervision.

Optimization of a project refers to modifications that can increase performance without changing form and function. Automation will always require optimization before implementation within limits set under financial, resource, and time restraints. The path to optimization must be gradual and should adhere to the following steps regardless of the project:

Identify which aspect of the project needs optimization
Evaluate if the proposed optimization meets necessary goals
Ensure that the optimization has approval and commitment from all the stakeholders
Execute the modifications according to the plan, iteratively and timely
Monitor the results of optimization regularly

Optimization, before automation, helps to save operational costs, minimize human dependence, and improve the consumer experience.
In conclusion, these 7 principles of ITIL, if implemented from the beginning of a project, can contribute greatly to the success of the project.