3 Ways Digital Transformations Improve Healthcare Customer Service & Fall Short
How Healthcare Customer Service Benefits from Digital Transformations
Throughout recent decades, doctor-patient relationships have completely transformed, with patients now having higher expectations and playing active roles in their own diagnosis and treatment. Accordingly, the evolution of patients from passive individuals into well-informed customers has encouraged the healthcare industry to keep up with new expectations by digitizing its processes. This means that patients can now experience: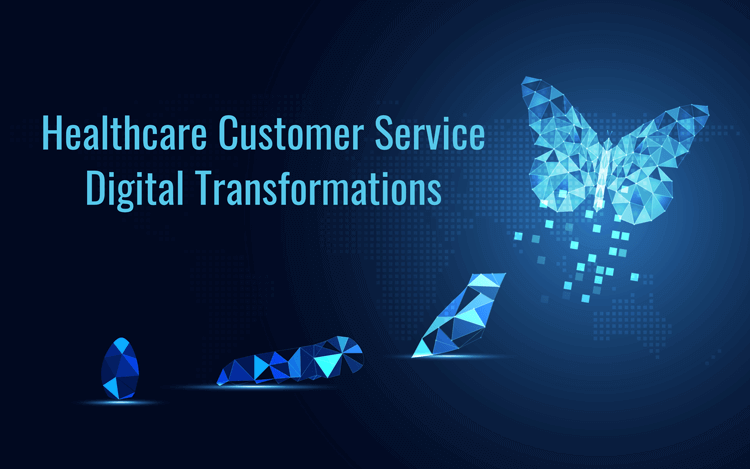 Photo Attribution: MiniStocker/Shutterstock.com
Better Treatment

The evolving scope of the doctor-patient relationship has brought about new conversations on how healthcare providers deal with patients. Are they still considered patients or have they transitioned to customers? And what is the difference between the two? The general consensus is that customers are typically treated like active partners in the relationship, are given more rights, and, in turn, are treated better.

Patient Engagement

Regardless of terminology, the digitization of healthcare has given users two powerful elements that were not as common before: choice and engagement. The amount of data available to people online allows them to research symptoms, doctors, hospitals and insurers, giving them the ability to make informed decisions and select from an array of available options. This allows them to receive better treatment, which may not have been possible otherwise. They also have easier access to their PHI via applications and other electronic means. Moreover, the introduction of wearable devices and applications that store PHI means that people can now monitor their own health and become more invested in it.

On-Demand Healthcare

As individuals become accustomed to today's consumer culture, the availability of many services in the palms of their hands makes them begin to expect the same from healthcare. This can happen in two ways: through the availability of telemedicine, and through using data to streamline previously complex processes.

Telemedicine provides patients with easy access to doctors and compensates for the lack of specialists in short staffed areas or remote locations. Similarly, mobility, big data and IoT are quickly improving patient care in ways that may not have been possible otherwise. For instance, big data relies on patient record analysis to notify doctors of medication errors. It also paves the way for preventative medicine by reducing re-admissions and creating preventative plans for recurring patients.
Digital transformations are driven by new products that make patient care seamless and improve the patient experience. Creating an industry that relies on digital assets creates a level of speed and agility that physical assets can never reach.
How Digital Transformations Fall Short
When asked about where most companies stand in their current digital transformation projects, Jeanne Ross, Principal Research Scientist at the MIT Center for Information Systems Research, said that while they may not realize this, "most companies are just beginning." Moreover, the introduction of new technologies and updated operational processes brings about unforeseen challenges.
Overlooking Customer Insights

Ross mentions that the first building block in a digital transformation is customer insight. There is a stark difference between what a business has to offer and what its customers want and are willing to pay for. The two are not always one and the same. The Kony Digital Experience 2019 Index Survey Report states that only 28% of enterprise digital transformations are launched with the intention to prioritize the customer experience.

Failing to Adapt Cybersecurity

In the same way business transformations reinvent a business's operational processes, they should also reinvent its cybersecurity. If done right, digital transformations alter organizations to the core. However, this also means that as more processes move online, the attack surface increases. Furthermore, if new and improved cybersecurity measures are not taken into account, the company's network will only be as strong as its weakest link.

Ineffective Change Management

The essence of digital transformation is technological change. But change is heavily dependent on the willingness and comprehension of stakeholders. Employees must understand why things are changing, how they will change and what their role is in the change process. Neil Osmond, a VP Analyst at Gartner stated that, "Digital transformation won't succeed without a common understanding and a clear vision across the organization." Such issues are often treated as secondary but should, in fact, be a part of the change management plan.