How a Mobile Help Desk Solves These Top 5 Obstacles to Providing High Quality Customer Service
A mobile help desk is a tool used by organizations to better communicate with their customers. It provides the opportunity to not only standardize communications but also to improve the speed of replies. Help desks initially began as ticketing systems to handle customer concerns but have grown to become a one-stop-shop for customer service best practices. What can a mobile help desk do for you today? It provides insight into the experiences of your customers and internal features including the performance of your support teams.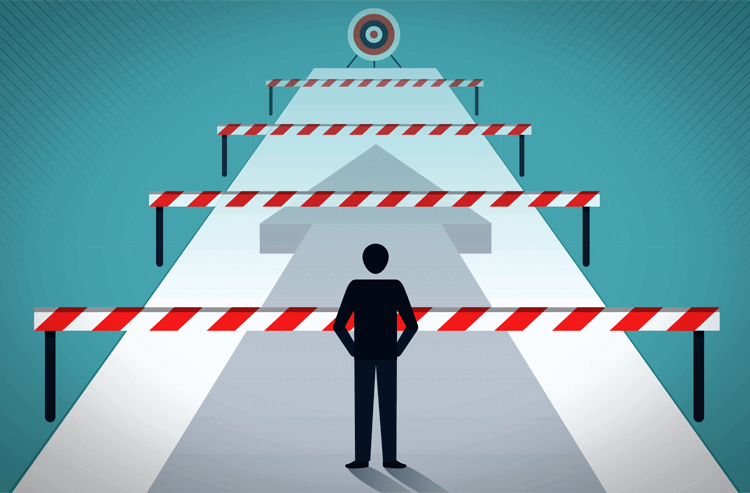 Photo Attribution: wanpatsorn/Shutterstock.com
Mobile help desks are becoming more popular by the day, with expected growth among organizations set to skyrocket. According to data from MarketWatch, published by Finances Online, the help desk software market share is projected to surpass $1.27 billion by 2025, with mobile playing a large role in the increasing number. Part of its more recent success is its portability. With the development of the internet and e-commerce, organizations must offer some level of support 24/7. What happens when you are away from the office? Help desks now offer mobile solutions so organizations can take their customer service on the go. If your organization is ready to elevate its help desk game and go mobile, we have some added benefits of this approach to share with you.
What is Stopping Companies from Providing Best-in-Class Customer Service?
Finding the right mobile help desk for your organization and customers can be a challenge. Though it is a challenge worth facing. As is exemplified in the graphic below, there are five particular obstacles that a mobile solution can help resolve. Scroll past the graphic to get solutions to these obstacles.

Source: Finances Online
Referencing the graphic above, we will go through each obstacle and explain how a mobile help desk can provide effective solutions.
Obstacle #1: Modernizing service systems
Mobile solution: User-friendly mobile interface
When working off of a mobile device, screen real estate is compromised. This is despite modern-day smartphones coming with larger screens. From a visual perspective, nothing quite compares to seeing the extent of your dashboard on a desktop monitor (or two). When looking for a mobile help desk solution, it is important to select one that offers a simple layout where options can be selected from a sidebar menu or similar. Mobile options can almost always easily show you what you need to see at the moment, but it is important to select one that is easy to navigate and multi-task as well.
Obstacle #2: Honing the skills to manage end-to-end customer experience
Mobile solution: Quick and effective mobile training
The number of worldwide smartphone users continues to grow at an unprecedented rate. According to Statista, at the end of 2020, there were just over three-billion smartphone users, with that number expected to grow by several hundred million in the next few years. There is no doubt that we are moving into a time where mobile device pro-efficiency is becoming an important skill when working at jobs across sectors. Organizations can be confident that training employees is quick and easy when working with a mobile help desk solution. Best of all, employees can be just as skilled (if not more) when using mobile as they are on desktop solutions.
Obstacle #3: Providing a seamless experience across devices
Mobile solution: Continuous ticket management
When you go mobile with your helpdesk, you should not have to sacrifice functionality. Ticket management is by far one of the most important features of any help desk platform. Whether it be from the moment a ticket is received, to the moment it is marked complete an organization should see no difference in the process when on mobile.
Obstacle #4: Analyzing customer data
Mobile solution: Quick access to statistics and details
Just because you might be looking at your help desk data on a smaller mobile screen does not mean it should be light on details. Whether it be a summary of total tickets, in-progress, resolved, and the priority of each, all of this information should be easily accessible on your mobile help desk app. Being able to analyze data is just as important as being able to act on your requests.
Obstacle # 5: Offering 24/7 customer support
Mobile solution: Mobile does not close for the day
Many businesses offer customer service for the hours that they are considered "open." This can be a justifiable action depending on the size, budget, and clientele of a particular business type. For some medium-large businesses, offering around-the-clock customer service is an attractive feature that can help them stand out from the crowd and provide customers with peace of mind. Providing 24/7 customer service does not mean a business will have to staff an office at all hours of the day. With mobile help desk solutions, employees can theoretically respond and categorize tickets from home (maybe even the couch)! Mobile help desk solutions are also great for business employees or owners who are "on-the-go" and may not always be able to attend to on-screen ticket notifications. Being able to go mobile with your customer service means that a business, regardless of size, can get on with other important day-to-day tasks without being overly preoccupied with the time of day or being at a desk to do so.
The Bottom Line: A Mobile Help Desk Can Represent Huge Benefits to Business
Taking aspects of your business from desktop to mobile has many benefits. Overall, it allows for the customer service process to continue past regular working hours. It is hard to think of any disadvantage to integrating a mobile help desk solution to compliment your desktop version.
The key factors to consider when looking at mobile help desk solutions, besides budget, are their benefits to your organization's ability to manage service tickets on the go.
How Can Giva Help?
The Giva mobile help desk solution elevates the way your organization handles customer service:
Easy on the eyes. With its easy-to-read layout, Giva's mobile help desk offers up a non-compromised view with efficient color-coding, fully designed for the mobile device that you are using. The "My Open Tickets" section of the app is organized, displaying information such as customer location, severity level, ticket number, and more in the glance of an eye.
Quick and effective help desk training. All of Giva's solutions, including its mobile help desk, can be deployed for use in a matter of days. Employees can be trained to use the software within one hour. This means that you can get to business quicker!
Ticket management on mobile made easy. Giva's mobile help desk offers a robust ticket management system that includes a full history of tickets, parent/child layout (for tickets that require multiple-tasks), and the ability to update the priority of a case with the click of a button.
Your one-stop-shop for your organization's mobile help desk data. Dig deeper into each ticket. Use the summary view from within a particular ticket to see customer details. This is very handy when you're speaking to a customer and need to have all relevant data in front of you.
Allows you to respond to emergencies, 24/7. Sometimes the most critical situations occur after-hours. Waiting to respond can make a situation worse than it needs to be. Using Giva's mobile help desk, a company can track a system-wide outage or any customer service issue that affects many people. Tsunami ticket functionality efficiently tracks all customers affected by a similar issue, allowing a business to target it more accurately. When it comes to 24/7 customer service, it is all about responding to situations in the same manner, whether it be morning, afternoon, or night.
Learn more about Giva's HIPAA-friendly mobile help desk and start a free trial.