SLI, SLO & SLA: What's the Difference?
Site Reliability Engineering (SRE) is a software engineering approach for IT operations. It utilizes software as a tool for managing systems, automating tasks, and solving problems to ensure the availability of your applications mainly through the process of monitoring service-level metrics. These metrics are related to business objectives, made up of shared goals across your team, the capabilities of your product/service, and the customer experience.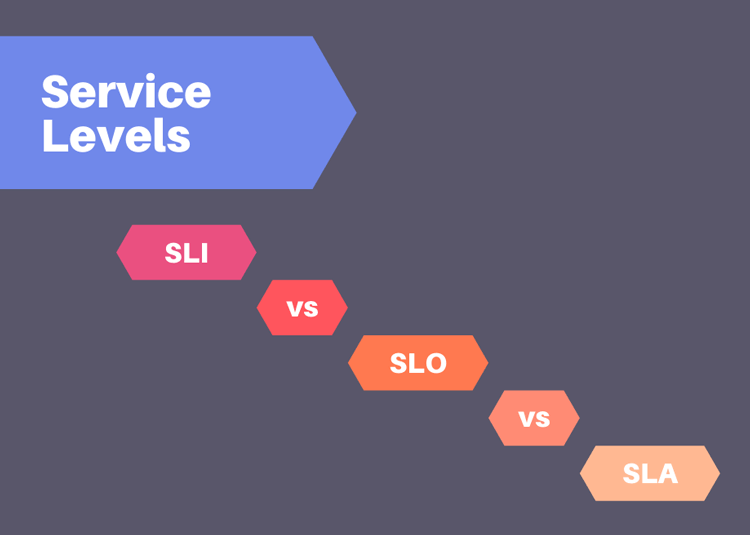 Companies need to understand SLAs, SLOs, and SLIs. This is because when a client signs a contract for a tech-related product, these provisions represent the promises made to the end-user, internal objectives, and data-tracking techniques to ensure a smooth operation. Essentially, it makes sure that the provider and client are on the same page about the services being rendered and the consequences for the failure of these promises. Read further to learn more about each service level entity, the key differences, and what they mean for building a sustainable and reliable product offering.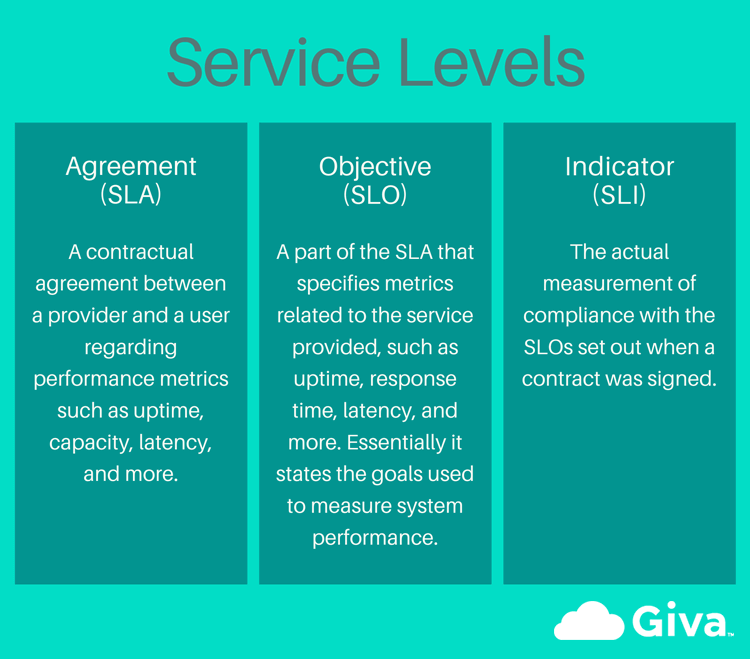 What is SLA - Service Level Agreement
In the most basic sense, a Service Level Agreement (SLA) is a contractual agreement between a provider and a user regarding performance metrics such as uptime, capacity, latency, and more. The contract will often specify the metrics to meet and the consequences for failing to do so. When a service provider does not fulfill the contract terms, penalties can be incurred, including refunds, service credits, or other reparations. If your customers are paying for a tech-related service, there's a good possibility that they will want an SLA.
A Tip for Ensuring More Accurate Service Level Agreements
The problem: SLAs are often written by employees who do not have first-hand experience in building out the technology that is being sold. Therefore, unless extensively briefed by development teams, SLAs can be filled with promises that are not accurate and not easy to keep.
The solution: Service providers are encouraged to collaborate with development teams to build out SLAs with the highest degree of accuracy to avoid future penalties, negative reviews, and canceled business.
What is SLO - Service Level Objective
A Service Level Objective (SLO) is a part of the SLA that specifies metrics related to the service provided, such as uptime, response time, latency, and more. Essentially it states the goals used to measure system performance. You can also look at it this way: if the SLA is a formal agreement between provider and client, then the SLO is the part about your customer's expectations regarding service standards. When it is time for clients to review their contract with you, they may look at these metrics to assess whether your initial projections regarding service standards were kept. Internally, IT teams will also appreciate these goals, as it gives them something to rate their performance on.
A Tip for Ensuring More Accurate Service Level Objectives
The problem: Objectives set out in a consumer-facing SLO can be overly-complicated and set aggressive targets, which end up being difficult to meet.
The solution: Remember, you are talking to your clients. They may not have the same technical knowledge that your internal team does. It is best to use as much plain-term language as possible.
In addition, SLOs should provide consumers with the lowest acceptable level of reliability. That means that you are better off saying that your product offers, for example, 99.5% uptime instead of 99.9%. Unless you are very confident in a number as high as 99.9%. This is because the more reliability promised, the greater the cost will be in times of failure. IT teams can set higher SLOs internally to test the reliability of specific products at more rigorous standards and to suggest adjustments to future client-facing promises.
What is SLI - Service Level Indicator
Did you provide the client what you promised? Is your product worthy of a new contract? This is where a Service Level Indicator (SLI) comes into play. The SLI is the actual measurement of  compliance with the SLOs set out when a contract was signed. So if you promised an uptime of 99.5%, the results should show that your product either met or exceeded this target. This is also why, as mentioned earlier, providing clients with the lowest acceptable level of reliability is beneficial, since it may be easier to both meet and even exceed those targets.
A Tip for Ensuring More Accurate Service Level Indicators
The problem: Ask anyone who has used a program like Google Analytics and they will tell you that the different datasets that can be collected are seemingly endless, and sometimes overwhelming. It can be easy to get carried away. Some providers may feel obligated to provide as many metrics to the end user, in the name of transparency.
The solution: The truth is, that most end users just want a working product. They likely won't know or care much about you providing them with an overload of metrics. For providers it is best to stick to 3-5 key performance indicators (KPIs), with uptime being one of the most popular. These choices can also be dependent on the type of product you are offering. Generally, it is best to think about your client personally. What industry do they work in? What type of data do they handle? What is important to them (speed, system capacity, customer service, security, etc.)?
The Bottom Line: Build Trust and Loyalty With a SLA - SLO - SLI Package
When it comes to SLAs, SLOs, and SLIs, honesty is the best policy. These components are your direct promise to an end-user. They also help you achieve internal objectives and allow for judgment thanks to data-tracking techniques. Providing this information to your clients gives them peace of mind and a better knowledge of what to expect with your product.
You might be wondering when including such information in a contract is necessary. It is important to note that SLAs, SLOs, and SLIs are not a requirement or mandated by law in the United States. As a provider, you may arbitrarily provide this, or your client may ask for it. It is most common when selling tech products. So regardless of your stance, it may be a good idea to have this data "ready" for each of your signature product offerings.